industry news
The Latest Industry News for the Exciting World of Production.
Creative Handbook puts together a bi-monthly newsletter featuring up-to-date information on events, news and industry changes.
Add My Email
By: Joan Lyman
| June 9, 2012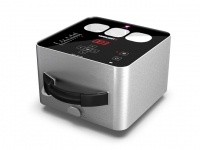 W-DMX™ Named Latest OEM Partner to Ape Labs

Uddevalla, Sweden - JUNE 8, 2012 - Wireless Solution Sweden AB has announced that APE LABS has chosen W-DMX™ as an OEM partner for wireless DMX. The first fixtures they will implement W-DMX into is the MOBILIGHT 3 and the MOBILIGHT 3S, which are going into immediate production.

The MOBILIGHT 3 is a professional rechargeable battery-based show spot light for mobile applications - no cables, versatile and flexible in use. The unit is optimal for mobile usage at events, stage shows and in clubs and discotheques. It is precisely for this reason that the advanced LED spotlights are already a key element in the repertoire of many lighting technicians.

The new generation of the MOBILIGHT 3 provides a wide range of familiar and new technologies and characteristics thanks to innovative engineering. Particularly in the area of operation, intuitive solutions have been developed that make it easier to control the spot lights via touch-display, radio remote control or W-DMX and make work fun. And the 360TUBE makes even more lighting effects possible. Users can also customise the patented and robust control panel on the MOBILIGHT 3 spot light with your corporate design. Use the MOBILIGHT to carry your advertising and to mark your property.

New in the portfolio is the MOBILIGHT 3S - another high quality LED spot light with cables for fixed installation in stores and display windows, restaurants and hotel lobbies, foyers and also at home. The ideal way to set brilliant accents with lighting on stages and in business premises. Create an atmosphere and set your products and services in scene with numerous colour and lighting effects. Benefit from the positive consequences of perfect
lighting and effects and increase attention, the frequency of customer visits and turnover.

Julius Schrenk, MD of APE LABS Lichtprodukte GmbH said, "We reviewed all brands and W-DMX is by far the best. Thank you Wireless Solution team for the great W-DMX technology! The new MOBILIGHT 3 works with Wireless Solution."

Niclas Arvidsson, CEO of Wireless Solution added, "Ape Labs is offering some very innovative products to the market and the addition of W-DMX makes these products even more flexible. We're very happy to team up with them and look forward to seeing more exciting developments ahead."

Wireless Solution Sweden is the world's leading manufacturer of Wireless lighting control equipment, now celebrating 100,000 units sold worldwide and over 35 OEM partners. Hailed for its reliability and ease of use, Wireless Solution's W-DMX range of products is the consistent choice for top professionals in the lighting industry and specified with perfect results in high-profile events and installations around the world. W-DMX is also hailed as the best wireless OEM solution. W-DMX has been used for lighting major events including the Youth Olympics in Singapore; Season of Light in Helsinki; Olympics in Vancouver; Times Square in New York City; the Nobel Prize Banquet; the Berlin Wall 20-year Anniversary; Eurovision Song Contest; and many more.

For more information about W-DMX™ by Wireless Solution, visit
www.wirelessdmx.com. For more Information on APE LABS MOBILIGHT 3, visit www.mobilight3.com.