industry news
The Latest Industry News for the Exciting World of Production.
Creative Handbook puts together a bi-monthly newsletter featuring up-to-date information on events, news and industry changes.
Add My Email
By: Chris Sandberg
| January 25, 2011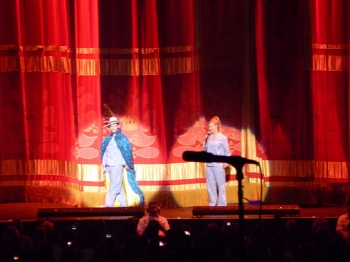 Glee, the hit TV musical series, is going live and its stars will appear on-stage in a three week, four-city tour. Touring with them is a lavish Crimson Cabaret Drape.

The Crimson Cabaret Drape, which also appeared in a recent Glee episode, is part of the "Timeless and Traditional" drapery series supplied by the drapery rental company Rent What?. In addition to the Crimson Cabaret Drape, Rent What? is also supplying a complete "soft goods" package of rented masking drapes from their Masking Drape line, along with their innovative portable dressing rooms. The rented pop-up portable dressing rooms allow for absolute privacy, include lighting and mirrors and are ideal for use in confined indoor or outdoor spaces. Rent What? provided other theatrical draperies previously seen on the popular TV series.

Sharing the "Glee Live" stage are custom fabric stage props fabricated by sister company Sew What? Inc. that include large, upholstered fabric replicas of 1950's guitar amplifiers.

"With the 'Glee Live' tour one can easily see the advantages of using the combined services of a drapery rental company in partnership with a custom drapery manufacturer to pull off a project as significant as this," said Megan Duckett, president of Sew What? Inc. and partner in Rent What? Inc. "Having both firm's services, as custom fabricator and rental supplier, working together as one makes it cost-effective to do a big show with only a three-week run."

The Crimson Cabaret Drape is made of flame retardant polyester velour and gold ribbon trim, and was a key set piece in a recent tour by R Kelly. It has been featured on the stage at the Nokia Theater in Downtown Los Angeles, as well as the Terrace Theater in Long Beach, California.

When the hit show's producers approached Ms. Duckett, they specified a "rich and theatrical look". The combined services of Rent What? Inc. and Sew What? Inc. were uniquely able to fill the tour's needs. "This show (Glee) has a vibe, an excitement, and a momentum that just keeps getting bigger and better," says Ms. Duckett. "We wanted to create the sensation of a permanent installation, with all the trim and glitter, but it had to be practical to take along on a high-energy, fast-paced tour."

The Glee Live Tour runs from May 15 through May 30 beginning at the Dodge Theater in Phoenix, AZ. It ends at New York's Radio City Music Hall.

About Rent What? Inc.

Committed to providing an ultimate experience in both drapery rental products and customer service, Rent What? Inc. is proud to be a woman owned and operated company. The firm, located in Rancho Dominguez, CA, has set the stage in providing unique drapery and backdrops for world renowned artists including Beyonce, R Kelly, Nickelback and Demi Lovato. Rent What? is industry known for its large inventory of inherently flame retardant stage drapes and backdrops, traveler tracks, and portable dressing rooms. The rental company is widely regarded for simple pricing, innovative damage waiver policy and fast and friendly service. For more information contact Rent What? Inc. at (310) 639-7000 or visit www.rentwhatinc.com.