industry news
The Latest Industry News for the Exciting World of Production.
Creative Handbook puts together a bi-monthly newsletter featuring up-to-date information on events, news and industry changes.
Add My Email
By: Eddie Paul
| April 3, 2012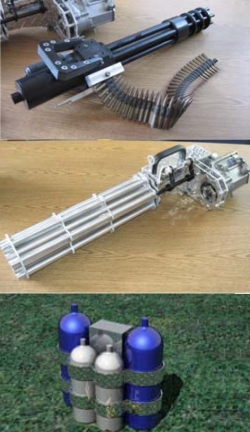 E. P. Industries was just contacted by a production company to build a few machine gun props for a pilot show at Sony Studios called Hollywood's Best Kept Secrets. The new pilot will showcase many behind-the-scenes fabricators and effects people with the first episode featuring Eddie Paul's ability to design and build props quickly, such as these guns that were designed and built within a day.

Eddie Paul has been in the Design and Prop building business for 45 years and has met every challenge thrown at him, from the hundreds of cars of Fast and Furious one and two, the xXx GTOs, A Giant Beer Barrel trailer, the Scooby Doo Van at Universal, to the Three Pixar cars (Lightning, Mater and Sally) for Disney /Pixar, as well as many hundreds of small props from dive helmets to Shark Cages to Prop Guns and Bombs, to Sharks that swim and bite.

"We get it done on time and on budget while keeping the quality up as our props are made out of high quality materials". Check out the website for a resume or examples of our work at www.epindustries.com .

About E.P. Industries:
E.P. Industries, Inc. is a concept design organization powered by Founder and President Eddie Paul along with a highly skilled team of specialists dedicated to the research, development, and manufacture of specific technologies. Established in 1970 and headquartered in El Segundo, California, E.P. Industries combines numerous capabilities including prototype design, product development, CNC machining and manufacturing, and complete automotive fabrication, restoration and customizing. Specializing in leading-edge and high-tech products, E.P. Industries successfully produces new technologies using methods that Eddie Paul has developed during his 35-year career as a design engineer and inventor. A unique organization unbounded by pre-existing philosophies or rules, E.P. Industries also works toward the refinement and improvement of existing products and processes.