industry news
The Latest Industry News for the Exciting World of Production.
Creative Handbook puts together a bi-monthly newsletter featuring up-to-date information on events, news and industry changes.
Add My Email
By: Kim Scolari
| March 28, 2012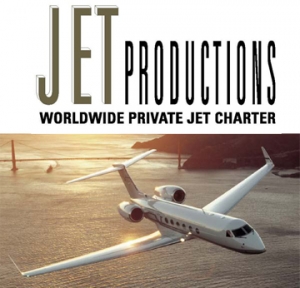 Jet Productions Worldwide provides premier private jet charter services 24 hours a day " Utilizing our world wide data base of over 5500 aircrafts including : Helicopters, King Airs, Ultra-Light Jets, Learjet, Hawker, Citation, Global Express, Legacy, Challenger, Gulfstream, Boeing Business Jet and even executive configured airliners. We offer superior service and meticulous safety; we can handle any private jet charter request on demand, anywhere in the world"

Jet Productions Worldwide will strategically plan every conceivable detail of your charter, provide the perfect aircraft to suit your particular needs and negotiate the best possible price on your behalf. "Once your flight is booked, we'll handle every particular of the charter, from gourmet catering and a fully personalized stocked aircraft, to arranging for ground transportation and any concierge service, large or small, you may desire. Our commitment to extraordinary service has kept our loyal clientele consistently coming back to us for years. As a client, whether from the entertainment industry or a private individual, your high standards will be completely satisfied by our discrete, outstanding service"

Located at the beautiful Signature facility of Van Nuys Airport, Jet Productions is the preeminent broker able to offer an onsite, hands on approach. They will meet and greet every departing flight from Van Nuys Airport and follow your trip until you have arrived safely at your destination. "We can ensure your safety because we utilize only Wyvern or ARGUS approved aircraft and crews and our spotless safety record speaks for itself"

Jet Productions Worldwide is very pet friendly broker and will do their best to match your request with like-minded, pet friendly operators. Every request is taken seriously from special catering from a favorite local restaurant to arranging on board birthday parties or celebrations. "At Jet Productions we want your flight to be perfect in every way, because we feel if you are chartering a private jet, you have worked hard in your life and deserve the best service there is to offer"

For a quote or additional information please contact Jet Productions 24/7 at 818-781-4742
Email info@jetproductions.net or email Kim Scolari direct at kim@jetproductions.net
Website: www.jetproductions.net
Twitter: Jet Productions
Facebook: Jet Productions Worldwide Inc.