industry news
The Latest Industry News for the Exciting World of Production.
Creative Handbook puts together a bi-monthly newsletter featuring up-to-date information on events, news and industry changes.
Add My Email
By: Michael Moffett
| Dec 6, 2010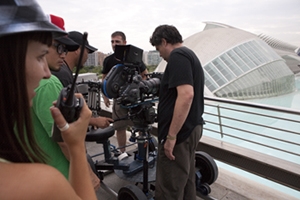 Camino Media announces the launch of its new website during a record year of productions in Spain and Portugal. Global economic crisis has not stopped our clients - companies like yours - from tapping into the power of audiovisuals to boost products and services globally.

In times when clients are watching line items like never before, Camino Media is the partner of choice for cost-effective message delivery across media platforms worldwide. Viral commercial productions for Skype, Nokia and Reebok with Lewis Hamilton; television spots for Canon and Specialized with Alberto Contador; corporate and event productions with Abengoa, Castrol, Intel, Microsoft and Worten; photography for NEC and Canon; and voiceover for Telefonica, Orange and Vodafone are a sampling of our clients in this past year alone.

DELIVERING TOP QUALITY FOR TIGHT BUDGETS

Many factors have contributed to our continued growth over the past decade. But on the heels of a global economic downturn, there is more to this year's success than the high quality standards of our international management team or our well-honed production know-how cultivated from storytelling in most all genres - including documentary, news, educational, and broadcast.

Constructive dialogue with our clients - particularly those with grand ideas and modest budgets - guides our vision for storytelling. A number of returning clients trusts in Camino Media to make the most of available funds. How? Trust is the operative word. Time is money. Camino Media clients are increasingly cutting to the chase, telling us how much they have so we can roll up our sleeves and call on our expertise to show them how to make their vision - their message - an on-budget reality that will impact viewers.

Knowing available budget up front keeps our creatives focused- commercial directors, corporate directors and director-editors. There is no value in dreaming up a production our clients cannot afford. There is immense value in channeling creative efforts into developing a story or message that delivers the most impact for our client's money.

Camino Media's work in Spain and Portugal across most all storytelling genres inspires our team to develop innovative ways to tell stories and transmit messages to a global audience. Trust in our vision for storytelling. The success of your company's image and its message depends on it in today's cross-platform, multimedia world.

Join us in LinkedIn and Facebook . Share us with your friends and colleagues. Call us at +34 91 548 8337. We hope to work with you soon.