industry news
The Latest Industry News for the Exciting World of Production.
Creative Handbook puts together a bi-monthly newsletter featuring up-to-date information on events, news and industry changes.
Add My Email
By: Off the Walls Studio Gallery
| January 31, 2020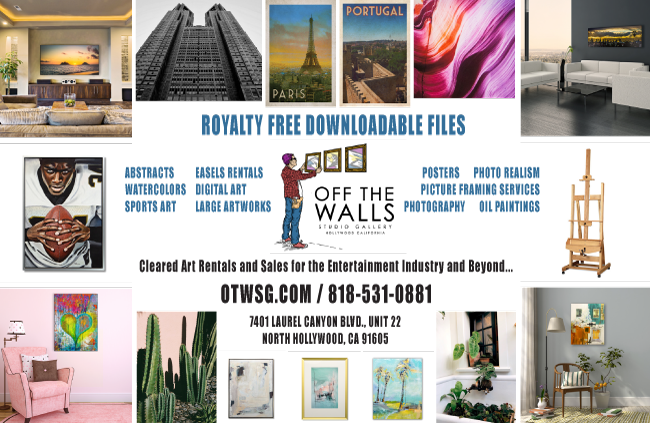 Great framed art for your next set design project!


"Off the Walls Studio Gallery founded by a Set Decorator for Set Decorators" Cleared Art Rentals and Sales for the Entertainment Industry and Beyond...
Off The Walls Studio Gallery is an online gallery specifically for the film, print & media industry. Off the Walls Studio Gallery Founded by John Philpotts a former set decorator in the entertainment industry. We are an On-Line Web Based art gallery exhibiting abstract, photography, and contemporary art from emerging and established artists. All art work is available for purchase. We also offer short-term rental or long term leasing. All art has permission by the artist for use in motion picture, tv and commercials and beyond.
HERE'S HOW SIMPPLE OTWSG MAKES CLEARED ART!
John has founded Off the Walls Studio Gallery with the sensibilities of a decorator to help the Set Decorator with the hectic productions schedules and quick turnarounds Hollywood demands. As an artist, John has created Off the Walls Studio Gallery as a platform for his Ocean/Landscape Photography along with emerging and established artists. Off the Walls Studio Gallery brings new fresh artwork to the decorator's workflow.
If you want to build your collection with affordable, unique artwork, we can offer a wide range of pieces from urban, street, photography, and pop to some stunning abstract works.
We represent Southern California-based and nationally-based emerging and more established contemporary artists and still growing our team of artists. We have well over 1000 pieces of art on view at our web site in gallery's in various mediums as well as additional works. We are constantly bringing in a new artist to be apart of the Off the Walls Studio Gallery TEAM. So keep checking in for fresh new art for your creative decorating needs.
(818) 531-0881
7401 Laurel Canyon Blvd., Unit 22
North Hollywood, CA 91605
otwsg.com