industry news
The Latest Industry News for the Exciting World of Production.
Creative Handbook puts together a bi-monthly newsletter featuring up-to-date information on events, news and industry changes.
Add My Email
By: Auerbach International
| January 15, 2020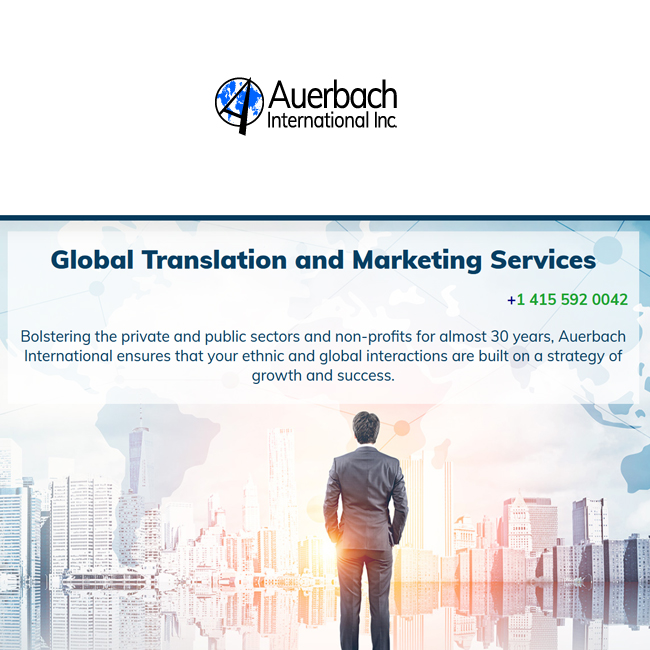 Whether for your next Movie / Production Project or any of your Translation Needs, getting communications right is very difficult .. as the Ode to English below illustrates. To ensure your communications are done correctly - from or into 80 languages - rely on the 30 years of professional experience from Auerbach International.

Or contact us at 415 592 0042 or translations@auerbach-intl.com.

We'll begin with a box and the plural is boxes
But the plural of ox becomes oxen, not oxes
One fowl is a goose, but two are called geese
Yet the plural of moose should never be meese.

You may find a lone mouse or a nest full of mice,
Yet the plural of house is houses, not hice.
If the plural of man is always called men,
Why shouldn't the plural of pan be called pen?

If I speak of my foot and show you my feet,
And I give you a boot, would a pair be called beet?
If one is a tooth and the whole set are teeth,
Why shouldn't the plural of booth be called beeth?

Then one may be that, and three would be those,
Yet hat in the plural would never be hose
and the plural of cat is cats, not cose.

We speak of a brother and also of brethren,
But though we say mother, we never say methren.
Then the masculine pronouns are he, his and him,
So why isn't the feminine she, shis and shim?


English is a crazy language. It's astonishing that foreigners can learn it.
There is no egg in eggplant nor ham in hamburger.
A pineapple contains neither apple nor pine.
English muffins were not invented in England.
Danish were not invented in Denmark.
Quicksand can work slowly.
Boxing rings are square.
A guinea pig is neither from Guinea nor a pig
Writers may write but fingers don't fing.
Grocers don't groce.
Hammers don't ham.
If teachers taught, why didn't preachers praught?
If a vegetarian eats vegetables, what does a humanitarian eat?
People recite at a play but play at a recital.
We ship by truck but send cargo by ship.
We have noses that run and feet that smell.
We park in a driveway and drive on a parkway.
A house can burn up as it burns down.
You fill in a form by filling it out.
And an alarm goes off by going on.
If Father is Pop why isn't Mother called Mop?
Plus we have some crazy puns...
Two silk worms had a race. They ended in a tie.
She was a whiskey maker but he loved her still.
A dog gave birth near a road and was cited for littering.
A lawn sign at a drug rehab center said, "Keep off the grass."
A hole was found on a nudist-camp wall. The police are looking into it.
Auerbach International
translations@auerbach-intl.com
415 592 0042