industry news
The Latest Industry News for the Exciting World of Production.
Creative Handbook puts together a bi-monthly newsletter featuring up-to-date information on events, news and industry changes.
Add My Email
By: Louise Stickland
| Dec 6, 2010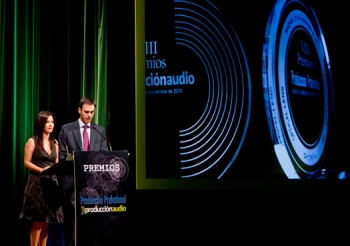 Robe lighting has won the coveted 2010 Produccion Audio and Production Professional Award for the "Lighting Company of the Year" (Empresa de iluminación del año).

Produccion Audio and Production Professional are Spain's leading technical and production industry journals, with monthly printed and online editions plus a highly proactive web portal with additional up-to-the-minute news and features. The annual Awards, produced in association with IFEMA - The Fair Trade Institute of Madrid - is now in its 8th year, recognises the best creative, technological and human achievements and developments across all sectors of the professional production and installation world.

The Award was announced during a lively evening of celebrations staged at the Auditorio Sur, a large theatre at the IFEMA Convention & Congress Centre in Madrid last week. This attracted leading industry movers and shakers from Spain and other parts of southern Europe including representatives from TV channels, cinema, production companies, advertising agencies, music and concert promoters, post studios, sales, events, technical production and rental companies.

Robe faced stiff competition from 2 rival European lighting manufacturers who were also chosen as finalists, but won the Award for its advanced and wide range of LED products and its innovative application of new technologies in the latest ROBIN series of moving lights, including use of the plasma lamp.

The 3 nominated products in each Produccion Audio Award category were chosen after 6 weeks of intensive online public voting from readers and other interested parties via the website. From these, the winners were then chosen by a panel of 13 industry experts.
The lighting experts for this year included César Linares, Technical Director of Teatro de la Abadía in Madrid, which is renowned for its high quality programme and dynamic blend of alternative theatre and classical works with modern interpretations. Also on the panel was Juan José Beloqui, one of Spain's best known concert and touring lighting designers, and also well known for his brilliant large scale extravaganzas.

Gabriel Albornoz, Director of Produccion Audio Espaňa and Joao Martins, International Editor of Produccion Audio also had extensive input, as writing and discussing lighting is a major element of the their day by day work on the magazines.

Robe lighting is distributed in Spain by Barcelona and Madrid based Lexon, and the Award was collected on behalf of them on the night by Gabriel Albornoz, Editor of Produccion Audio magazine.

Robe's Key Account Manager for Europe, Ingo Dombrowski, comments, "It's a huge honour for us to win this prestigious Award and to have our products, ideas, work and philosophies recognised by the industry".

Marketing Manager Jiri Baros adds, "I am very proud and happy that we have won this Award. I think it also helps to draw attention to Robe's 'Think of the Future - Consider Nature' initiative"
This was launched at PLASA 2010 and sees the company taking a lead in developing new and more energy efficient products, and in streamlining its production processes to be more environmentally friendly.

"People will know it's something we are serious and passionate about," adds Baros.

This is the second Produccion Audio and Production Professional Award that Robe has won. In 2008 the Czech Republic based manufacturer won "Best Lighting Product" for its DigitalSpot 3000 and 7000DT luminaires.