industry news
The Latest Industry News for the Exciting World of Production.
Creative Handbook puts together a bi-monthly newsletter featuring up-to-date information on events, news and industry changes.
Add My Email
By: Chris Thomes | Producers Guild of America
| December 25, 2019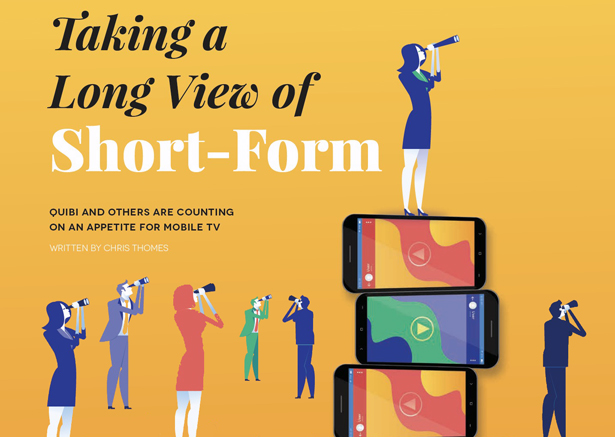 In a world where it feels like there can never be enough content to satiate the ravenous "I want what I want when I want it" viewer, it seems that any content-even nontraditional programming-can find its legs and make a go of it. However, there is one area of programming that has yet to actually make it over the top of the hill without rolling back-which it has many, many times-premium small-screen programming.

I have written about this format for the past several years, and the story is always the same. A wave of enthusiasm comes along, investment happens, jobs are created, content is produced, and then, without a sustainable business model, it all unravels. This wash, rinse, repeat cycle has included the wrecked ships of Disney's Stage 9 and Maker Studios, Go90, Machinema and Vessel. While all of these platforms have tried and failed to find an audience for short-form video programming, it looks like "groundhog's day" may actually be coming to an end. With a very serious $1 billion-plus programming budget, Jeffrey Katzenberg and Meg Whitman's premium short-form platform, Quibi, leads this latest run at the windmill.

As a refresher, mobile content of this ilk is under 14 minutes, has high production value, is original or derivative in nature, and often serialized. Most of it to date has been lifestyle programming. Very rarely has scripted short-form made a go of it, but it did have its day a few years back. Spurred on by the launches of streaming services and content slates like Seeso, Fullscreen, ABC's ABCd, and Comcast's Watchable, dozens of short-form content studios emerged to capitalize on the voracious appetite for stories told in 10- to 15-minute increments. But the market was short-lived, as subscribers failed to materialize and digital advertising competition from Google and Facebook made it hard to recoup budgets.

However, as mobile consumption continues to grow, Hollywood's digital producers have been turning their attention to a new crop of potential buyers with increasingly deeper pockets. Over the last two years, the major streamers (Netflix, Amazon and Hulu) started experimenting with show formats and lengths. Amazon funded Funny or Die's short films, Netflix funded new episodes of Jerry Seinfeld's Comedians in Cars Getting Coffee (which range from nine to 23 minutes each), and even Hulu started to populate ancillary short-form programming alongside its related main shows in the extras section.

Driving this momentum for the streamers is the notion that short-form series have started to become a cost-effective way to keep fickle young viewers engaged between, say, new seasons of Stranger Things or The Handmaid's Tale. The average cost of a digital project is typically about $10,000 per minute, but that can stretch higher than $20,000 if a project or the talent (actors, writers, director) warrants. Those budgets might have been more than the digital ad market could bear in the early, sponsor-supported days of short-form, but they are a fraction of the billions of dollars that Netflix and other streamers spend on programming every year.

Professional organizations are also starting to recognize the seriousness of the short-form market. Our own PGA now honors short-form with its Outstanding Digital Series award, and the Television Academy has several Emmy categories for short-form programs including animation, drama, comedy, variety, and actress and actor in a short-form drama or comedy series.

All of this interest is dwarfed, though, by Quibi's investment in the space.

Initially, Katzenberg raised nearly $600 million from investors to put up a shingle for his new digital media and technology investment firm WndrCo in early 2017. Then, at the tail end of 2018, having teamed up with former eBay CEO Whitman, Katzenberg launched Quibi, a short-form, mobile-based subscription streaming service that debuts next year.

With $1 billion in backing initially from the likes of Disney, WarnerMedia, Fox, Viacom and NBCU, among others, Katzenberg and Whitman started with a lot of muscle. And their approach has moxie, too. At the Produced By Conference this past June, Whitman touted that "We're the first OTT service launched without acquiring a library," which means all that investment will disappear pretty quickly as they ready their service for debut.

Quibi isn't the only major player investing in this space. Former Lionsgate co-COO and Motion Picture Group co-president Steve Beeks and former Fox Division president Mike Dunn have launched Elemental Content And Solutions, a new short-form production and distribution company that will be a fulcrum for funding and creating live action and animated series, told in three- to five-minute segments. Like Quibi, they are betting the 18-34 demo will spark to a new way of consuming content-that is, in short bites.

Quibi will drop videos in seven-to 10-minute chunks, which is very similar to the 11-minute segments on television today in between ads. As with TV, monetization will come from advertising, but there will be no more than 2 ½ minutes' worth of ads in an hour. There will be a 15-second ad pre-roll for a five- to 10-minute session, and for those less than five minutes, there will be less than a five-second ad.

Elemental's content is shorter in length and its initial focus will be to align with mobile telecommunications carriers in high-growth international markets whose youthful customers are clamoring for such content. The early emphasis is overseas in Asia, South America and Europe, and their intention is to launch programming slates with those international carriers by the first half of next year.

While all of this sounds well and good, for the producer looking to capitalize on this market opportunity, there are some serious things to consider.

Is there a potential market for it? Absolutely.

Mobile video consumption continues to rise. Quibi's bet is that it will have the ability to grab a percentage of viewers who are willing to pay for programming that's far superior to YouTube and other social platforms. And with the general trend of consumers paying for streaming content, Quibi executives feel like they have a great shot at capturing on-the-go viewers. Their thinking is that if there are people who are watching more than an hour of video on their mobile devices every day, it's not that crazy to believe that Quibi can get 2% to 4% of those consumers to a paid experience.

What are the deals like? Surprisingly generous.

Quibi's deals are great for studios, but not necessarily for Quibi. As part of its deals, Quibi pays the cost of a show, plus a 20% production fee. For this, Quibi exclusively licenses the content in bite-size viewing form for seven years, after which the rights revert back to the creators and producers. But crucially, after two years on the service, creators will be able to edit the short-form version into one feature-length project and can sell the rights to international buyers. This innovative IP ownership model has upsides for both producers and platforms and stands in stark contrast to a streamer like Netflix, which takes all global rights for long periods of time. For producers, short-form has always felt challenging in terms of revenue streams, but Quibi offers a way to break out of that with potential real value for the producer and distributor.

Is there revenue to be had? People are starting to bet on it.

According to reports out this past July, Quibi has already booked $100 million in upfront ad deals from advertisers including Google, Procter & Gamble, Walmart and PepsiCo. Quibi's starry and well-funded commissions give a clear sense of its ambition in the short-form market, while backing from both investors and advertisers suggests a high degree of confidence that it has the right ingredients to captivate audiences and generate impressions.

Does the viewer actually want short-form? That's the million-dollar question.

Short-form, premium content may have the wind pointing in the right direction, but astute producers will wonder if it's really filling a consumer need. Do people actually want premium short-form? Well, you could ask the same thing about the iPhone. There were plenty of mobile devices out there before the iPhone came along. What Apple did was make people want the iPhone. They created the desire for it by portraying it as a cultural phenomenon and tapping into the consumer's sense of a cool factor.

Changing consumer behavior is not easy, and it takes a lot of money to create programming consumers will watch not just once, but many times-and hopefully recommend to friends. It will also take a lot of money to market it as a mainstream choice, something sorely missing from prior short-form efforts. Quibi and others are well aware of the hurdles, but they're hoping their investments will get the train over the hill. And even if there is no consumer appetite yet, these new ventures are going to do their best to make you hungry.