industry news
The Latest Industry News for the Exciting World of Production.
Creative Handbook puts together a bi-monthly newsletter featuring up-to-date information on events, news and industry changes.
Add My Email
By: Off the Walls Studio Gallery
| November 14, 2019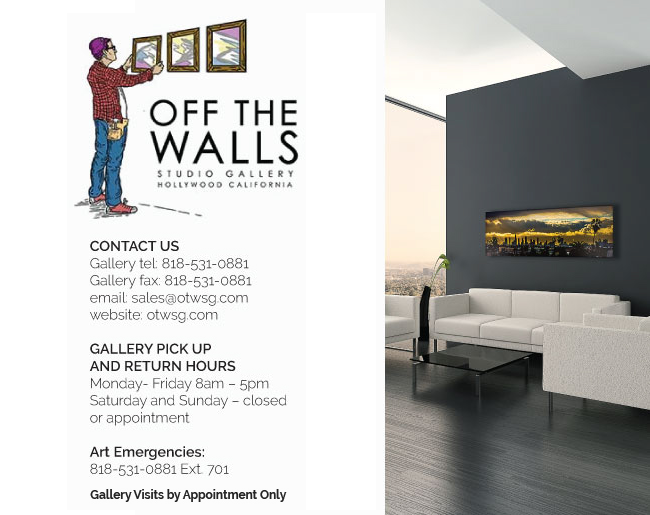 OTWSG.COM
We are an On-Line WebBased art gallery exhibiting abstract, photography, and contemporary art from emerging andestablished artists. All artwork is available for purchase. We also offer short-term rental or longterm leasing. All art has permission by the artist for use in motion pictures, tv and commercialsand beyond. You can come to our gallery to see your art needs at
7401 LaurelCanyon Blvd., Unit 22
North Hollywood, Ca. 91605
We represent SouthernCalifornia-based and nationally-based emerging and more established contemporary artistsand still growing our team of artists. We have well over 1000 pieces of art on view at our website in galleries in various mediums as well as additional works. We are constantly bringing in anew artist to be apart of the Off the Walls Studio Gallery TEAM. So keep checking in for freshnew art for your creative decorating needs
Studio Gallery
Royalty-Free Downloadable Image
Off the Walls StudioGallery has over 600 Royalty-Free Downloads for your project design needs. With over20 categories to choose your image files. All files have been provided directly from theartist, providing full perpetuity usage per project encluding Model and Property Releases. All orders processing payments through PayPal accounts, accepting all credit cards,and purchasing cards. We at OTWSG do not store any customer information!
Keep checking in for daily new Images files todownload.
OTWSG.COM