industry news
The Latest Industry News for the Exciting World of Production.
Creative Handbook puts together a bi-monthly newsletter featuring up-to-date information on events, news and industry changes.
Add My Email
By: Rose Brand
| October 22, 2019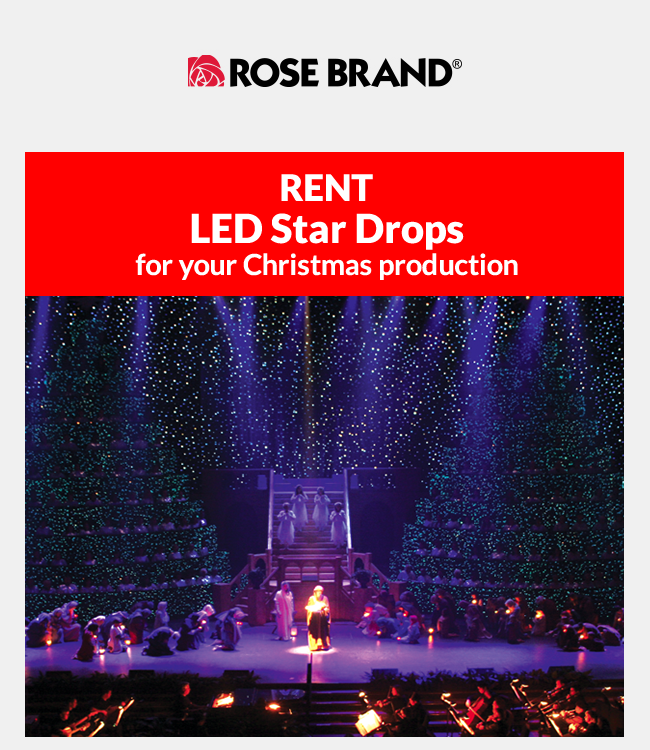 Rent or Buy to create that starry sky backdrop for holiday productions! Rose Brand Classic LED Star Drops provide blueish white light. Chameleon LED Drops provide gorgeous colored lights. Both offer dynamic backdrops that are cost effective and easy to setup, configure and transport. These LEDs show well, even in high ambient light conditions. Call 201-809-1730 to talk to a sales rep today or click below to reserve your rental for the holiday period. Don't delay!



Rose Brand East
Hours: M-F 8:30am - 5:00pm EST
Warehouse closed for lunch: 12:15-1:00pm
4 Emerson Lane
Secaucus, NJ 07094
Toll Free: 800-223-1624
Phone: 201-809-1730
Fax: 201-809-1851
Rose Brand West
Hours: M-F 8:30am - 5:00pm PST
Warehouse closed for lunch: 12:15 - 1:00pm
11440 Sheldon Street
Sun Valley, CA 91352
Toll Free: 800-360-5056
Phone: 818-505-6290
Fax: 818-505-6293
In Canada
Represented by: Technically Yours, Inc.
Hours: M-F 8:30am - 4:30pm
288 Judson Street, Unit 5
Toronto, ON M8Z 5T6
Toll Free: 800-223-1624 x175
Phone: 416-361-9784
info@tyi.ca