industry news
The Latest Industry News for the Exciting World of Production.
Creative Handbook puts together a bi-monthly newsletter featuring up-to-date information on events, news and industry changes.
Add My Email
By: ASBURY PR AGENCY
| August 14, 2019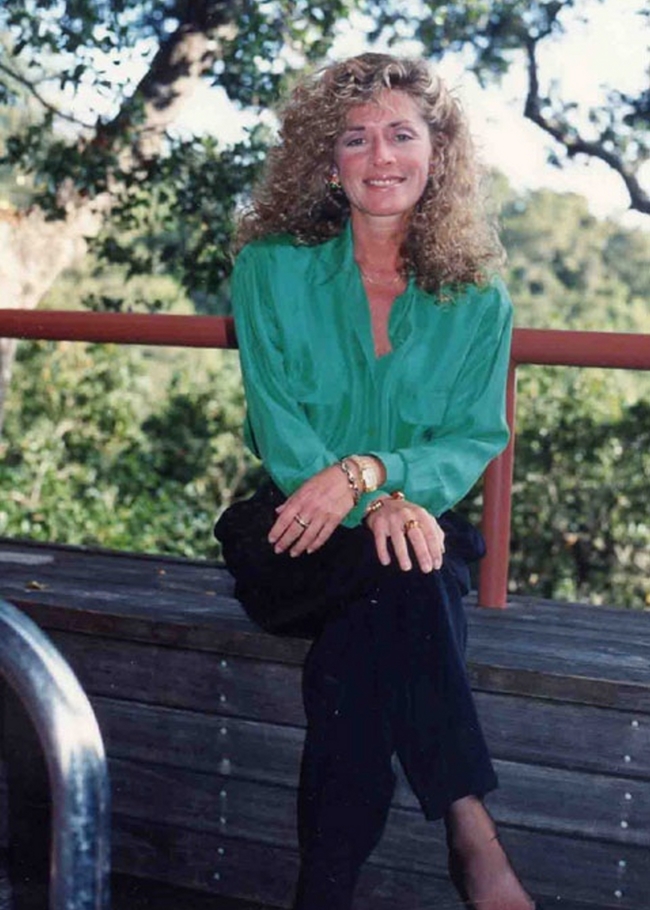 Nina Saxon, one of the entertainment industry's leading designers specializing in main and end titles, title sequences, and animated motion graphics logos for major motion pictures, television movies and TV programs, as well as for entertainment production companies, is currently celebrating her 40th Anniversary Year in Hollywood. Concurrently, her newest project - designing the film titles for the upcoming documentary about Paul McCartney entitled "Here, There, and Everywhere," will mark Saxon's 350th career title project. Over the span of her 40-year career, Saxon established herself as a pillar of title sequence design, a defining figure of the branded blockbuster film, a logo legend, and a master of painting with light.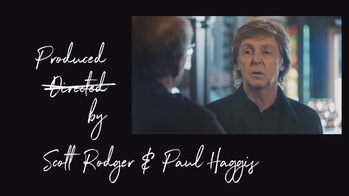 The Upcoming Documentary on Paul McCartney,
"Here, There & Everywhere," Marks Nina Saxon's 350 Main Title Project
In 1996, critic Laurie Halpern Benenson, writing for the New York Times, called Nina Saxon "one of the most sought-after designers in the business" and it was true: some years, she could barely keep up with demand. Her compelling visions and iconic graphics can be found in the familiar type of Back to the Future (1985), the slow bloom of Rambling Rose (1991), the glowing grin of Stay Tuned (1992), the searching light of The Fugitive (1993), and the floating feather of Forrest Gump (1994).
"During the past 40 years, I have been truly blessed to have been involved in 350 main title sequences for films and/or TV series, working with countless top directors including Robert Zemeckis, Martin Scorsese, Mike Nichols, Wolfgang Peterson, Michael Dinner, David Steinberg, William Friedkin, Michael Lehmann, Phillip Noyce, Barry Levinson, and Lasse Halström; producers including Stephen Bochco, Bruce Paltrow, and Sherry Lansing; and editors such as Zach Steinberg, Raja Gosnell and Dennis Verkler. I am extremely grateful to these men, and to all of the other amazing men and women behind the camera, whose creative vision helped inspire me to design many of these now iconic titles," Saxon said.
ABOUT NINA SAXON'S EARLY CAREER
According to a recent profile of Saxon by
by Lola Landekic on the site Art of the Title:
If the 1950s and '60s was the Designer era of title sequences, dominated by creators with identifiable aesthetic signatures like
Saul Bass
,
Maurice Binder
and
Pablo Ferro
, then the 1980s was the Logo era, dominated by creators like Nina Saxon,
Richard Greenberg
and
Richard Morrison
. For Saxon, it wasn't just her ability to design effective and vibrant title logos that set her apart. It was her devotion to both practice and practicalities, her ability to read the room and to navigate the intricacies of a deal - or, to use her words, to hustle. Because she transitioned into the craft after working as a visual effects artist and animator, most notably on the first three Star Wars films, she was as comfortable with optical effects, mattes and typography as she was with animation, down-shooter cameras and stop-motion. Perhaps that is also why she was able to approach title design with fresh eyes and usher in a new era: the branded blockbuster film.
From the bodice-ripping swashes of Romancing the Stone (1984) and the shimmering capitals of The Little Mermaid (1989) to the collaged chaos of Airheads (1994) and the spinning sandwiches of Good Burger (1997), and from the glowing markup of Antitrust (2001) to the blinged-out branding of Beauty Shop (2005), Saxon experimented with typography, technique and media, creating a distinct aesthetic solution for each project - her work disappearing into the scene entirely where necessary - and leaving an indelible mark on the industry.
But she didn't start out with movies in mind. Her initial plan? "I was going to be a psychologist," she says. After getting into the University of California, Los Angeles, she enrolled in a smattering of elective classes in film and animation and found she enjoyed it. Her first film assignment was to make a short, which she decided to shoot on location with Planned Parenthood. She filmed a childbirth which she intercut with music. The short nabbed her the Jim Morrison Film Award and that was it. "I got hooked into the movie business," she says.
She set out to find a job and, after sending letters to every creative director she could find in San Francisco and L.A., she got a phone call from director John Korty. He had just won an Academy Award for the documentary Who Are the DeBolts? And Where Did They Get Nineteen Kids? and he had a job for her. Saxon recalls that he said, "If you come up here to Mill Valley, I could pay you $100 a week. You're gonna work nine 'til two in the morning, probably six weeks." She put her belongings in a trunk and headed north.
Other notable Korty Films "alumni" have included directors David Fincher (Se7en) and Henry Selick (Coraline), editor Marcia Lucas (
Star Wars
), screenwriter David Webb Peoples (
Blade Runner
), and production designer Harley Jessup (
Monsters, Inc.
). It was in this Mill Valley milieu that Saxon met editor Donn Cambern, who became her mentor.
When there was a lull in projects, Saxon called Cambern, who mentioned that there was a movie assembling crew and the production manager owed him a favor. They were hiring 900 people. It was called Star Wars. Was she interested? Saxon didn't think the film had much going for it, but she saw an opportunity to expand her skills. "So I went to work for an optical house and learned how to do the laser bullets!" she recalls fondly.
NINA SAXON'S TOP TEN "FAVORITE" FEATURE FILM MAIN TITLES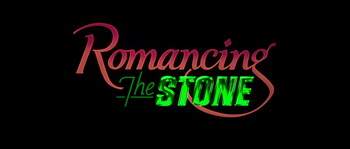 Romancing the Stone
(1984): Says Saxon, "I made a deal with Michael Douglas on this picture that I would go with him to PR meetings. As a result, I helped to redesign their original title, which had a lower case 'r' that didn't feel right to me. To give the impression of a powerful romance novel, we needed a capital 'R' to make a bigger swash. Michael agreed with my vision and helped me convince director Robert Zemeckis to go with my revised design."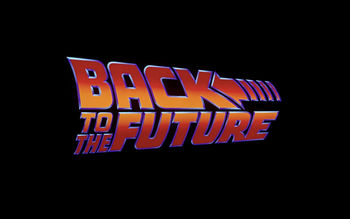 Back to the Future
(1985): "This was Bob Zemeckis' first big hit," recalls Saxon. "He had two different logos originally for this film, one that was in a 'Western' style and the one we ended up using. The editor on the film, Arthur Schmidt, wanted to use the Western one, but I felt otherwise. I took the second version and painted it with light to make it glisten - that's the one used on both the posters and for the main title. Zemeckis then used this same idea for the second and third sequels as well."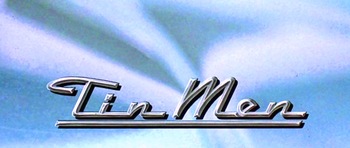 Tin Men
(1987): "My first big main title - it was pretty scary!" says Saxon. "The Cadillac that we were going to use for the title had been trashed during filming, so the crew had to rebuilt it. Then we put it on a large circular turntable, so we could rotate the car and present it as kind of a 'sex symbol.' Unfortunately, the turntable collapsed at one point-it started to bobble when it rotated, so the crew had to move the turntable by hand. I worked closely with editor Stu Linder to get the shots of the car that didn't 'booble.' I used a typeface called 'cadillac' and made the title glow and feel multi-dimensional. I greatly enjoyed working with Barry Levinson on this one."
The Little Mermaid
(1989): "This was a pretty simple assignment," Saxon says, "The artists at Disney designed the logo and I made it glow."
Beauty and the Beast
(1991): "Same as Little Mermaid," recalls Saxon.
Glengarry Glen Ross
(1992): "This was an interesting assignment - all of the opening main title credits were seen on the screen before the movie even started, and were presented against the sound of a train speeding down the tracks. I had to use a traveling matte that I animated, so the audience would see the words on the screen as they matched the sound of the train hurtling down the tracks."
Mrs. Doubtfire
(1993): "Working with Chris Columbus and editor Raja Gosnell was great fun and the start of a long, wonderful relationship," says Saxon. "The opening title was fairly straight forward and we used simple type because we didn't want to give away to the audience that Robin Williams would be portraying two different characters. I was fortunate enough to work with Chris and Raja again on a number of future projects."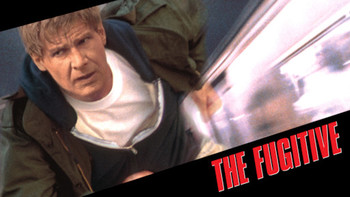 The Fugitive
(1993): "A real plum job!" recalls Saxon. "Editor Dennis Virkler had cut 'The Hunt for Red October' and brought me in for this one. I came up with the idea of a glowing blue logo. Dennis helped guide me along during this main title, and we developed a very strong relationship."
Forrest Gump
(1994): "Bob Zemeckis' baby," said Saxon. "The iconic floating feather seen at the start of the film was on a wire and had been designed by ILM in San Francisco. I had to design the type around the movement of the feather - a very interesting collaboration for me to work with ILM. We had to play around with the 'F' in 'Forrest' - I extended its size by about a quarter of an inch, making it a little longer than the other letters. In this way, we were able to portray the idea that Tom Hanks' character was 'a little different,' just like the capital 'F'".

Salt
(2010): Director Phillip Noyce has said, "Working on the Salt opening credits with Nina Saxon was a pleasure. She has a keen visual sense and deft creative insights. Nina understood the story we were telling, and found a way to express the duality of the film's main character, in a bold and graphic style that sets the tone for everything to come." Adds Saxon, "I enjoyed working once again with Phillip on Salt. He is creative, secure in his choices, and has a wonderful ability to articulate his vision. I see my work as a moving introduction to the film, and representative of the ambiguity inherent within its story."
ABOUT NINA SAXON DESIGN
Founded by Nina Saxon in l979 in Santa Monica, CA, Nina Saxon Design is one of the entertainment industry's leading design production studios for feature film and television projects. The New York Times has cited Nina Saxon, an Emmy Award winner, as "One of the most sought-after designers in the entertainment business."
In addition to its work in the overall development, creation and production of motion picture and television main and end titles, title sequences, and animated motion graphics logos for entertainment production companies, Nina Saxon Design also acts to oversee title design budgets, art direction, and the postproduction process behind those titles and sequences. The company also serves as liaison between the title design process and each project's producers, directors and editors, as well as between studio postproduction supervisors, executives and legal departments.
Historically, Nina Saxon Design has contributed feature film main titles to such hit movies as Romancing the Stone, the Back to the Future trilogy, Dear John, Music and Lyrics, Cider House Rules, The Fugitive, Forrest Gump, Beauty and the Beast, The Princess Diaries, Stepmom, The Little Mermaid, The Hunt for Red October, Primary Colors, Mrs. Doubtfire, Contact, Die Hard 2, Rush Hour, Snakes on a Plane, Scooby Doo, and Big Momma's House 1 & 2, among them.
In the area of television programs, Nina Saxon Design has produced main titles for such hits as Wings, Early Edition, Notes from the Underbelly, Life With Bonnie, Picket Fences, HBO's 61*, Fantasy Island, Secret Agent Man, and Something the Lord Made, among others.
For its entertainment production company clients, Nina Saxon Design first produces corporate logos for print, and then translates these new logos into motion graphics for the screen. The company's corporate clients have included Stephen Bochco, Alcon Entertainment, Interscope/Polygram Entertainment, Josephson Entertainment, Grub Street Productions, and HSI Entertainment, to name some.
Nina Saxon Design is located at 930 20th St, # 5, Santa Monica, CA, 90302, and the phone is 310/453-7044. Please see:
www.ninasaxondesign.com