industry news
The Latest Industry News for the Exciting World of Production.
Creative Handbook puts together a bi-monthly newsletter featuring up-to-date information on events, news and industry changes.
Add My Email
By: Bexel
| July 30,2019

Bexel, an NEP Broadcast Services Company, provided a full complement of broadcast systems and engineered solutions for long-standing clients Turner Sports, NBA TV, and ESPN for the 2019 NBA Finals between the Toronto Raptors and the Golden State Warriors. With a history of supporting the championship event for the past two decades, Bexel has undoubtedly grown to meet the demands and challenges of the large-scale, dual-city production.

The best-of-seven series between the Eastern and Western Conference champions travelled between Toronto, Ontario and Oakland, California. Bexel supported the championship broadcast with a robust package of fiber solutions for both cities, including thousands of feet of TAC-72, TAC-24, and TAC-12 fiber cable paired with seven "Glass Cows" - breakout fiber patch panels that have 72 ST connections for the TAC-72 fiber.

To transport audio and video over fiber, ancillary hardware included Telecast Adder II audio multiplexer systems, MultiDyne VF-9000s, LightBrix, and SilverBULLETs, along with Studio Technologies M400s. MultiDyne FiberSavers were used to increase signal capacity, combining as many as 18 HD-SDI feeds, or optical signals of any wavelength onto one single-mode fiber. To interface the announce booth with audio, video, intercom and IFB equipment, Bexel supplied their Fiber Booth Kit with Dante, and provided a dedicated a fiber technician at both sites in Toronto and Oakland to facilitate broadcast operations and manage the fiber infrastructure.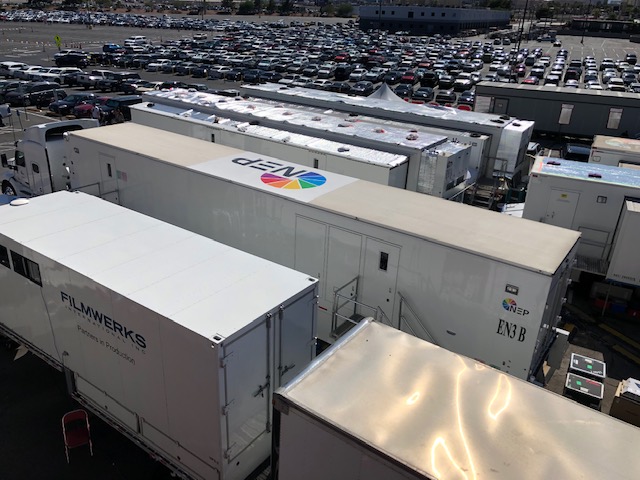 Fans at home were treated to a fully immersive experience with courtside audio airing during the broadcast. To achieve this, Bexel supplied an assortment of RF audio, deployed as a "Super Audio Kit" in both cities. This audio solution is essentially two audio kits combined that enable the production to double its capacity for the Sennheiser RF Stick mics, Lectrosonics IFB, Radio Active Designs RF/PL, and ASG Falcon Boxes with headsets, as well as manage the RF audio frequency coordination on site.
To get a truly unique perspective of the action on the court, Bexel also supplied coaches' microphones and QT-5100 PlayerMics from Q5X. These PlayerMic Systems are specifically designed for NBA players to wear in their jerseys during games. At only .43 of an inch thick, the body packs are small, flexible devices that do not interfere with the players' performance. The impressive audio achieved at the championship game enabled a visceral experience for fans watching around the world.
Rounding out the video equipment supplied for the broadcasters of the 2019 NBA Finals were Sony Z450 ENG camera packages, CueScript teleprompters, HD/SDI and HDMI monitors in various sizes including NEC X474HB 47-inch LED high brightness monitors for outside sets, a host of Litepanels 1x1 Astra LED lights, edit packages, and announce booth packages in each city.
NEP Group was also on site, and supported the event alongside the Bexel team, delivering superior service and a coordinated broadcast solutions for clients.
"The NBA Finals is the league's culmination event, and we're honored that Bexel is entrusted each year with supplying all the necessary resources to deliver full coverage of the championship," said Lee Estroff, vice president of Account Development for Bexel. "For more than two decades, we have provided the most innovative broadcast systems available with the best engineering talent in the industry. We look forward to supporting this key event for many, many more years to come ."
About Bexel
For over 35 years, Bexel, an NEP Broadcast Services Company, has been a leading global provider of outsourced innovative broadcast solutions for producers of sports, entertainment, and live events. Our services include production equipment rentals and engineered solutions for 4K and specialty cameras and lenses, RF audio and intercom, production workflow, custom flypacks, frequency coordination, and fiber optic solutions. We pride ourselves on exhibiting operational excellence from concept to completion. From our custom shipping cases designed for each rental package to save our client valuable time and money, to our commitment to quality when designing, building and installing full-service broadcast infrastructures, Bexel's reliability is unmatched for providing value-engineered solutions and services.
bexel.com