industry news
The Latest Industry News for the Exciting World of Production.
Creative Handbook puts together a bi-monthly newsletter featuring up-to-date information on events, news and industry changes.
Add My Email
By: Stonepunk Studios | Fun Train | Edgar Rice Burroughs, Inc.
| July 19, 2019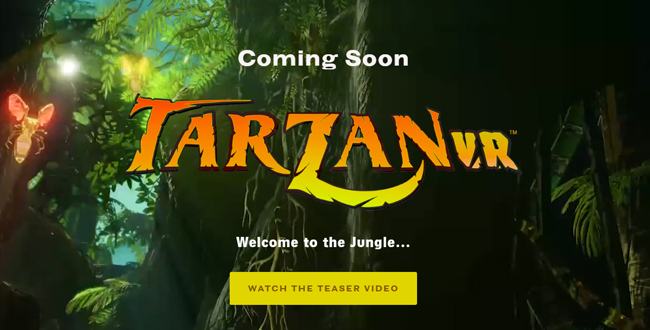 Fun Train will be releasing a thrilling episodic virtual reality adventure later this year.

Fun Train, publishers of premium virtual reality games based on iconic cinematic franchises, announced today at San Diego Comic-Con that Tarzan VR™ is currently in production by Stonepunk Studios and will be released episodically later this year for major virtual reality headsets including PlayStationVR, Valve Index, HTC Vive and Oculus Rift S. Leveraging the immersive power of VR, the game will transport players into the fantastic world of Tarzan created by Edgar Rice Burroughs.

TARZAN VR™ is an episodic, single player virtual reality game with carefully balanced elements of exploration, combat, athletics, creature interaction and natural wonder and is experienced as multiple serialized comic-style issues to explore and conquer. Players can swing, swim, climb and fight their way across five open world environments, each offering its own unique set of geographical landscapes and challenges. Additionally, players will have access to unique Tarzan "jungle skills" such as Call of the Wild, Earth Vision and Fish Eye.

Tarzan VR™ is developed by Stonepunk Studios, a team comprised of AAA artists responsible for the indie hit Primordian. Tarzan VR™ is being produced and published by Fun Train, who most recently released the episodic title The Exorcist: Legion VR for PlayStation, Steam & Oculus Quest with developer Wolf & Wood.

"Who hasn't wanted to swing like Tarzan at some point in their life?" said Douglas Nabors, Fun Train CEO. "Stonepunk Studios is crafting an imaginative world that demonstrates a faithful but unique vision for the Tarzan franchise. We can't wait for people to experience it."

"We are especially pleased to partner with Fun Train and Stonepunk Studios to develop our first TARZAN virtual reality game" said Jim Sullos, President of Edgar Rice Burroughs, Inc. "Using this new technology, we believe we have entrusted the best team to develop an exciting game that reimagines Tarzan for a whole new generation."

The Tarzan VR™ press kit, including a fact sheet, is available here. http://bit.ly/TarzanVRpress

For more information including the Tarzan VR™ Announcement Trailer, please visit www.tarzanvirtualreality.com

About Stonepunk Studios:
Stonepunk Studios is a development studio dedicated to creating quality, wondrous and memorable worlds in a way that can only be achieved through virtual reality. Prior to founding Stonepunk Studios, its team created some of the most exciting AAA titles in the gaming industry.

About Fun Train:
Fun Train is a producer and publisher of episodic, premium virtual reality experiences based on established cinematic franchises. The company's first title, The Exorcist: Legion VR launched worldwide in 2017. More information about Fun Train can be found at www.funtrainvr.com.

About Edgar Rice Burroughs, Inc.:
Edgar Rice Burroughs, Inc. was founded in 1923 by the author Edgar Rice Burroughs to manage the rights to his literary works. He is renowned for his many novels of fantastic adventure, his best-known creation being the jungle hero Tarzan of the Apes, first published in 1912. The company has overseen every adaptation of his literary works in publishing, film, television, theatrical stage productions, licensing and merchandising. It continues to be owned by the Burroughs family and remains based in Tarzana, California, the city named in honor of Burroughs and his famous storybook character. More information about Edgar Rice Burroughs, Inc. can be found at www.edgarriceburroughs.com. Trademarks TARZAN®, TARZAN AND JANE® & EDGAR RICE BURROUGHS® Owned by EDGAR RICE BURROUGHS, INC. And Used by Permission.