industry news
The Latest Industry News for the Exciting World of Production.
Creative Handbook puts together a bi-monthly newsletter featuring up-to-date information on events, news and industry changes.
Add My Email
By: Rose Brand
| May 29, 2019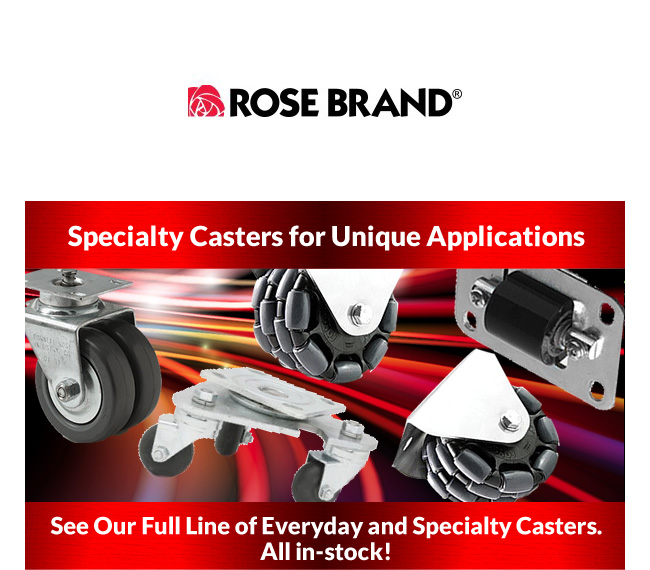 We are the masters of casters. All casters combine durability, heavy load capacity and low overall height with great prices. See some of our specialty casters below and our complete line as well.



Mini Triple Swivel Caster
Small stature comes up big when you need all the advantages that a triple swivel offers, but in a small size that rivals most swivel casters.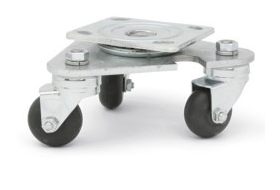 Triple Swivel Junior
Provides outstanding ease of movement with load capacities of 300 to 900 lbs. Three swiveling casters attached to a heavy duty swiveling platform base maneuver large, heavy items in tight quarters with ease.

5" Rotacasters
Innovative, fixed mount caster that provides 360 degree, any which way movement. No swiveling so they can be mounted on the narrowest wagons and remain perfectly stable.

3" Corner Casters
Can be recessed to "wheelbarrow" scenic units or road cases. This 3" Corner Caster comes with either a silver diecast housing or a black housing, with a black wheel. 330 lb. capacity.

4" Cartmaster Casters
Durable dual grey, non-marking neporene wheel with thread guards, ball bearings, radial thrust bearings. Also available with unique brake pin.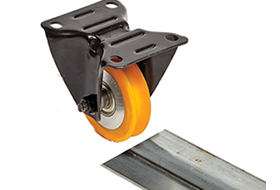 3" Tracking Casters & Surface Track
U-Groove casters allow for quick and reliable tracking of platforms and other scenic elements. When paired with their low profile Surface Track, they offer easy, precise control of linear motion without the need to slot your stage deck.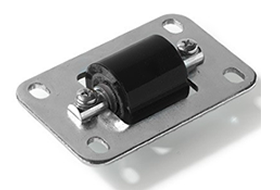 Pallet Master Caster
First commercially available caster for a low profile wagon. Uses advanced elastomer and sealed bearings to create a 1¼" diameter caster for pallets. Get 10% off when you buy 10 or more (call in for discount).

Cup Swivel Caster
Can be recessed into the base of scenery and has a slim 9/16" clearance to the stage floor. Soft rubber wheel. 100 lb. load capacity per caster.
Rose Brand
is North America's largest provider of theatrical fabrics, fabrications and production supplies for the entertainment, event and display industries.
Being in business since 1921, we've learned a thing or two about the entertainment, event, and display industries. What started as a small, family run business has grown into a national company employing over 250 people in two locations.
Ninety-five years ago we opened our doors on the Lower East Side of Manhattan selling rags. As time went by we expanded to the sale of theatrical fabrics and developed in-house, custom sewing capabilities. We also began carrying various production supplies and stage hardware. Fast forward to today and we're manufacturing custom theatrical and event drapery, backdrops and virtually anything sewn with fabric for venues that range from high school auditoriums to Radio City Music Hall. Our custom service also includes technical project management for the design & installation of curtain, track and projection jobs.
Combine our bi-coastal facilities, hundreds of thousands of yards of in-stock fabrics, plus the expertise of our project managers and you have the quickest turnaround time on the most intricate jobs.
Ask around about our reputation. You'll know you chose the right partner for your production. Our continued growth is the result of the strong relationships we've built with you, our customers.