industry news
The Latest Industry News for the Exciting World of Production.
Creative Handbook puts together a bi-monthly newsletter featuring up-to-date information on events, news and industry changes.
Add My Email
By: Matthews Studio Equipment
| May 30, 2019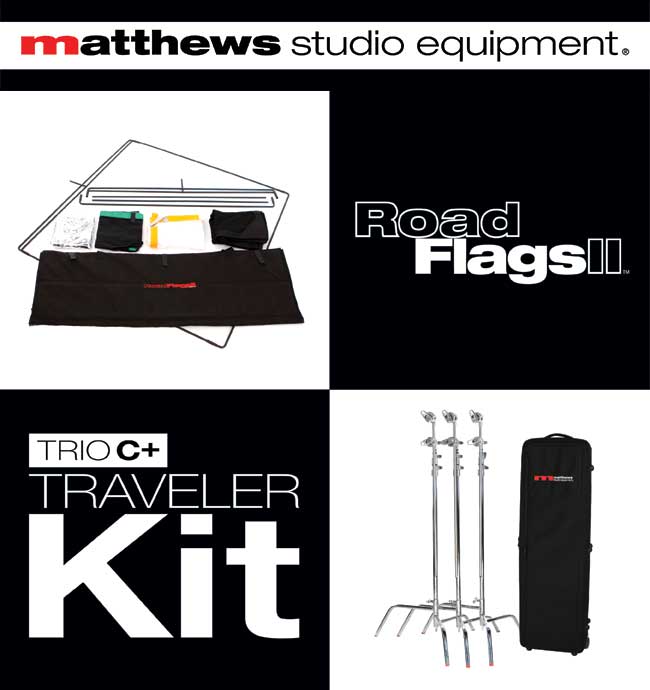 Grip Equipment Can Be Portable and High Quality
Matthews Studio Equipment knows what it's like to be both a beginner and a legend. They've been inventing, and re-inventing, the grip industry for 50 years. But they don't rest on their history-they throw themselves back into the field as often as possible. Their primary observations of late: gear gets smaller and so do the cars.
Never a company to skimp on quality, they put their brains to work and have created-over the last 20 years-portable grip equipment that doesn't sacrifice quality. The beauty of their beginner kits: they aren't limited to beginners. They're perfect for seasoned professionals.

Their newest kit takes 3 turtle base C-Stands and puts it in a durable roll case. The Trio C+Traveler Kit fits in any truck or hatchback car. Inside are 3 C-Stands and compartments to add more accessories! Add some Matthellinis, Mafer Clamps and more inside.
Crimson Engine got a Trio C+Traveler kit alongside the RoadRagsII and RoadFlagsII kits, using them for an indoor and outdoor shoot.
Rubidium with Crimson Engine really dug the portability. He took the RoadFlags II and RoadRagsII kits, folded up, and put them in the Trio bag (alongside the C-Stands) and drove away in his Civic. Recently, though, Matthews had a customer visit, buy a 4x4 flag, and then try to fit it into his Prius. He didn't watch Crimson Engine's video. But Matthews was good enough to help out and they even documented the experience on their social media.
They also took the initiative that week to do a little education on it, too.
While many grips may already have a lot of this gear on their truck, and don't need to worry about cramming it into a small car, the Trio C+ Traveler Kit and the RoadFlagsII and RoadRagsII kits work perfectly in those tight locations around town when you can't park your truck close. Take the trips from 3 down to 1. All of this comes together and shows exactly why Matthews is a 50 year young company, creating equipment that works for the beginning and the experienced pro.