industry news
The Latest Industry News for the Exciting World of Production.
Creative Handbook puts together a bi-monthly newsletter featuring up-to-date information on events, news and industry changes.
Add My Email
By: The Inaugural See it - End it! Human Trafficking Film & Arts Festival
| March 16, 2019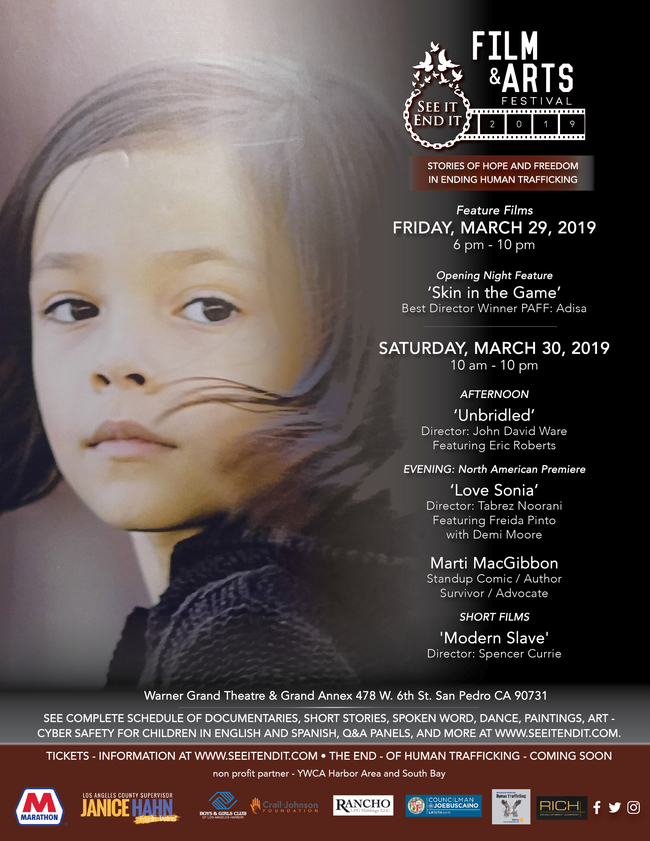 The 2019 Inaugural See it - End it! Human Trafficking Film and Arts Festival will be held on Friday, March 29th, 2019, from 6 pm - 10 pm, and Saturday, March 30th, 2019, from 10 am - 10 pm, at the historic Warner Grand Theatre and Grand Vision Annex at 478 West 6th Street in San Pedro, CA. Through film and art, this two-day educational, preventative, and awareness building event will bring home this growing human rights violation, portraying not only the horror, but also the hope to end enslavement, more possible today than ever before. Through movies, appearances, and Q&As with filmmakers, survivors, celebrities, panelists, and experts in the field, attendees will not merely watch, but rise to take practical action steps. Performances and visual arts include paintings, dance, music, spoken word, and more. See it - End It's non-profit partner YWCA Harbor Area & South Bay continues to bring safety and empowerment to women and families for over 100 years. The Founder of See it - End it! Patrick Erlandson states, "Human trafficking is affecting far too many families to be allowed to continue being seen as the problem of others, that someone else will deal with. Each of us as artists, business people and soccer moms have a part to play in ending this."

Friday's event line-up includes the internationally acclaimed "Skin in the Game", and is set in Los Angeles, brought to us by award winning director, producer (on his directorial debut) Adisa Septuri. Saturday afternoon will feature "Unbridled", a true story of trafficking survivors healing as they care for abused horses, featuring Tea Macay, Academy Award nominee Eric Roberts, former professional athlete T.C. Stallings, and award winning actress Jenn Gotzon Chandler; Saturday evening, the North American premiere of "Love Sonia" is featured, which follows the path of a trafficked child from India to Hong Kong to Los Angeles, where she finds freedom with the help of CAST LA, directed by Tabrez Noorani, produced by David Womark (Life of Pi), starring Frieda Pinto, Aarti Mann, and an appearance by Demi Moore; And a short film program of ten films including, "Modern Slave", an award winning short film which delves into the hooks that keep victims of trafficking exploited. Additionally, there will be documentaries depicting labor trafficking and supply chain accountability, short films, foster youth films from Kids in the Spotlight and Boys and Girls Club, dance, music, spoken word, paintings and visual arts. Cyber safety films and activities will also be presented for children, in both Spanish and English. Organizations and vendors will provide products and resources for prevention, awareness, assistance for victims of human trafficking, and information on ways to take action. Proceeds will go to expanding outreach and awareness of human trafficking, and provide support for programs of the YWCA Harbor Area and South Bay in human trafficking prevention.

VIP Guests, sponsors, and supporters include dignitaries, community leaders, law enforcement, celebrities, and youth.


Contact
info@seeitendit.com
RSVP is required for all guests, participants, and media.
Donations are tax deductible
.
#seeitendit #stophumantrafficking