industry news
The Latest Industry News for the Exciting World of Production.
Creative Handbook puts together a bi-monthly newsletter featuring up-to-date information on events, news and industry changes.
Add My Email
By: Rental Tracker
| February 14, 2019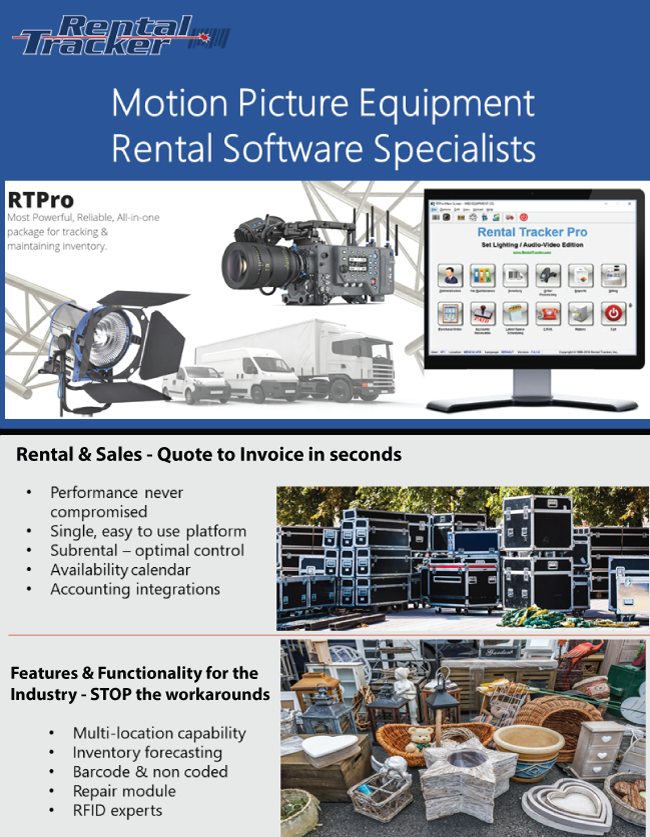 Inventory tracking and warehouse management software for Set Lighting, Costumes/Props, Camera, Trucks/Trailers and more. For more than 20 years, RTPro has been the leading software for the Entertainment Industry. Our software can be found in large studios with inventories greater than 500,000 assets and down to smaller shops with less than 1,000.

Some features and services that we offer, but never limited to - RFID, availability calendar, inventory projections, non-coded/barcoded, multi-location/language/currency, website development/customer portal, truck dispatch, dashboard, mobile app, business intelligence, eSignature, internal messaging, invoicing, cloud hosting services and much more.

Nobody understands the business better than we do! Customer focus and mastering the complexities of the industry has allowed us to become the first choice for all major studios and rental houses. RTPro provides a solution for all your inventory rentals, sales and warehouse management needs. Our background and practical studio/rental warehouse experience allow us to encourage and advise best warehouse practices. We continue to develop features/functionally to meet the immediate needs of the dynamically evolving industry.

As you know our industry does NOT equate to "typical" inventory movement or warehouse management. The industry is extremely complex and incomprehensible to most people without a production background. Software companies that claim they can support the business don't do it well. There's a lot of trial and error at the customers expense and frustration.

A software application for our industry requires consistent and real time data. We see a lot of workarounds being performed, because the software being used isn't reliable or has too many limitations. Also, if the application isn't written correctly you've got major performance problems. No other software has been able to keep up with our performance.


RTPro RFID Solution

Ready to move away from barcoding and interested in RFID technology, we've got you covered!

RFID is a means of preserving control over your assets. A well-designed RFID asset tracking system can help you mitigate financial risk by cutting down on errors, accelerating throughout and reducing labor costs.

For rental asset companies, inventory visibility is essential to your operations. When it comes to high-value assets, relying on error-prone manual processes introduces an exorbitant amount of risk.

What sets us apart from others? We understand the warehouse process and have developed features to handle the checkout and check in operations as well as 'locate an item' and verification of equipment on a stage, truck and off sight.

RFID technology inherently eliminates many of the sources of error in the check-in/check-out process, which results in more accurate inventories. Customers can be more easily held accountable when assets are not returned. Looking to minimize time and labor associated with asset handling? Leading edge rental firms have turned to radio frequency.

•Allow cycle counts to be done quickly and inexpensively
•Eliminate manual data recording and asset handling at check-in and check-out
•Improve accuracy of customer orders and asset-customer accountability
•Gather accurate location data
•Make informed investment decisions


Contact us at 888 595 8041 (option 2) for more information.