industry news
The Latest Industry News for the Exciting World of Production.
Creative Handbook puts together a bi-monthly newsletter featuring up-to-date information on events, news and industry changes.
Add My Email
By: Flicks4Change
| November 30, 2018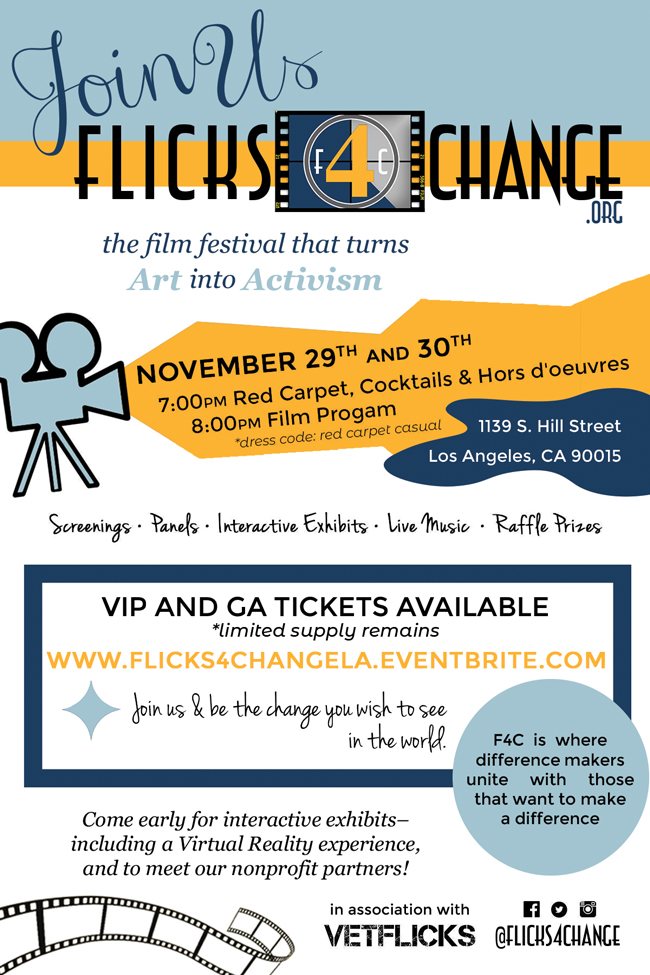 WHAT
Filmmakers, nonprofit organization leaders, celebrities, and VIP guests will come together for: two evenings of deeply moving, impactful, and inspiring short films; interactive exhibits including virtual reality; a live performances by Special Force Band and former lead singers of the Temptations, Platters, and Drifters and Special Force Band; an audience discussion with filmmakers and expert speakers; live auction; and pre-show cocktails and artisan food from 6:30 - 7:30. Thursday night's program will focus on issues affecting veterans with the first 100 veterans to RSVP given free entry.
By bringing together at one event the very best socially conscious films, nonprofit organizations making a real impact, and an audience motivated to make the world a better place, Flicks4Change unites difference makers with those that want to make a difference. Flicks4Change is the festival that bridges the gap between art and awareness, and meaningful action.
WHO
Flicks4Change is in partnership with NewFilmmakers LA and VetFlicks.
Nonprofit partners on the Speakers Panel and nonprofit organization exhibitors include: NewFilmmakers LA, Coalition to Stop Gun Violence, Safe Passage, In a Perfect World, CARE International, Hidden Tears Project, Animal Equality, 2livvv, Focus on Ability, and American Sign-language Services.
Confirmed Celebrities and VIP guests include Bruce Davison, Rosette Feat, Massi Furlan, Edoardo Beghi, Jason Stuart, Shae-Lee Shackleford, Russell Raven, Special Force Band, Petri Byrd, Kym Jackson, Susanna Blinkoff, Stacia Gates, Kendal Brenneman, Mark LaBella, Marcus LaVoi, Patti
Negri, Tim Abell, Neil D'Monte, Ernest Thomas, Tyrone Dubose, Greg Eagles, Sheri Pedigo, Pamela Richardson, Tige Charity, Kids in the Spotlight, Kelsey Scott, Massi Furlan, Edoardo Beghi, Shawn-Caulin Young, Ryan Larkin, Oshri, Jesus Nebot, and more.
Sponsors include Taproom Pizza Company, Cue Bakeshop, Titos, Lobster & Beer, Nature's Next, Artisfactions Visual Communications, Creative Charity Auctions, and more.
WHEN
Thursday and Friday, November 29th and 30th from 6:30 PM - 11:00 PM
5:30 PM ~ Media and Press Set Up
6:30 PM - 7:30 PM ~ Food, Cocktails, NPO exhibits, red carpet, live music, Raffles, and Silent Auction
7:30 PM - 10:00 PM ~ Films, Intermission, Announce Raffle and Silent Auction winners, & Panel Speakers with Audience Discussions. Leonard, Coleman, and Blunt, former lead singers of the Temptations, Platters, and Drifters will be playing such hits as Stand by Me, Can't Get Next To You, and Only You, immediately following intermission.
10:00 PM - 11:00 PM ~ Food, Cocktails, Guests and Nonprofit Organization Partners Mingle
WHERE
At South Park Center, 1139 South Hill Street in Los Angeles, California.
Parking is at 1133 South Olive Street (Say 'NewFilmMakers LA' upon arrival and get a $5 parking rate.).
HOW
Tickets: Due to limited seating, RSVP is required. www.Flicks4Change.org's VIP $40 (includes a free cocktail and preferred seating), General Admission tickets are $30, and get $10 off for a two-day pass. Tickets are for sale at www.flicks4changeLA.eventbrite.com and donations are tax deductible.
FOR MORE INFORMATION
Contact
Kelley@Flicks4Change.org
for event and volunteer inquiries.
Contact Festival Co-Founder James Hawthorn at 571.438.4026 for donations and sponsorship info.
Contact
TracySaundersart@gmail.com
for press and media inquiries.
Creative Handbook
10152 Riverside Drive
Toluca Lake, CA 91602
© 2020 Creative Handbook
•
Last Updated Tuesday, July 14th, 2020 at 10:38 am