industry news
The Latest Industry News for the Exciting World of Production.
Creative Handbook puts together a bi-monthly newsletter featuring up-to-date information on events, news and industry changes.
Add My Email
By: Zorthian Ranch | BY MITCH LEHMAN
| August 27, 2018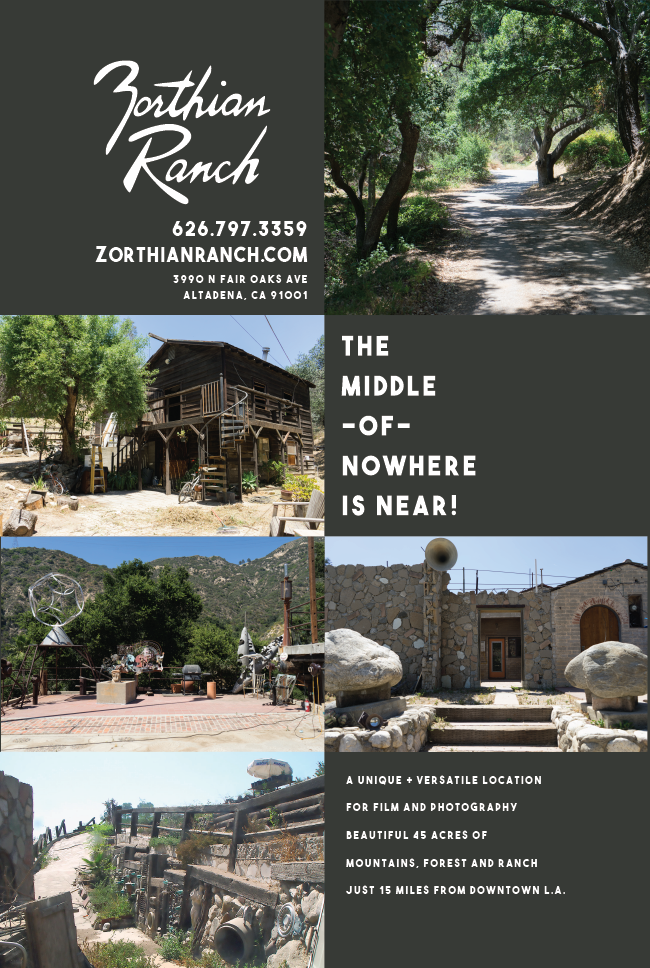 MOVIE RANCH FOR LOCATION SHOOTS AND EVENTS
Beautiful 45 acres of mountains, forest and ranch - just 15 miles from Downtown L.A. Distinctive architecture, vintage vehicles, animals, agriculture and a diverse landscape. Unlimited potential as backdrops. The Middle-of-Nowhere is near!
PROPS
Catalogue of objects, which include sculptures, antiques, and misc. items. They are offered as material that can be used as a background for still photography or for movie sets.
Without its former featured attraction, the surviving family members of legendary artist and personality Jirayr Zorthian are looking for ways to repurpose their 43-acre ranch
Certainly, there is an official street address for the sprawling, untamed wilderness that bridges the upper neighborhoods of Altadena with the Angeles National Forest. But only a series of directions is given. An oversized, spray-painted "Z RANCH" announces your arrival and at what is anyone's best guess. Barns, lean-tos, and other structures dot the surface of an overgrown field that is bisected by a dusty, bumpy dirt road.
Here is a stack of tires.
There, what looks to be a welded steel sculpture.
Within minutes, you get the idea that someone lives or lived here who had the enviable freedom to basically just drop something wherever they wanted, whenever they wanted,
without fear of reproach.

Previous knowledge of Jirayr Zorthian THE MAN goes out the window when experiencing for the first time Jirayr Zorthian THE RANCH, even though all of the former went into creating the whole of the latter. It has certainly not been tended to with the same care since Jirayr died in 2004 after spending 58 years carving his name into these jagged
foothills, which he once alliteratively described as "sculpted with a skip loader."
Alan Zorthian shares his father's rugged good looks and provides frequent reminders that he is approaching his 60th birthday. An architect by trade-framed awards and operating licenses inhabit the walls of an outbuilding that serves as the ranch's office-Alan has returned to the land where he was born to help shepherd the place into its next iteration.
It could be said that Jirayr's journey to Southern California is a tale as large as the man himself, but that would be selling him short as he stood barely five-and-a-half feet tall. Born in Turkey in 1911, Jirayr's father was a prominent writer and intellectual who was arrested and scheduled for execution as part of the Armenian genocide.
"But the guard fell asleep the night before he was supposed to get shot and he escaped," Alan said in a matter-of-fact tone that he will utilize for the better part of our time together, symptomatic of his long exposure to his family's outsized tales. "My father had exhibited tremendous talent as an artist, so my grandfather took him to Italy, where they visited art museums."
The Zorthian Family eventually settled in New Haven, Connecticut in 1922, in a middle-class neighborhood "full of immigrants," according to Alan.
Jirayr became a Boy Scout and a wrestler, winning a Connecticut state championship. He took a high school art class at Yale and earned a scholarship to the Yale School of Art.
"He was a top student, but he had to work to keep his scholarship," Alan said.

After graduation, Jirayr spent two-and-a-half years traveling throughout Europe. Returning to the United States during the Great Depression, the took a job in President Franklin Delano Roosevelt's Works Progress Administration (WPA).
"A certain percentage of each public building was required to have art," Alan said, "Usually a mural. My father entered a mural painting contest and was placed at the top of the list. He painted murals all along the East Coast and many of them are still in existence."
One that still draws attention is quite visible in the Tennessee State Capitol building, which includes a self-portrait of Jirayr presumably in attendance at the formation of the Watauga Association, a semi-autonomous government created in 1772 by frontier settlers living along the Watauga River in what is now Elizabethton, Tennessee.
Drafted into World War II, Jirayr's proficiency as an artist resulted in a stateside assignment in military intelligence, first at Fort Ritchie in Maryland, where he composed propaganda posters. Jirayr was later moved to the Pentagon, where a commander assigned him the task of creating a 157 foot long by 4 foot high mural that "promoted the Intelligence Department," according to Alan.
"He called it The Phantasmagoria of Military Intelligence Training," Alan said. "Later, in a retrospective, my father said he considered it the highlight of his work as a fine artist."
A miniature version of the mural can be found in the ranch's brick main house that sits near the top of the 43-acre estate.
"His success and renown as a muralist provided a great deal of freedom," Alan said. During a visit to New Orleans to attend a wedding, Jirayr met Betty Williams, heiress to
a shaving cream fortune, ironically, as Jirayr for most of his life sported a heavy beard. "Much to the dismay of her parents," Alan said, Williams and Jirayr married in 1945. A year later, the couple moved to California and purchased the brick house that had been built in 1933 on what Alan called "the original six acres."
"He immediately started building," Alan explained. "Dad had learned that the great Renaissance artists were also architects, and he didn't want to be limited to one of those artists who just put paintings on the wall.
He frequently used the term 'Renaissance Man,' and I believe that was truly one of his goals in life, to be as well-rounded as possible."
Using mostly his wife's money "which was considerable," Alan added, the young family built and bought, and with the help of notable architects (including John Lautner, who Jirayr eventually fired) literally made its mark upon the landscape.
"They wanted to have their rural property, grow food, be independent and raise animals," Alan said. "The kids rode horses, stuff like that. They loved it up here."

Jirayr went back to Syria in 1953 after his father's passing, and when he returned to the ranch, his wife had undergone a change of heart. The two were divorced a year later and
Jirayr became the first man in the state of California to receive alimony payments from an ex-wife.
"My father probably had post-traumatic stress syndrome," Alan explained. "He was not an easy man to live with."
Jirayr was single for three years until he met his second wife, Dabney Von Briesen. Alan described his mother as "a shy poet from Hancock Park."
"They had to figure out a way to make money," Alan said. "So Mom and Dad teamed up and created a summer camp called Zorthian's Ranch for Children, which they ran
for 25 years."
One of the camp's buses - they were labeled Zorbus 1 and Zorbus 2 - can be found at the top of the ranch in a refuse area.
Jirayr was as gregarious as Dabney was withdrawn, and the couple hobnobbed with such Pasadena pioneers as mathematician Al Hibbs ("the voice of JPL") and theoretical
physicist Richard Feynman. Jirayr was also friends with musicians Charlie Parker and Bob Dylan and artist Andy Warhol. During the last dozen or so years of his life, he hosted legendary parties attended by upwards of a thousand people to commemorate his birthday, where he donned a toga and strolled among nude "nymphs," as he called them, many of whom were his artistic models. He continued to create art until his death in January 2004, often using discarded materials from the City of Pasadena to make pieces that Alan said are "culturally significant, and possibly historical."
His work can be seen all around the ranch, including a concrete wall inlaid with tokens commemorating his friendship with Feynman.
"That's a good question," Alan said when asked about the future of Zorthian Ranch.
Under Alan's direction, the family is currently looking for ways to repurpose the ranch while making it self-sustaining, both financially and ecologically. Three structures on the property are currently used as popular Airbnb rentals.
"We want to continue to build with the same philosophy my dad had, which includes repurposing materials," Alan said. "We are looking at making a retreat house, which we feel would be a good use of the land.
We have all of this culture. It's a very interesting place, and corporations could come up here and meet in this remote area."
The Zorthians are also considering opening a school on the property.
"This would clearly not be your typical school," Alan said. "We would see that our students learn in a more innovative way."
Alan said any venture would have to be compatible with the current theme of sustainable creativity.
"But we have to approach this in a businesslike way," Alan said. "We want to use the current infrastructure as a catalyst for an environment to expand agritourism. I have a lot of ideas."
That final statement proving that the apple never falls far from the tree.