industry news
The Latest Industry News for the Exciting World of Production.
Creative Handbook puts together a bi-monthly newsletter featuring up-to-date information on events, news and industry changes.
Add My Email
By: Larry Siegel
| December 29, 2011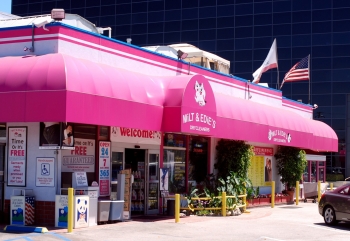 Milt & Edie's Drycleaners & Tailoring Center has taken 24/7/365 service to the next level by offering 2-HOUR Cleaning and Shirt Laundry any time of the day or night... at no extra charge! That means whether it's 2 in the afternoon or 2 in the morning - or anytime in between - customers' cleaning and shirt laundry can be ready in just two hours with no extra charge.

"Staying open 24 hours year-round was a huge step for us, but now being able to offer our signature 2-HOUR service day and night makes us unique," says Milt Chortkoff, owner of the landmark drycleaners located at the corner of Pass and Alameda in the center of Burbank's Media District. "Our next goal is to have tailoring available 24 hours a day, too," Milt adds.

Milt & Edie's Drycleaners & Tailoring Center is also known for Couture Cleaning - "the ultimate in garment care" - a premium service that provides 100-percent hand finishing by a dedicated staff to customers who have invested in a high-quality wardrobe. "It's only natural for someone with an Armani suit or a Versace gown to choose to this service," states General Manager Robert Shapiro, explaining that it took nearly two years to get a highly-trained production team in place to handle the intricacies and special needs of famous-maker suits, elaborately-designed evening gowns, and even exquisite wedding dresses. "With so many award shows taking place in town throughout the year, everybody in the area really covets our 'red carpet' service," Robert says.

One of the busiest cleaners in the United States, it is doubtful there is another cleaner that offers more services and amenities to their customers than Milt & Edie's, including:

•Open 24/7/365
•Seven tailors available seven days a week - weekdays until midnight, weekends until 9pm... and later!
•24/7 2-HOUR cleaning and shirt laundry at no extra charge
•Instant alterations available at no extra charge
•Free pick-up and delivery
•Free gifts to new customers
•Biodegradable plastic garment bags
•Free popcorn and refreshments, including hot dogs on weekends!

Milt & Edie's Drycleaners & Tailoring Center is located at the corner of Pass and Alameda Avenues (4021 W. Alameda Ave., Burbank CA 91505). Additional information is available at (818) 846-4734, www.miltandedies.com, and on the company's Facebook page.