Change Region
California
industry news
The Latest Industry News for the Exciting World of Production.
Creative Handbook puts together a bi-monthly newsletter featuring up-to-date information on events, news and industry changes.
Add My Email
By: Eclectic Encore
| May 29, 2018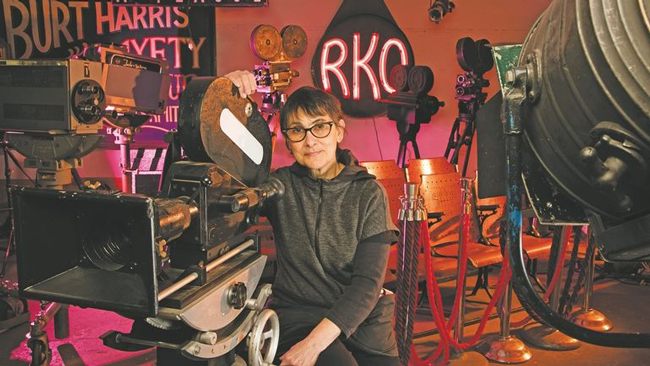 Back in 1979 Suri Bieler had $175, hundreds of items collected off the streets of Manhattan and a dream. Thirty-eight years later, her prop company, Eclectic/Encore Properties, owns one of the largest collections of antiques, furniture and accessories for rent on the East Coast and is a go-to source for thousands of New York theater, film and TV productions.

"Every day somebody comes in looking for something to help them create a space-a world-that will tell a story," said Bieler. "I can help with that."

Initially, it took Bieler a year to find a bank to lend her the $3,000 she needed to rent a 10,000-square-foot space on the Upper West Side. Then called Eclectic Properties, the company began serving off-Broadway shows, followed by Broadway productions of The Best Little Whorehouse in Texas, On Golden Pond and Sugar Babies. The growth of cable TV gave her business another boost.

In 1989 Bieler was looking to expand. "I needed to find the best way to get Eclectic's name out to the prop departments for TV and motion pictures," she said. Her solution: She acquired Encore Studios, a respected century-old prop company that was looking to sell.

Eclectic/Encore quickly became an industry institution in West Chelsea. It has set scenes for The Age of Innocence, Scent of a Woman and, more recently, Birdman. The company has benefited from the growth of the entertainment business in the city. When the state began offering a film and TV production tax credit in 2004, yearly prop-rental revenue increased by the hundreds of thousands.

Unfortunately, however, the rent followed suit. A 40% hike in 2012 was the final straw. Bieler couldn't afford to keep her massive collection and her 17 employees in Manhattan. She cast a wide net, searching the tristate area, before moving across the East River.

Bieler bought a 95,000-square-foot Long Island City building close to Silvercup Studios for $11 million in 2013. The more than a million items in Eclectic/Encore's collection are shown on three floors in dozens of rooms organized by period or theme, such as "Victorian," "hula party" and "sports & weapons."

Bieler credits her company's popularity to a knowledgeable staff and a well-maintained, organized collection. "Being that props are visuals, the layout of the warehouse should be clean and fun to peruse," she said.

Soon she is hoping to make it a tourist destination.

"We'd like to offer tours for people to see the props from their favorite movies and TV shows," she said. "I think people would enjoy a walk in this building."


eclecticprops.com