Change Region
California
industry news
The Latest Industry News for the Exciting World of Production.
Creative Handbook puts together a bi-monthly newsletter featuring up-to-date information on events, news and industry changes.
Add My Email
By: Set Decorators Society of America International
| March 21, 2018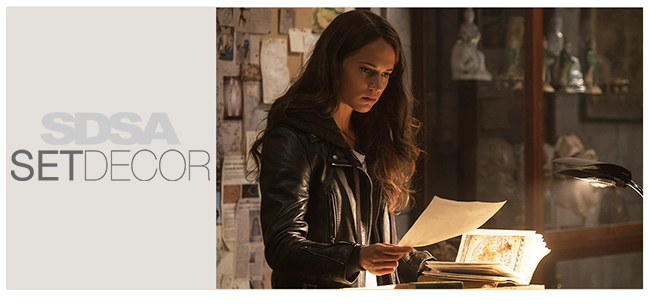 The making of TOMB RAIDER was an extraordinary adventure for everyone involved, not just the action characters!

Set Decorator Raffaella Giovannetti SDSA gives us details in a photo tour of the sets...


Lara Croft
[Alicia Vikander] is the fiercely independent daughter of an eccentric adventurer who vanished when she was scarcely a teen. Now a young woman of 21 without any real focus or purpose, Lara navigates the chaotic streets of trendy East London as a bike courier, barely making the rent. Determined to forge her own path, she refuses to take the reins of her father's global empire just as staunchly as she rejects the idea that he's truly gone.

Advised to face the facts and move forward after seven years without him, even Lara can't understand what drives her to finally solve the puzzle of his mysterious deathLeaving everything she knows behind, Lara goes in search of her dad's last-known destination: a fabled tomb on a mythical island that might be somewhere off the coast of Japan. But her mission will not be an easy one; just reaching the island will be extremely treacherous. Suddenly, the stakes couldn't be higher for Lara, who-against the odds and armed with only her sharp mind, blind faith and inherently stubborn spirit-must learn to push herself beyond her limits as she journeys into the unknown. -Warner Bros/Metro Goldwyn Meyer

For this global adventure, Set Decorator Raffaella Giovannetti SDSA and Production Designer Gary Freeman took on the double challenge of creating different parts of the world for the most part in and around Cape Town, South Africa and London. Freeman says, "It was an exciting challenge to go from the slightly hippie culture/artistic part of London to a bustling Hong Kong seaport to an uncharted Japanese island with an almost prehistoric, impenetrable quality to it. Plus, an NH90 state-of-the-art helicopter, a steel-hulled fishing trawler, and a World War II bomber that tips over into a waterfall, all in one film. It was pretty diverse."


The East End, and beyond...
"When you meet Lara in the beginning of the film, she's a regular girl living in East London," Vikander relates. "But we wanted the audience to know she is a physical being. You see her sparring with her friends at an MMA gym, and she's a bike courier who loves to go out and race in the street. She's a strong girl, and the story sets that tone right away."

As did the sets that include Lara's East End apartment that she shares with multiple roommates, a bicycle repair shop where couriers tend to hangout, the long-used gym, a pawn shop, cheap Indian restaurant...all in great contrast to her father's holding company headquartered in London, a corporate giant with the vast portfolio of global companies big and small.


Richard Croft's secret studio, London...
The hidden studio reflects Croft's true passion as an archaeologist, one trying to keep dark organizations from uncovering hidden relics that hold mystical power by discovering them first and caretaking. He began searching for proof of the supernatural following the death of his wife, Lara's mother.

Giovannetti reveals, "The underground studio was like a bunker. We decided to dress it in two different sections: a lab with microscopes and tools where he classified archeological artifacts, the other side a proper studio with his desk, books and antiques pieces found around the world. On the big board behind his desk, we can find maps, notes, pictures and other images of his secret world."

"We were supposed to shoot this set in London, so when the production decided to shoot in Cape Town instead, I was really worried that we might not be able to find the right dressing over there. I ordered a small assortment of antique pieces from London to have on hand, and all the rest were found in Cape Town! I went to see a shop of an antiques dealer who had never rented his pieces for a film before. We spent hours talking about the film, but I was not really impressed with the objects from the shop, and was doubly disappointed because I knew that nothing better was available in CT. After a couple of meetings, though, he showed me his house. There, I found what I wanted! Beautiful antique pieces from the Orient, India, Pakistan, China...They were amazing. I convinced him to rent his private collection, and fortunately he did. That made the difference. I wanted the crew coming on set to be able to feel the history, looking around and seeing authentic pieces."


Hong Kong Harbor...
The exterior Hong Kong harbor sequences were shot on location at Hout Bay, a quaint fishing town 20 minutes outside of Cape Town. Uthaug says, "We filled it with floating walkways, floating restaurants and lots of extras. We had flying wire cams...it was such a fun sequence to shoot."

Giovannetti adds, "It was the largest set of the entire film, split into two sections: the first one we shot in an industrial section of Hout Bay. It was almost empty, but with industrial buildings around. We built all the wooden jetties, the markets, the electrical cables, all the signs and the boats. Once shot there, we dismounted everything and brought all the dressing to the studios to use it for the sets built into a tank and onstage. We had to undress all the boats because it was impossible to transport them fully dressed on trucks."

Daniel Wu, who plays Lu Ren, captain of a fishing boat, is an actual part-time resident of Hong Kong and says he was blown away by the harbor sets. "I literally live ten minutes away from a fishing village. When we got to this set, all the details-from the kind of chopsticks to the little posters inside the shops-made me feel like I was home, especially with 300 extras walking around."

Vikander says, "I was impressed, but Daniel was even more so since he's lived there. It was cool to hear him tell stories as we walked around the set."


Yamatai Island...
Paarl, in the Cape Winelands of South Africa, became the location for the uncharted Japanese island of Yamatai: forest chase sequences, Vogel's camp and the tomb entrance. The company's greatest challenges there were the one-hour drive from the city over a course of rough, twisted, dusty gravel roads to reach the set each day and the fact that Paarl was also one of the hottest regions, with temperatures as high as 113 degrees Fahrenheit.

"Shooting in wine country in South Africa sounded like a good idea, until we found ourselves in a blazing hot quarry with scorpions everywhere," Uthaug laughs. Giovannetti recalls, "We built two camps there, and indeed preparing the camp was very hard because was summer! And we had to set up the main camp in advance because the actor wanted to sleep in his tent and be part of it for a while." Giovannetti once again reached worldwide, purchasing all the military tents in the US and the equipment in South Africa and from China.


The tomb...

"The tomb was composed by various rooms," Giovannetti described. "To reach the sarcophagus room, we need to pass through a room where sit more than 400 skeletons, lying on remains of metal and silk sheets. Further on, a room was dressed with huge bird sculptures made in metal and fiberglass...and through this room we reach the sarcophagus area. Inside the sarcophagus room, we placed fierce dogs on plinths, lines flanking the two sides of the coffin as guards of the queen, and at the end of the room small figurines of females and males in fiberglass and terracotta." [Editor's note: See photos above for details of the coffin.]

"I remember walking into the tomb set for the first time and it just took my breath away" the director enthuses. "It was full of traps, secret doors, statuary, puzzles..."

"That set was incredible," Vikander states. "So many times, I walked in and pinched myself, because I'm the biggest fan of adventure films and I never expected to walk right into one in such a realistic way. The space that they created and the sarcophagus...Everything. The little girl in me was just so thrilled. It was really magical."

The actress loved it so much, she encouraged friends who were visiting during production to bring their kids to set. "I needed to give this experience to them," she smiles, "because really I just wanted to live vicariously through them, knowing they'd be just as excited as I would have been as a kid."