industry news
The Latest Industry News for the Exciting World of Production.
Creative Handbook puts together a bi-monthly newsletter featuring up-to-date information on events, news and industry changes.
Add My Email
By: Rosalie Kessing
| December 14, 2011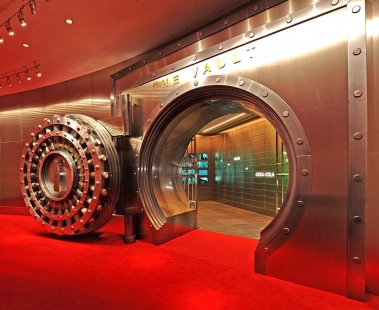 Lexington fabricated the Gallagher and Associates design to create a new secure location for the 125-year-old secret formula for the popular soft drink. The new exhibit, Vault of the Secret Formula, opened December 8 at the World of Coca-Cola in Atlanta. Mythology and intrigue fill the experience as visitors journey through the history of the world's most famous trade secret the recipe for Coca-Cola.

We fabricated the stunning new vault which is the centerpiece of the new gallery, as well as the exhibits, environments, interactive exhibitry, and graphics. Kudos to all the project partners: Donna Lawrence Productions, Second Story, Electrosonic, RomeAntics Productions, Available Light, and New South Construction.

About Us:
Lexington is a full-service, creative design and custom fabrication company known for its expertise in producing a wide variety of award-winning projects that require complex technical design. With over 25 years experience creating educational environments, engaging exhibits and interactives, unique architectural features and character lighting, and sophisticated custom elements for museums, theme parks, restaurants, retail, casinos, and broadcast television, Lexington has demonstrated an exceptional talent for crafting dynamic, beautiful projects. With the ability to blend creative and technical design knowledge, fabrication and installation experience, and estimating expertise, Lexington is a unique one-stop shop: a company of artisans that excel in bringing unique visions to reality.