Denver, CO - Writer and veteran Executive Producer Janet Arlotta has joined the Emmy Award-winning design and branding studio Friends of Mine (FOM) as Executive Producer. In addition, Arlotta has also been invited to speak for a fifth consecutive year at Atlanta's premiere TV festival, aTVfest, where she will lead a panel discussion entitled "The Evolution of Content Development."

In her new position with Friends of Mine, Arlotta will leverage her nationwide reach and give FOM a local presence in Los Angeles, New York, and Atlanta. Friends of Mine recently completed an around-the-world brand film for Otterbox, shot in five countries. Prior to joining the company, Arlotta had been the Executive Director of (n+1) design studio, after her long run as Owner and Executive Producer of FUEL.

"In a climate where content is king, a recent crop of network divisions have been formed to create content, not only for their own traditional and digital platforms but for others in the digital space," Arlotta says. "Brands are becoming powerhouse content developers for their own platforms too. I love what these new developments will mean for writers and creators."

"The Evolution of Content Development" panel at aTVfest will take place on Thursday, February 1, at 12:30 PM in the SCAD Atlanta building, Panel Room A.

The session will tackle how new opportunities are currently opening the door for more opportunities for content creators. In addition to Arlotta, other panelists on the session include: Jeremy Lindenmier, Creative Director & Founder of Friends of Mine, Maureen Timpa, VP of Production at FX Networks, Ilyssa Goodman, Executive Producer of the "A Cinderella Story" franchise, Miguel Hernandez, Lead Creative for Otterbox, and Vernon Reid, Executive Producer of Tutta Productions.

ABOUT FRIENDS OF MINE
Founded in Denver, CO, in 2010 by a group of friends who set out to build a studio that would foster their desire to gain and share knowledge, Friends of Mine is a design-obsessed company that is always looking to expand what's possible with the help of their friends. The company creates design and branding communications for networks, brands and agencies, and is renowned for its high standards of combining style with meaning.

An Emmy Award-winning creative brand firm, Friends of Mine is constantly on the hunt for the next innovation that excites, the next story that intrigues, and the next opportunity to stretch the imagination. The company, comprised of meticulous directors, designers, animators and producers, cites as recent clients Otterbox, DirecTV, CBS, Discovery ID, HGTV, Janus Financial, and AT&T, to name a few.

Visit: http://friendsofmine.tv/

ABOUT ATVFEST
Now in its sixth year, SCAD Atlanta's aTVfest is the longest running of the SCADFILM festivals, and has become an international event celebrating the latest in design, creativity and innovation in television and media. Working professionals from all spheres of content production gather for screenings, premieres, panel discussions and workshops. Attendees can explore the latest trends in broadcast, streaming, cable, web, social media and advertising, and see the best work airing today. Visit: www.atvfest.com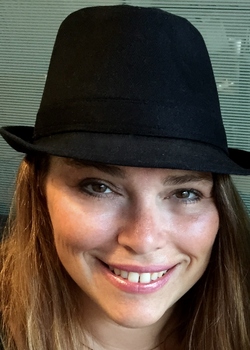 Janet Arlotta
ABOUT JANET ARLOTTA
Janet Arlotta is a renowned Writer/Producer for TV, Film and Digital platforms. She currently has more than a dozen scripted and unscripted projects in development. Her feature film trilogy, "Mistress of Rose Hall," is currently in development with a Warner Brothers division. Her book, With My Dying Breath, was featured on ABC TV's "20/20" in October 2017.
Arlotta currently serves as Executive Producer with Friends of Mine, bringing with her long-standing client relationships at ABC, Warner Brothers, Cartoon Network, Red Bull, GoPro, Marriott, Major Sports organizing bodies, and more.
Previously, Arlotta was the owner, Chief Creative Officer, and driving force behind FUEL, an internationally recognized, Emmy Award-winning marketing, branding, design, and production firm in the world of broadcast television, advertising and film. There, she was responsible for forging client relationships with television and film studios such as MTV, OLN, Cartoon Network, Buena Vista Pictures, The Disney Channel and Nike Films. Her ad agency clients at the time included Grey Worldwide, Wieden+Kennedy, Ogilvy, Saatchi & Saatchi, and J. Walter Thompson, while her direct clients included General Mills, Nike, Target, Under Armor, and EA Sports.
During her tenure with FUEL, Arlotta helped launch networks such as OLN and Singapore's SportsCity, and created numerous branding campaigns for Nike, Coke, Pepsi, Target, and a family of General Mills brands. She was also involved with marketing campaigns promoting "Ocean's Eleven," Turner Classic Movies, and Showtime properties (which won her an Emmy nomination). In the eight successful years she helmed FUEL, she grew revenues from $1-million per year to $10-million per year, and expanded the company to become bi-coastal.
Most recently in her career, Arlotta had served as the Vice President of Creative Services for SMT, a global leader for data and graphic integration for live sports and events. During her time with SMT, she expanded her skill sets with virtual technology and social media integration, to provide solutions for better fan engagement on behalf of such clients as the OSCARS, NASCAR, Cowboys Stadium, the NY Marathon, and the US Open.
Arlotta has been a guest speaker at numerous industry events, including Promax/BDA in LA, aTVfest in Atlanta, CoMotion in Savannah, MSU Broadcast events in NYC, and signature sessions for Saatchi & Saatchi in Dusseldorf, Germany.
In addition, she has spearheaded award winning work which has been honored by Emmy, Promax/BDA, Telly, Davey, and AIGA awards and nominations. In 2012, one of her projects was included in the Motion Type Exhibit in the Gutenberg Museum in Mainz, Germany. Arlotta's feature script "Un-Finished" was a semi-finalist in 2015 for Final Draft's Big Break Screenwriting Competition. She also serves on the Advisory Board for Poppyville in Atlanta, an organization which helps women create, build, and grow, and where all dreams are valid.
Visit:
www.janetarlotta.com