Change Region
California
industry news
The Latest Industry News for the Exciting World of Production.
Creative Handbook puts together a bi-monthly newsletter featuring up-to-date information on events, news and industry changes.
Add My Email
By: Packair
| September 6, 2017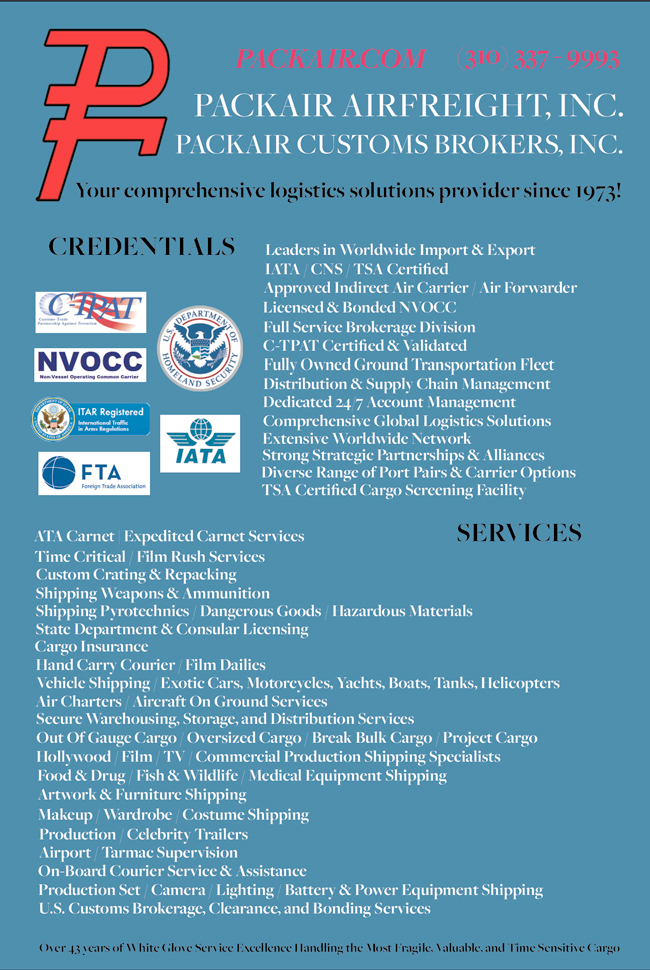 Are you shipping fine arts? Or a car? How about a motorcycle, or a yacht, or maybe a jet engine, well let's say a satellite?

Small or large, a great packing job will go a long way on saving you $$$ when your cargo is being shipped around the world, so safety of your cargo is worth every penny.

You go through the pain of shipping and paying for it, but don't try to send it in reused boxes or try to save the boxes on cheap packaging.

At Packair, safety of your cargo is number one. Packair has an in-house packing and crating department and we customize your packaging to your needs. If you need a crate for your motorcycle, then we build it. If you have a large and odd size item, then we build a crate to fit it. If you need your cargo to be on pallets and safely packed, then it is not a problem - Packair does it all.

If your item is too big to send to us, no worries - Packair will pick it up and bring it to our facilities. We have been packing and crating for over 44 years, we don't just put papers around your items to keep your cargo from moving around during transportation, we will secure it professionally.

All electronics must be handled with care, packed perfectly and packaged professionally, we perform this service day in day out, and we have the experience. Packair can even build custom crates to transport your car or motorcycle. We stabilize your cargo in a wooden crate so it is protected from hitting anything during the transportation.

Packair is the top one stop A-Z international freight forwarder that handles any needs for moving any type of cargo. Speak to a Packair agent today to get experienced shipping advisement, please give us a call at (310) 337-9993 or get your free shipping quote.