industry news
The Latest Industry News for the Exciting World of Production.
Creative Handbook puts together a bi-monthly newsletter featuring up-to-date information on events, news and industry changes.
Add My Email
By: PACKAIR
| August15, 2017

Is working with your current shipping company or international freight logistics forwarder giving you constant headaches from surprise costs and endless mistakes and delays? Have your film production shoot schedule or reputation been compromised because of who you have decided to trust with transporting your precious cargo?

With Atlanta and Hawaii providing such attractive movie production incentives, Packair has established offices in Hawaii to service Hawaii Film Production Logistics as well as in Atlanta to service Atlanta Film Production Logistics. Although movie production incentives and domestic film destinations have grown tremendously, film productions have increasingly become global projects. It is more important than ever to trust an experienced logistics freight forwarder who can handle A-Z for your domestic and international logistics needs. Of course, international transportation and logistics for film productions is a complex and delicate service with numerous moving parts - including regulations, shipment security, capacity and legal considerations - all which can lead to a reliable and cost-effective shipment when tended to properly by a reliable logistics freight forwarder.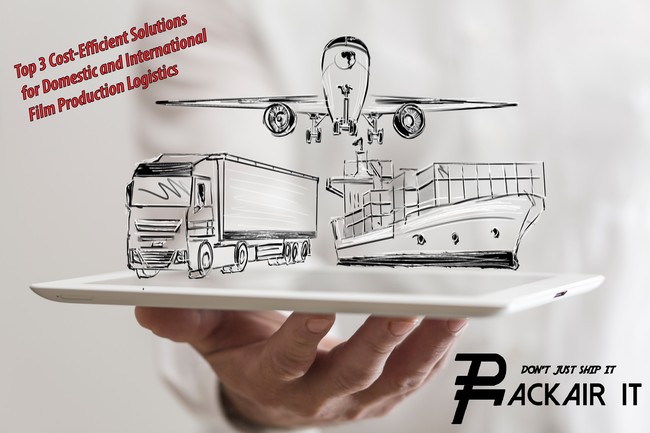 Whether you are shipping ocean containers to Hawaii, or shipping camera equipment to Australia, or have time critical film dailies, successful transportation and logistics companies are aware of global challenges, international rules and regulations, suitable shipping methods, customer service excellence, and the experience to get the job done safely securely and promptly within budget. To reliably and cost-effectively manage the creation of a global film production, it is important to know top 3 cost effective solutions for domestic and international film productions:

1. Know when to ask for help and leave it to the specialists. No matter how many or how few shipments you move globally, it doesn't take much for a shipment to get complicated and costly, fast. There are many shipping companies out there, but few transportation and logistics companies will protect your brand and reputation with excellent service by experienced professionals. Packair has been Hollywood's favorite shipping, freight forwarder and film production logistics company of choice since 1973. Packair employs the best film logistics specialists who have been well-versed in international regulations and compliance since 1973. Focus on making the movie, and let Packair maintain control and visibility of your shipment the entire time. This includes organizing the bookings, handling the arrangements for your precious cargo, working with customs at origin and destination to assure all paperwork and information is compliant with rules and regulations, and be in direct communication with you at all times for documentation and information throughout the process.

2. Get your priorities straight to determine which transportation mode is best. When choosing which mode of international transportation to use for your shipment, be sure to know your timeline, budget, and any regulations associated with the materials or goods you are shipping. If cost is a primary concern, then ocean freight, particularly Full Container Loads (FCL), are going to be best. If timeliness is key, then air freight is often recommended. When shipping FDA approved goods, there are separate regulations and documentation that is required, and entrusting an experienced and licensed logistics specialist, like Packair, is often your best bet.

3. Not knowing what you are shipping to what destination. It is best to thoroughly plan at these two things prior to contacting your logistics partner - what you are shipping, and to where you need it shipped. Packair offers custom crating services to securely and efficiently package your precious cargo that can save you money on your transportation costs due it being packaged economically, using less chargeable volume. Eventually, you must submit a packing list with number of items, descriptions, commercial values, and weights. Packair happily assists with this process. Knowing the shipping destination of your cargo is essential for Packair to provide you with your optimal shipping options based on your criterion. Packair's licensed and experienced professionals know how to save you money to keep your production within budget. Check out Packair's ATA Carnet services or ATF and Ammunition shipping services, or car shipping services.

In short, due diligence is key, and when in doubt, turn to an experienced professional. It's often the least hassle, and least costly route to take. Get your free shipping quote from Packair or call (310) 337-9993 to speak with your expert shipping agent now!