industry news
The Latest Industry News for the Exciting World of Production.
Creative Handbook puts together a bi-monthly newsletter featuring up-to-date information on events, news and industry changes.
Add My Email
By: Keith Melton
| November 11, 2011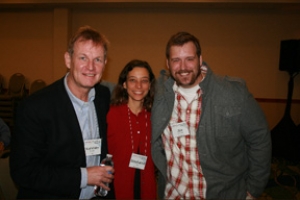 Karl Walter Lindenlaub, ASC, and Joe Van Dalsem, Creative Director of Post for Paradise FX, spoke recently for a Createasphere-sponsored Post Production Master Class Seminar. They spoke about shooting and posting Dolphin Tale in 3D for Alcon Entertainment, and the unique pipeline requirements for supporting a digital 3D motion picture.

Karl Walter began with a pre-conceived notion that it would be more difficult and slower to shoot in digital 3D, but was pleasantly surprised that once the production team was up to speed, shooting the 3D with Paradise FX-provided 3D systems, technology, and crew was about as fast as shooting a 2D production. He and Director Charles Martin Smith used the Technocrane to great advantage to keep the camera moving, shifting objects in space to enhance the 3D. A decision was made early on between the Director and DP to rarely use 3D "obtrusively" offscreen, and instead chose to use it discreetly to enhance the performances and to draw the audience into the story. It was also very effectively used to capture the underwater material, shot in the Cayman Islands and in a specially built tank in Florida for the dolphin star of the picture, Winter.

The opening title sequence, shot with underwater DP Pete Zuccarini, exemplified the need for 3D post supervision. Paradise worked closely with Technicolor and ARC Productions out of Toronto to support the post pipeline. Joe Van Dalsem, through Paradise FX's Digilab, helped keep the CGI dimensionally correct against the PFX-shot live action background plates. He also supported editorial with dailies, proxies, and color-timing support before Technicolor stepped in to complete the DI process. Dolphin Tale has grossed close to $69 million dollars domestically.

About Paradise FX:
Paradise FX supplies a broad range of 3D camera systems and production services to motion picture, television, and commercial producers, from its headquarters in Van Nuys, CA. The company's technical and creative teams have decades of combined, hands-on experience in 3D production and technology design, and this expertise is reflected in the company's approach to 3D capture: to offer the industry's most versatile and cost-effective 3D equipment and services. Recent productions supported by Paradise FX include: Pirates Of The Caribbean: On Stranger Tides (Disney/Jerry Bruckheimer Films), Dolphin Tale (Alcon/Warner Brothers), Fright Night (Dreamworks), Jackass 3D (Paramount), Streetdance 3D (Vertigo Films), Dredd (DNA/Vertigo Films), My Bloody Valentine (Lionsgate), Piranha 3DD (Dimension Films), Drive Angry 3D (Millenium) and TT3D: Closer To The Edge (CinemaNX). For more information visit www.paradisefx.com.