industry news
The Latest Industry News for the Exciting World of Production.
Creative Handbook puts together a bi-monthly newsletter featuring up-to-date information on events, news and industry changes.
Add My Email
By: Mew Media Film Festival
| May 26, 2017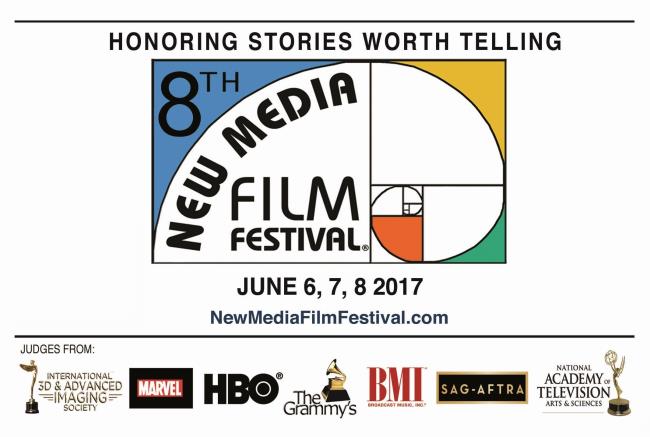 Los Angeles, CA - The 8th New Media Film Festival happening June 6, 7, 8, 2017 at The Landmark Theater, 10850 W. Pico Blvd, LA, CA 90064, features 29 World Premieres, 11 US Premieres and 21 L.A. Premieres. There will be (87) new media films and content from 34 countries and outer space will be shown.Full Schedule details here: newmediafilmfestival.com

Must See World Premiere New Media Content include
Non-Transferable (Wed, June 7th)
Director: Brendan Bradley
Cast Members:
Ashley Clements (The Lizzie Bennet Diaries, Poe Party)
Shanna Malcolm (HeyYoShanna, Bob Thunder)
Katie Wee (Return Of the Mac, 2 Broke Girls)
Matthew Scott Montgomery (So Random!, Jane The Virgin)
Amin Joseph (Baywatch, Call Me King)
Sara Fletcher (Frankenstein MD, Days of our Lives)
Daniel Vincent Gordh (The Lizzie Bennet Diaries, Hollywood Acting Studio)
Joey Richter (Starkid, I Ship It)
Shira Lazar (What's Trending)
A feature full-length film with Q&A.

Flatline (Thurs, June 8th)
Director: Jon Schnitzer
Experience the other side. The only place in the world to experience Flatline is at New Media Film Festival June 8th during festival hours in the main hall of The Landmark. Free with Festival Badge and any Thursday screening ticket. This VR film was pitched and funded at New Media Film Festival 2016. Julian McCrea of Portal Experiences was a speaker on our Tech Panel. Not in competition.

You Are Nothing (Tues, June 6th)
Directors: Mike Stivala, Mark Travis
A web series disguised as a self-help video tutorial - or perhaps, a parody of one - that uses the crumbing life of Mitch Repter as a teaching tool for a bizarre philosophy of life.

Love Song to the Earth ~ Special Presentation Video (during awards ceremony Thurs, June 8th)
Featuring Paul McCartney, Sean Paul, Colbie Callait, Natasha Bedingfield, Q'orianka Kilcher and others. Directed by Trey Fanjoy, Produced by Jeffy Cope. All proceeds from the Love Song project benefit Friends of the Earth and the United Nations Foundation. Premiered with Ban Ki-mon in Paris at UNFCCC COP 21.

Riley the Web Series (Wed, June 7th)
Director: Jeffrey Scott Basham
Riley is an original comedy series about a former teen pop star. Now in her thirties, she's struggling to overcome a publicly humiliating downfall and subsequent nervous breakdown. But, it's the power of friendship and the quirky characters she meets along the way that just might get her through…
Emmy® Award Winner Joe Hernandez-Kolski as Gavin and filmmakers are scheduled to attend.

SGCH - Morgan's Story (Tues, June 6th)
Director: Stefan Wernik
This film features the true story of Morgan, who with the help of SGCH rose above a troubled upbringing.
Natasha BeaumontI Inception | All Saints | Little Fish is scheduled to attend.

Say Hello (Wed, June 7th)
Director: Brooke Elliott
Say Hello is a comedic reunion of two childhood acquaintances whose lives become entangled.

Sidetracked (Tues, June 6th)
Director: E.D. Brown
Follows the tribulations of a group of thirty something, whose lives are not going to plan.
Adrienne Wilkinson Yes Raze | Star Trek: Renegades| Star Wars: The Force Unleashed is scheduled to attend.

Dream Big: Engineering Our World (Tues, June 6th)
Director: Greg MacGillivray
Dream Big: Engineering Our World is narrated by Academy Award® winner Jeff Bridges, and is a first film of its kind for IMAX® and giant screen theatres that will transform how we think about engineering.
Tickets can be purchased at: http://tinyurl.com/NewMedia2017

Full Schedule details here: newmediafilmfestival.com
•At the festival, enjoy
•Red Carpet
•VIP Soiree
•Live Music
•Screenings
•Web Series Superstar Panel
•Technology Panel
•Opening Night Programming
•Awards Ceremony
•Networking Lounge
•International Art Exhibit
•New Media Marketing Table
•Q & A's
•Audience Awards


87 New Media Films & Content from 34 countries & Outer Space.
Australia, Austria , Brazil , Bulgaria, Canada , Chile, Cuba, Estonia, France, Germany, Greece, Hong Kong, Iceland, Indonesia, Iran, Israel, Italy, Japan, Malaysia, Mexico, Nepal, Peru - Amazon Jungle, Philippines , Poland, Russia, Singapore, Spain, Sweden, Taiwan, The Netherlands, Tibet, Turkey, UK, USA
29 World Premieres | 11 US Premieres | 21 LA Premieres