industry news
The Latest Industry News for the Exciting World of Production.
Creative Handbook puts together a bi-monthly newsletter featuring up-to-date information on events, news and industry changes.
Add My Email
Step and Repeat LA Showcased Their Backdrops at Photo Booth Expo 2017

By: Step and Repeat LA
| March 27, 2017

Step and Repeat LA is a Los Angeles-based company that specializes in creating logo backdrops and media walls used for televised award ceremonies, film premieres, birthday parties, corporate events and fundraisers.

Step and Repeat LA recently attended the 2017 Photo Booth Expo in Las Vegas, Nevada. The 3rd annual Photo Booth Expo took place on March 20 - 22, 2017 at the Westgate Hotel. This Expo is the world's largest trade show that is exclusively dedicated to the rising photo booth industry around the world. Step and Repeat LA was an exhibitor at the Expo and showcased their customized fabric backdrops that are ideal for photo booths. Their booth featured an 8' x 8', 2-sided, step and repeat, fabric stretch display and also retractable backdrops. Attendees of the Expo were able to see the quality and versatility of the customized backdrops offered by Step and Repeat LA.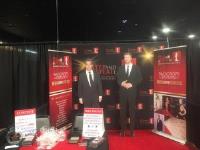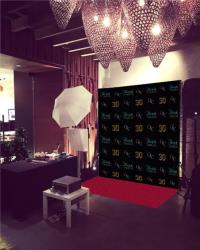 "With our step and repeat backdrops created especially for photo booths, we are a leading supplier of backdrops for photo booth companies," said Anthony Klemp, the Step and Repeat LA customer service rep attending their booth at the Expo. "This third annual Photo Booth Expo focused on new technologies and we are very excited to have been a part of this event."

Event planners can order a custom backdrop from www.StepandRepeatLA.com and add an open-air photo booth to their online order for events in the Los Angeles area. Step and Repeat LA has partnered with one of the best photo booth companies in the business. These open air photo booths are great for all kinds of events and when paired with a customized backdrop with step and repeat logos, they become an ideal marketing tool. Photo Booth companies across the United States can order custom backdrops for their own events, with a 24-hour turnaround and free ground shipping.