industry news
The Latest Industry News for the Exciting World of Production.
Creative Handbook puts together a bi-monthly newsletter featuring up-to-date information on events, news and industry changes.
Add My Email
ARCHION'S AWARD WINNING EDITSTOR MEDIA STORAGE SOLUTIONS NOW FEATURE ADDITIONAL PERFORMANCE, CAPACITY AND FUNCTIONALITY ENHANCEMENTS

By: ARCHION
| January 10, 2017

Los Angeles, CA - Archion Technologies, a leader in intelligent, ultra high performance shared storage solutions for media workflows, has announced that its award winning EditStor media storage product line, comprised of the EditStor EO, EditStor Velo, EditStor Omni and Omni Hybrid, now feature additional performance, capacity and functionality enhancements.

Today's announcement follows the conclusion of 2016, a record year for Archion of increased company sales and technological advancements. Archion's shared media storage solutions were utilized to accelerate editorial, finishing & color grading, graphics, and visual effects workflows by a diverse range of clients in numerous fields, including broadcast, film, TV, gaming, government, education and corporate media.

Also during 2016, Archion's powerful EditStor products became certified for several industry leading technologies, including Telestream Vantage and Blackmagic's Davinci Resolve.

"During this past year, we continued to make significant technological improvements to our EditStor product line," said James Tucci, Archion's CTO. "We pride ourselves on our close relationships with all of our clients, and we are strongly attentive to their needs. As they suggest new features that would be beneficial to their storage needs, we listen and work quickly to evaluate the requests and make those improvements within our products."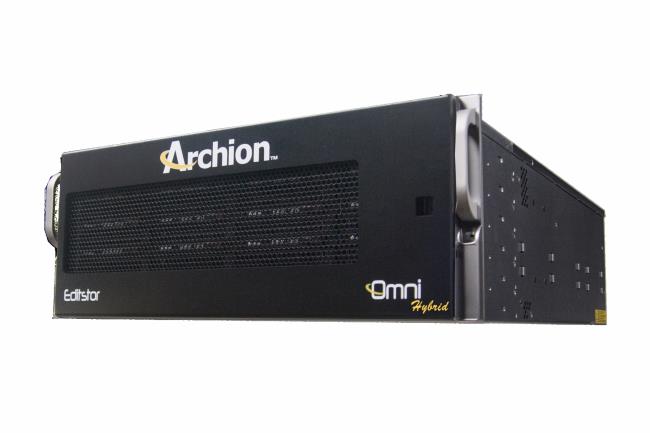 Archion's just announced EditStor enhancements can be broken down into three categories - Performance, Capacity and Functionality:

Performance:
Already recognized as a leader in providing shared storage for color grading and 4K DPX workflows, and adding to their recently announced Davinci Resolve certification, Archion has added Intel based 40-gig cards to enhance compatibility for Blackmagic Davinci Resolve and Centos 6.8. Adding to this, Archion has also successfully completed DPX and EXR testing of its EditStor Omni storage solution with Digital Visions' Nucoda. As a result of continuous testing and fine tuning, speeds have significantly increased by as much as 30% to improve these DPX workflows.

Archion has also announced their EditStor product line is now compatible with 25GigE, 50GigE and 100GigE fiber optic connectivity options. With Archion's main focus on meeting the most demanding workflows, the company has confirmed that these EditStor products will be ready to support them, upon the availability of these higher speed options.

To further improve the EditStor's performance, Archion has doubled the RAM across the product line for faster GUI and system performance. The system now supports advanced protocols, such as "SMB3" and "NFS4".

Capacity:
Already one of the most scalable high performance tier 1 media storage solutions, EditStor can now expand to 2.4 Petabytes with the addition of up to 10TB drives. In 2016, Archion strenuously tested and ultimately certified both 8TB and 10TB Helium drives. These high capacity Helium hard drives support the same high speed and throughput - the Helium platform delivers the very best capacity hard drive in the industry, the Ultrastar He10. The He10 uses PMR technology and is the industry's first 10TB drive that is drop-in ready for any enterprise-capacity application or environment.

Functionality:
With one of the broadest feature sets for media workflows, such as transparent Avid project sharing (bin locking,) Archion made several functional improvements in 2016. Archion's APS ShareConnector has just been updated to support Apple's Sierra Operating System. APS ShareConnector, a mounting tool, has also been improved to enable a single click to mount all shares creating more efficiency with Avid project sharing.

To improve the overall reliability of the EditStor line, Archion now offers the latest high performance SSD for its redundant Operating System. The advanced SDD technology provides greater write protection and advanced error checking, ultimately providing enhanced performance and protection.

Adding to Archion's ingest methods, the company now supports media transfer directly to a share over a USB drive. As an optional way of quickly ingesting media into EditStor, one can copy the media from local NTFS USB drives on the back of any EditStor model.

ABOUT ARCHION:
Based in Los Angeles, CA, Archion Technologies is a global leader in intelligent, high performance shared storage solutions for media workflows, with an emphasis on 4K video storage specifically designed for the editorial, graphics, and other media workflows commonly used where creative storage systems are required for the broadcast, production, corporate, education, government, house of worship, and sports industries.

Founded by a team of post production, technology, and entertainment industry professionals in 1998, Archion has defined a new standard of performance, protection and affordability for shared storage solutions. Since its founding, the company's storage technologies have been critical to the success of thousands of TV, film, commercial, documentary, and other content creation projects.

Archion's storage systems are most often used by professionals integrating Avid, Apple, Adobe, Autodesk, Blackmagic Resolve, NewTek and other creative workflow tools. For more information, please visit: http://www.Archion.com