industry news
The Latest Industry News for the Exciting World of Production.
Creative Handbook puts together a bi-monthly newsletter featuring up-to-date information on events, news and industry changes.
Add My Email
By: MASTERSFX
| January 10, 2017

Hollywood, CA -- Looking back at a career that's lived-through 30 years of industry change - from globalization and digitization of staid production efficiencies, to computer graphic visual effects, to 'there's an APP for that' - award winning Todd Masters, Founder and President of acclaimed creature FX studio MASTERSFX, says he is amazed at how his practical FX continue to STILL be in demand - even more prevalent - in today's crowded field of digital visual effects.

"The hand-crafted art of make-up effects, prosthetics and highly realistic artificial bodies, remains at the core of our business for 30 years now!" Masters said excitedly, celebrating his milestone. "Our physical, on-set practical FX work is very-much in demand these days. I'd even say, we've been busier these last couple of years, more than I can ever recall. That surprises even me."

He states that a current crop of in-the-know filmmakers has helped the resurgence - demanding a more believable and organic look for their film's FX. "Many of today's renowned directors were kids when I started this business. And like me, they grew up watching monster movies and dreaming of creation. Because of this childhood wonder, and their passion for realizing these creations - we find that many are prefer having these things show up on set - integrating the onset practical FX, with digital work. Directors like Adam Wingard, Christopher Nolan, Guillermo del Toro, JJ Abrams, James Gunn are poster boys for the love of practical FX."


In MFXLA - John Wrightson sculpts an unused partial Marius creature
Masters' company's experience mixing practical work into modern visual effects -- along with many other methodological changes in his company, seems to be the key to their vibrancy. "Practical FX work onset not only can help with budgets, but it often grounds the film into some reality. If everything has a magical appearance to it, it's difficult for audiences to grasp story and parse objectively."
Masters points to the recent "Star Wars" and "Star Trek" films and how they relish the successful mixing of both practical and digital FX. "JJ Abrams comes from making his own hand-crafted films. And like many other modern auteurs, he gets it. He and I were sitting on a plane a few years ago, talking about just how practical FX owes a resurgence - and ways to align with digital, for a better result, as we were doing on 'Fringe,' for him, at the time. I was showing him shots on my laptop, from 'Falling Skies' and other projects, where we had integrated practical and digital aliens beautifully. And he loved it."
Today, screens both large and small are filled with MASTERSFX's practical art. Latest projects:
** Kate Beckisale's highly anticipated return to leather and Lycans in
Underworld: Blood Wars
- filmed in Prague at the notorious Barrandov Studios, where MastersFX set up shop to reprise their role creating the practical Lycans FX. MASTERSFX has done similar work on the series last installment. The company works with the film's producer, Lakeshore Studios, often, having also created the title character for the acclaimed film
The Boy
, last year.
Creature supervisors, Allan Holt and Aina Skinnes O'Kane test out an unpainted and unheard Lycan suit
** The recent premiers for The Beyond and Shadowhunters, airing on Freeform.
** Later this month, SyFy's hotly anticipated Season 2 of the adult-themed fantasy, The Magicians. "The Magicians is an interesting project for us," notes Masters. "They lean heavily on our practical FX, to avoid an over-CG-everything-look. When CG is used, it's sparing and smart - retaining a very organic, believable magic, unique to this show."
** In February comes the premiere of FX/Marvel's
Legion
. Masters and his team helped expand the world created by show-runner Noah Hawley ("Fargo") and Producers Lauren Shuler-Donner ("X-Men," "Deadpool,") and John Cameron ("The Big Lebowski," "Bad Santa.") The second-season of SyFy's hit space saga
The Expanse
also returns in mid-February, featuring make-up FX by MFX's Toronto location.
** March brings the much-anticipated
Prison Break
for Fox -- and
Handmaid's Tale
on Hulu.
** The anticipated release of the
James Gunn
("Guardians Of The Galaxy") penned and produced
The Belko Experiment
, also hits theatres in March. For this grisly office ensemble, MFX supplied bloody make-up effects as well as visual effects. The film was shot on location in Bogota, Colombia.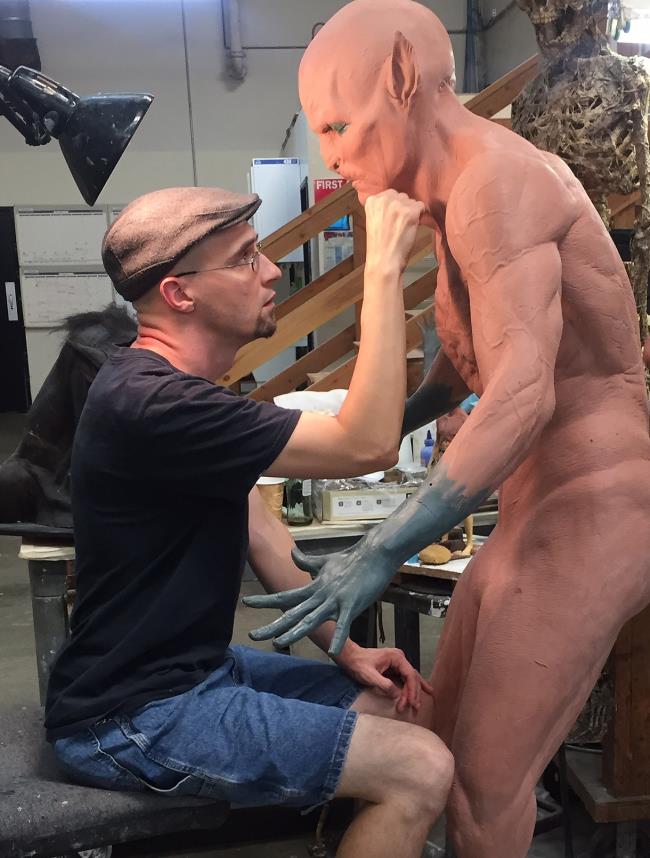 John Wrightson sculpts an unused partial Marius creature
Masters further explains why practical FX work remains so prevalent in 2017:
"Not only are WE coming off one of our hottest seasons in our studio's 30 year history, but some our colleagues and competitors from other FX shops are also reporting a similar spike in their businesses, too. Practical FX are consistently being featured on both television and the big screen, from hit series like 'The Walking Dead' and 'American Horror Story," to the recent hits "Deadpool," HBO's "Westworld," "Monster Calls," "Interstellar" and "Prometheus."
"If you told me, say, 20 years ago, when CG really started taking hold within film and TV production, that we'd be so busy today, I would have been greatly surprised. But we've learned to stop worrying - and just embrace the continued and ever growing demand for our art!" Masters adds.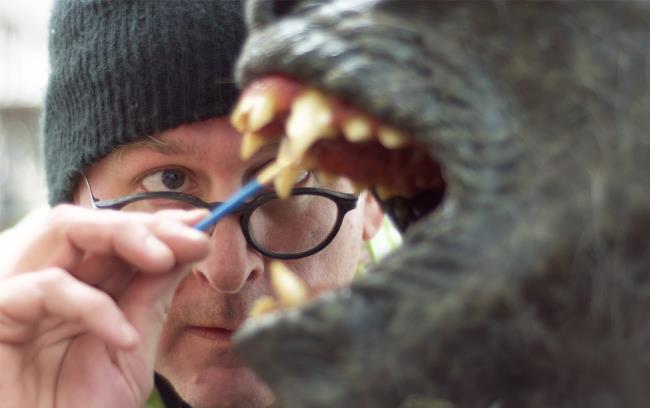 MFX Leader Todd Masters lubes a Lycan
Among the reasons for the consistent prevalence of MASTERSFX work are:
** The skills of their in-house digital departments and award-winning Visual Effects. MASTERSFX adds their practical FX seamlessly in blending CG.
** Cost: "Practical FX versus digital FX are constantly facing off in budgeting, typically practical is most production friendly"
** Speed: Television in particular demands a high pace of modern production -MASTERSFX consistently delivers
** Not a tennis ball: Practical, onset character FX are able to be directed - actors can touch them, perform off them, and can offer live, on-set performances. In this manner, filmmakers get the most out of their FX, when they can direct them and integrate them into the scene, in real time
** Location, Location, Location: To keep up with demand, MASTERSFX now has studios in Los Angeles, Vancouver, and Toronto.
** Flesh is Best: While computer generated VFX can do amazing things, "Flesh is still best," when made practically - courtesy of MASTERSFX's developments in synthetic flesh for assorted characters, monsters and medical/surgery shows. Says Masters, "Once I had a producer congratulate me, saying our practical looked digital. I know he was trying for a compliment."
ABOUT MASTERSFX:
Founded in 1987 by multi-award winner
Todd Masters
,
MASTERSFX
is a character and special FX house with studios in Los Angeles, Vancouver, and Toronto, Ontario.
Creators of the cadavers for "
Six Feet Under
," vampires from "
True Blood
," Borg FX for "
Star Trek
," and the baby makers from "
Look Who's Talking
"...
MASTERSFX
has been contributing its blend of practical and digital FX to a wide range of TV and feature film projects for 30 years.
The company also supplies dummies and detailed FX props for studios to rent, and custom and stock temporary tattoos, as well as their unique, fast-apply prosthetic system
- ProGASH.
MASTERSFX has contributed to "
Tales from the Crypt
,""
Fringe
," "
RoboCop
," "
Star Trek: First Contact
," "
The Horse Whisperer
," "
Slither
," "
Snakes on a Plane
," "
Elysium
," and dozens more.
See more at: