industry news
The Latest Industry News for the Exciting World of Production.
Creative Handbook puts together a bi-monthly newsletter featuring up-to-date information on events, news and industry changes.
Add My Email
By: Betsy Carballo
| October 12, 2011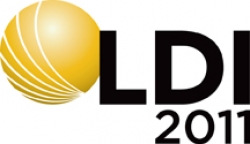 Thousands have already registered for the largest and most comprehensive trade show and conference for professionals who work with technologies for live entertainment. LDI 2011 will be held October 24-30 in the Orange County Convention Center, Orlando, FL USA.

As LDI enters its 25th year in 2012, the focus is on giving professional attendees the resources they need to thrive in this exciting and challenging time for the industry. The week-long program includes lots of opportunity for networking and brainstorming, comprehensive LDInstitute technology sessions, backstage tours of some of Orlando's top venues, the LDInnovation & Technology conference, the Live Design Projection Master Classes and an expansive exhibit hall with thousands of products and services.

The LDInnovation Technology Conference pro-training covers relevant topics including: ethernet, applied lighting for almost any application (museums, concerts, dance, houses of worship, and film-to name a few), going "green", the art of programming, PLASA technical Standards Updates, and production techniques. The week-long LDInstitute™ allows students to master a particular technology of interest: consoles, software, automation systems, projection & media servers, audio, rigging, electrical. Backstage Orlando attendees will take backstage tours of the Blue Man Group Sharp Aquos Theater, the La Nouba Theater and Disney's Magic Kingdom.

Beginning in its 25th year, LDI 2012 will be held in the Las Vegas Convention Center, Las Vegas, NV for at least three years.

For additional information on press registration, or to obtain press credentials, contact Betsy Carballo, Marketing Manager, LDI 2011 at 1-(913) 981-6140 or betsy.carballo@penton.com.

LDI is part of Penton's Live Designs family of multimedia offerings for designers, programmers, and technicians involved in visual design and production for the entertainment and related industries. Live Design publications and events cover the latest news, tools, and technology that fuel innovation across live entertainment, corporate events, theatre, concerts, houses of worship, clubs, and more. The Live Design family includes Live Design magazine; Live Design Wire, livedesignonline.com, and Live Design" Master Classes. Visit www.livedesignonline.com to learn more.