industry news
The Latest Industry News for the Exciting World of Production.
Creative Handbook puts together a bi-monthly newsletter featuring up-to-date information on events, news and industry changes.
Add My Email
By: The American Society of Cinematographers
| December 16, 2016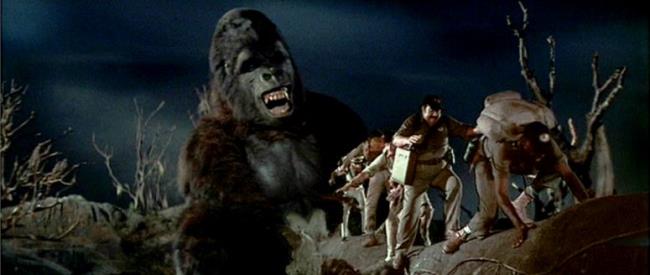 A composite shot from King Kong (1976) featuring full-scale foreground elements and a live-action miniature background with Rick Baker performing as Kong.
Forty years after its release, the big-budget remake King Kong (1976) - directed by John Guillermin and photographed by
Richard H. Kline, ASC
- was the focus of a tribute screening by the
American Cinematheque
at their Aero Theater venue on December 10 in Santa Monica, California.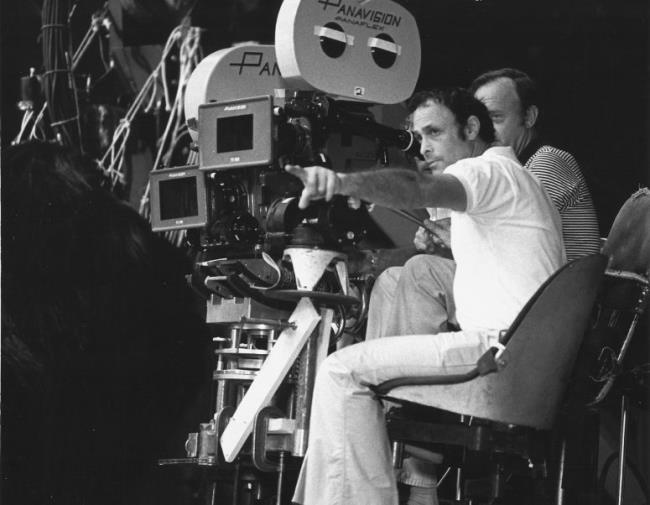 Richard H. Kline, ASC shooting King Kong (1976).
The event was planned by writer-director and genre aficionado Don Mancini (Child's Play, Hannibal, Channel Zero), who reached out to the ASC to extend a special invitation to Kline, who earned an Academy Award nomination for his epic widescreen work in the picture.
The cinematographer, who recently celebrated his 90th birthday, was honored with the
ASC Lifetime Achievement Award in 2006.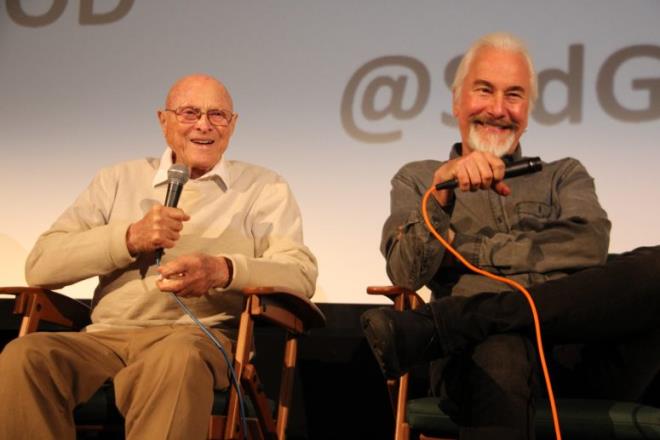 Kline and Rick Baker during the Q&A session at the Aero.
Photo by Lee Christian, courtesy of the American Cinematheque.
Another key contributor to the project in attendance for the event was legendary make-up artist
Rick Baker
, who designed, built and performed in the gorilla-like Kong suit throughout the film's difficult production, working closely with Kline throughout. "Rick proved to be a most talented and cooperative performer," Kline told American Cinematographer in an article about the King Kong production.
In close-ups, one of Kline's most effective tools for giving Kong life was also perhaps one of his least powerful: a small quartz lamp that he would handhold just off camera. Using his bare fingers or a gobo to delicately flag and shape the light, he added a bit of free-floating fill to the creature's expressive brown eyes, which were, in fact, Baker's own, covered with oversized scleral contact lenses. "It's more than just an eyelight, really," the cameraman said of his "Kline Light," a technique he began using many years before Kong. "It adds just a twinkle of life, a glimmer, and a touch of fill. I'd fan it and direct it based purely on intuition, depending on what the performer was doing. Because I stood right next to the lens, I could see exactly what was needed."
Moderating the tribute Q&A featuring Kline and Baker was King Kong: The History of a Movie Icon author
Ray Morton
. Also participating were
Richard Kraft
of Kraft-Engel Management, who spoke on behalf of the film's composer,
John Barry
, actor
Jack O'Halloran
, and
Martha De Laurentiis
, wife of the film's legendary producer,
Dino De Laurentiis
.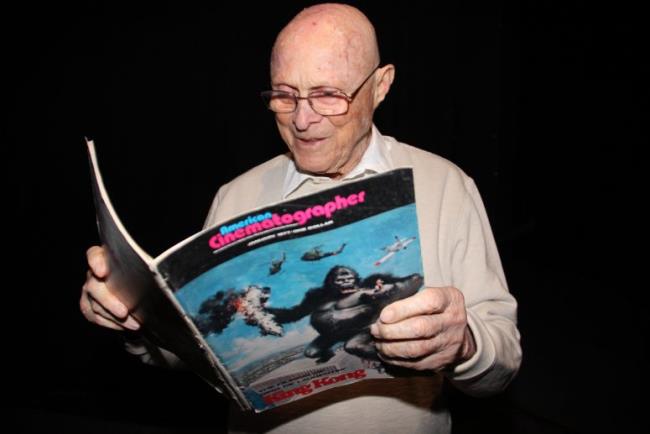 At the Aero screening, Kline revisited AC's 1976 cover story on his work
in the picture. Photo by Lee Christian, courtesy of the American Cinematheque.
Below are a few Kong production stills from the AC archives, depicting Kline and his crew at work on location at the World Trade Center in New York City, shooting the picture's finalé: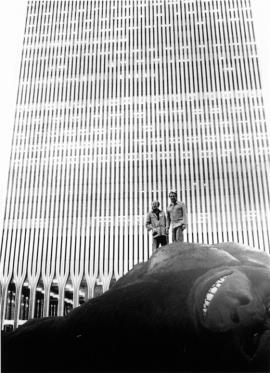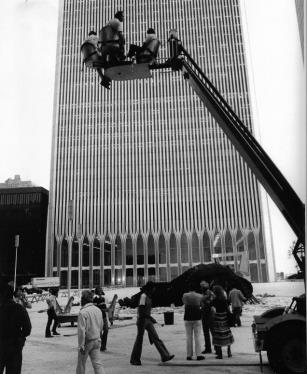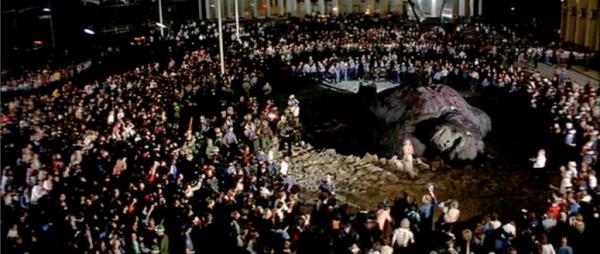 ABOUT THE ASC
The American Society of Cinematographers was founded in Hollywood in 1919 with the dual purpose of advancing the art and science of cinematography and bringing cinematographers together to exchange ideas, discuss techniques and promote the motion picture as an art form - a mission that continues today.
The ASC was the first organization in the film industry to be devoted exclusively to furthering and honoring professional achievement. It is not a labor union or a guild, but an educational, cultural and professional organization. Membership is extended by invitation to those who are actively engaged as directors of photography and have demonstrated outstanding ability.
The 15 original ASC members were Joe August, L.D. Clawson, Arthur Edeson, William C. Foster, Eugene Gaudio, Fred Le Roy Granville, Walter L. Griffin, J.D. Jennings, Roy H. Klaffki, Victor Milner, Robert S. Newhard, Philip E. Rosen, Charles G. Rosher, Homer A. Scott and L. Guy Wilky. (
View the current ASC membership roster.
)
The first documented appearance of the ASC credential in a film's titles was Sand (1920), produced by and starring William S. Hart and shot by Joe August, ASC.
The ASC began publishing a four-page newsletter called The American Cinematographer in 1920. It was published twice monthly until March 1922, when it became a monthly, and American Cinematographer magazine has been published every month since then.
The ASC also publishes the American Cinematographer Manual, a vital technical resource that is commonly known as "the filmmaker's bible."
In 1936, after occupying offices at two different locations on Hollywood Boulevard, the ASC moved to 1782 North Orange Drive, which is still its home today.