industry news
The Latest Industry News for the Exciting World of Production.
Creative Handbook puts together a bi-monthly newsletter featuring up-to-date information on events, news and industry changes.
Add My Email
By: Power Gems
| November 15, 2016

As experts in high speed electronic ballasts, Power Gems are often asked about practical steps to avoid flicker in HMI light sources.

Phil Ellams, owner of Power Gems, has written a white paper
Using HMI lighting in high speed filming applications
Read the white paper for practical advice, tips and insight. Phil gives you a clear perspective on the problems and solutions of shooting at high frame rates. Despite the difficulties, using HMI sources offers the greatest opportunity, provided you understand the challenges. It's an area Power Gems are particularly knowledgeable about.
High speed ballast experts since 1991
Power Gems have been designing high speed ballasts for HMI lamps for 25 years. We're specialists in understanding high intensity discharge lighting and its many areas of application.
Flicker-free high speed ballasts
The next generation of Power Gems 1,000Hz high speed ballasts operate HMI lamps from 575W to 24kW. Power Gems ballasts have been shown to eliminate flickering in most conditions. Testing has been carried out in conjunction with the Digital Cinema Society.
Everything you need in a high speed ballast
• Wide range of output power options for flicker-free HMI lighting.
• 1000Hz output for high speed filming.
• Auto scan feature available for 9kW and 18kW lamp running.
• Built in compensation of lamp cable volt drop.
• Slide-in power modules for easy maintenance.
Reliable, robust and reasonably-priced
Chosen by the TV and film industry worldwide for over 20 years, the new generation of Power Gems ballasts perform in the harshest line voltage supply conditions. Our highly versatile range comprises a core of 20 different product lines - all TÜV approved up to 6kW.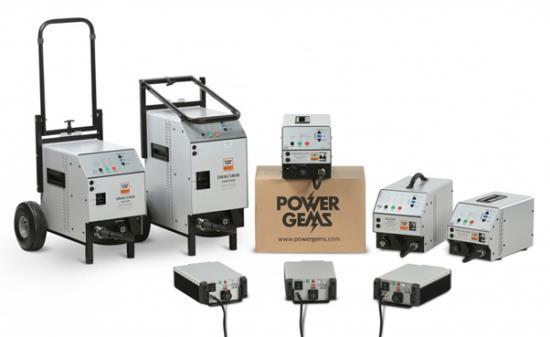 Find out more at
www.powergems.com
or
sales@powergems.com
LOS ANGELES, ATLANTA USA; MANCHESTER, UK