industry news
The Latest Industry News for the Exciting World of Production.
Creative Handbook puts together a bi-monthly newsletter featuring up-to-date information on events, news and industry changes.
Add My Email
By: Checkers
| October 20, 2016

Companies all over the world trust Checkers Industrial Safety Products with their safety needs. The primary reason you can trust Checkers is because we have a 25-year track record of providing highly effective safety solutions that save lives and protect assets.

Checkers takes the safety of your people and property very seriously. This means working directly with industry experts and safety managers to design products that fit the specific needs of their working environments. Our product development takes place on work sites where our engineers experience the safety challenges firsthand, which allows them to understand the conditions and circumstances where our products will be required to perform. Through this process we gain the knowledge and insight to ensure every one of our customers' needs is satisfied.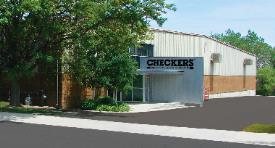 Our team then uses innovation and advanced manufacturing processes to create effective products that withstand the harshest weather and working conditions that exist in industrial applications. At this point, we again involve industry experts and safety managers to field-test our products under extreme working conditions. We also submit our products to independent third-party contractors for testing and compliance evaluations. This rigorous testing protocol ensures Checkers products meet or exceed all industry compliance regulations and standards.

Another reason to work with Checkers is that our service professionals are trained to understand the safety issues in many industries. We can quickly help you find the right safety products to protect your people and bring your business into compliance.

__________________________________________
In 1987, Checkers Safety Group® began with a simple vision: to be a dynamic and growing organization dedicated to saving lives and protecting assets by delivering innovative safety products. That vision still drives Checkers today. With our product offerings of Cable and Hose Protection Systems, Wheel Chocks, Warning Whips, Warning Lights and more, Checkers creates reliable safety solutions for our customers.
Checkers Safety Group is headquartered in Broomfield, Colorado, U.S.A. with another manufacturing and support facility located in Mesa, Arizona. Each of our products is proudly produced in the United States. We take pride in providing the highest quality product at the best possible price. Serving a diverse number of customers and markets worldwide for over 25 years has provided us the knowledge and insight to ensure every one of our customers' needs is satisfied. Through our commitment to innovation and excellence Checkers is poised to continue serving as your leading global provider of industrial safety products.
CABLE MANAGEMENT SYSTEMS
The world's five most popular brands of cable management systems are manufactured by Checkers, including LINEBACKER®, YELLOW JACKET®, GUARD DOG®, FASTLANE®, and DIAMONDBACK®. These high performance cable protection systems provide a method of safe passage for pedestrian traffic, vehicles and heavy duty equipment while protecting valuable electrical cables, cords and hose lines from damage. To fit the needs of a wide variety of applications, we offer lidded models, drop over models, open top models, and low profile models constructed from all-weather polyurethane. We also offer rubber duct models for light applications. These durable protectors are ideal for use in public, commercial, construction, and industrial applications.
WHEEL CHOCKS
Checkers manufactures a large selection of MONSTER® Wheel Chocks for use in residential, commercial, industrial, and aviation applications. These durable wheel chocks provide an effective way to secure vehicles, trucks, and trailers in a wide variety of industries. MONSTER® Wheel Chocks are made from urethane and are available in heavy duty or general purpose models. Whether you are chocking a 400-ton haul truck or a small pickup, we have a solution for you.
WARNING WHIPS
Checkers offers a complete line of high visibility GORILLA® and SUPER WHIP® Warning Whips that warn others of a vehicle's presence. Available with or without lights, these warning whips are also used to provide easy identification of other vehicles or equipment working in your area. In addition to our standard models, we now offer waterproof models for extreme applications. Each warning whip includes a flexible whip with a flag and mounting base for easy vehicle attachment. Various lighting and mounting options are also available as accessories for some models.
WARNING LIGHTS
Checkers manufactures the most durable Barricade, Solar Barricade, Strobe, and LED Module lights on the market today. Our patented products feature the industry's brightest lights, and they are designed to withstand the harshest conditions experienced in traffic safety, construction and other industrial applications. All of our lights are Independent Lab Certified to meet regulatory specifications such as SAE J845 Class, I, II, and III, ITE, and NCHRP-350.
Checkers also manufactures Vehicle Identification Lights that provide easy identification of equipment in heavy duty working environments. Built with high output LED lights, these lights provide superior visibility during the day or night. They are constructed from a high intensity reflective material that is easy to read whether the sign is powered or off. Checkers Vehicle Identification Lights are designed to withstand the harsh weather and working conditions frequently experienced in mining, construction and other industrial applications.
GOGGLE RETAINERS
Checkers makes durable goggle retainers to assure workers always have eye protection available when they need it. These retainers will keep the goggles on the safety cap or hat when the goggles are not in use, and they will hold the goggles securely when they are worn for eye protection.
PARKING STOPS AND SPEED BUMPS
Checkers offers a premium quality line of parking stops and speed bumps. These products are made from 100% recycled materials and are ideal for commercial or residential environments. These durable products will not chip or crack, and they are resistant to gas, oil, salt, sunlight and chemicals. They are light enough to ship via UPS and they can easily be installed by one person.
The service professionals at Checkers Safety Group are trained to understand the safety issues in many industries. This allows us to quickly help you find the right safety products to meet your needs and bring your business into compliance.
To provide more personalized customer service, we have a highly skilled Sales Team assigned to specific geographical areas in the United States and Canada. Below is a listed of our Sales Team and a map that outlines the area they serve. You can contact the appropriate team member directly either by phone or email. If you prefer to contact our corporate office in Colorado, you can call us toll free at 800-438-9336 or email Customer Service.
877-384-6103