industry news
The Latest Industry News for the Exciting World of Production.
Creative Handbook puts together a bi-monthly newsletter featuring up-to-date information on events, news and industry changes.
Add My Email
By: NBC UNIVERSAL COSTUME DEPARTMENT
| October 10, 2016
The Universal Costume Department offers a multitude of services to costumers and designers for every area of film work: movies, television, commercials, videos and stills. Besides the 27 double hung rows of rentable clothing and costumes, we offer office space and cage space, walkabout costumes, armor and specialty costumes, women's and men's tailoring and dressmaking, a Gold Room of higher end clothing, and dressing rooms for fitting actors. Costume projects working out of our offices have 24/7 access to their offices and cages, the laundry room and dye facility.


Video Tour of the NBC Universal Costume Department
Since all of our clients work on a project to project basis, we make every effort to keep up with their needs. We have photo areas in the Stock Room and Dressing Rooms so that they can get immediate approval on costumes via email. Our staff can help find and accessorize any outfit efficiently as we offer a large selection of period and modern jewelry and accessories. We are committed to offering remote services by emailing costume pictures to costumers working in the field. We have green screen and grey screen photo areas with dress forms for clean pictures and quick approval. We also offer the Edith Head Costume Research Library which was made possible by a generous donation from The Costume Designers Guild. The collection offers an easy, convenient resource for the costume community to consult fashion periodicals and reference books for a range of time periods. Research assistance is available from the Costume Dept. staff.
We make it easy to pull costumes, organize purchases, age and dye, launder and breakdown and pack and ship so that your show is ready to go. We hope to become a one-stop-shopping experience for the designer and costumer. We also welcome and cater to commercial and video stylists.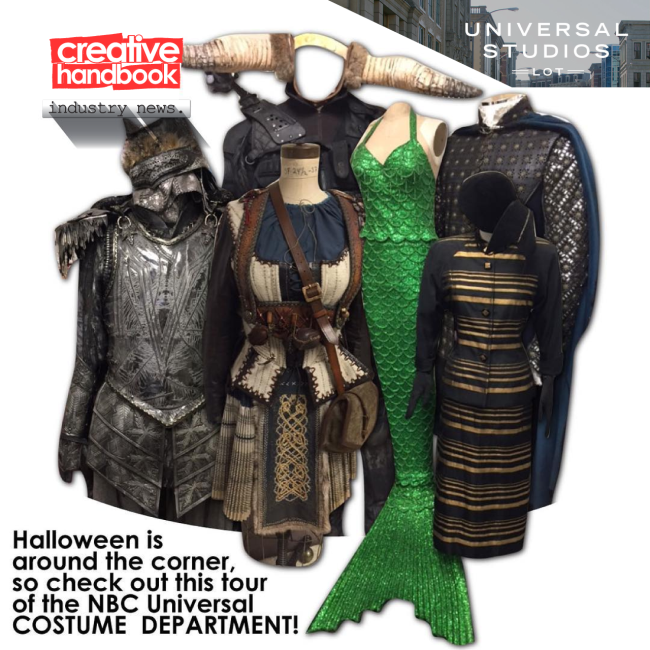 The Universal Costume Department receives clothing assets from Universal Features and we process new acquisitions immediately to augment our clothing and costume stock. We strive to make coming to Universal a comfortable shopping experience. Please call to come in for a visit.
(818) 777-2722
Learn More: