industry news
The Latest Industry News for the Exciting World of Production.
Creative Handbook puts together a bi-monthly newsletter featuring up-to-date information on events, news and industry changes.
Add My Email
By: OMEGA | cinema props
| October 7, 2016

The first independent prop house, Cinema Mercantile, was established just after World War I on Santa Monica Blvd. where Omega/Cinema Props is located today. In 1920, when much of Europe was in a state of devastation, the owners of Cinema Mercantile imported a huge library of props and set dressing from rugs and furniture to silver and china and offered this inventory for rental to the booming motion picture industry. Joseph Basch, founder of Joseph Basch Galleries (now part of Omega/Cinema Props) collected carpets and antiques from all across Europe including a desk that once belonged to Napoleon Bonaparte!

Omega Studio Rentals was founded in 1968 by E. Jay Krause who had the idea of putting together a small well-staffed prop house specializing in European antiques, fine paintings, lamps, drapery, linens and accessories. Omega Studio Rentals displayed their inventory in a showroom setting and pulled and prepped every order for pickup. Jay Krause, a prominent television and stage Production Designer has a love for English antiques and set a standard that Omega's entire inventory be kept in excellent condition.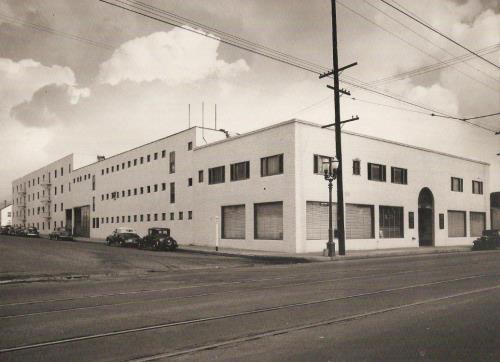 Within a decade Omega Studio Rentals outgrew their small location on Sunset Blvd and moved into the storefront adjacent to Basch Galleries on Santa Monica Blvd. where C.P. Two resides today. Soon Omega acquired the inventory of Modern Furniture Rentals and continued to make annual shipments from Europe. In 1982 Omega acquired the inventory of Cinema Props and became Omega/Cinema Props. Omega also established their in house upholstery department at this time.
In 1983 Omega/Cinema Props acquired the inventory of Cinema Mercantile and Joseph Basch Galleries and moved into the Cinema Mercantile building at 5857 Santa Monica Blvd. Omega continued to expand and soon moved their commercial props (restaurant/bank/store, etc) back into the old Omega and Joseph Basch spaces and named the new location C.P. Two. In the early 1990's Omega acquired the inventory of Decades and First Street Furniture. First Street became C.P. Three and housed Western, warehouse, wharf and "rough" dressing and also incorporated the Omega patio collection. Soon after C.P. Four opened on Cahuenga Blvd. to house all of the office, schoolroom and electronics stock.
After over 40 years in business, and growing from 2,000 to nearly 300,000 square feet, Omega / Cinema Props can now claim to offer the largest selection of Props anywhere in the Entertainment Industry.
3 Locations!
OMEGA | cinema props
Email |
orderdesk@omegacinemaprops.com
Phone |
(323) 466-8201
Location |
5857 Santa Monica Blvd., Los Angeles, CA 90038
C.P. TWO
Email |
cptwo@omegacinemaprops.com
Phone |
(323) 466-8201
Location |
5755 Santa Monica Blvd., Los Angeles, CA 90038
C.P. Valley
Email |
cpvalley@omegacinemaprops.com
Phone |
(323) 466-8201
Location |
7545 N. San Fernando Road, Burbank, CA 91505