industry news
The Latest Industry News for the Exciting World of Production.
Creative Handbook puts together a bi-monthly newsletter featuring up-to-date information on events, news and industry changes.
Add My Email
By: J-Box Industries
| September 21, 2016


The J-BOX is a highly adaptable and versatile soft light system. Its design makes it quick to assemble and easy to use. The J-BOX's adaptability makes it the ideal unit for a variety of lighting applications throughout the entertainment industry, including features, television, commercials and videos. It can be used as a top light, an ambient source, projected fill, a soft key and, in its compressed mode, is perfect for use with translight backings. Its modular design allows you to literally "transform" the J-BOX to fit your specific needs without the use of tools. Its design allows you to choose your source type, utilizing the medium-based socket strip(s), and/or the Lighten-ing Rail mounting track(s) for use with existing stage fixtures. Source components are removable and interchangeable with other J-BOXes.



The J-BOX's powder-coated aluminum frame makes it both lightweight and durable enough to withstand the rigors of film and television production. The side panels of the J-BOX are constructed from a flexible material that is capable of withstanding temperatures in excess of 1000 degrees. These fireproof panels attach independently of each other to the frame. This allows easy access to the fixtures while providing total flexibility in the directional output of the unit. By simply rearranging the panels, you can quickly change the light from a soft key to 3/4 top light with one open side, easily diffused with any standard diffusion filter.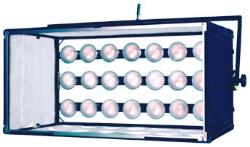 The J-BOX can be mounted in several ways; its yoke system allows it to be used with any standard junior receiver floor stand or hardware for standard applications. In addition, the J-BOX can be suspended from the four hang points in the corners of the unit. The J-BOX quickly and easily breaks down to a fraction of its size, allowing for maximum storage in a minimum of space.

J-Box Industries strives to accomodate the ever-changing needs of the entertainment lighting industry. For more information on the J-Box soft light system, or to schedule a demonstration, please contact J-Box Industries at (818) 768-JBOX, or e-mail us at rentals@jbox.biz