industry news
The Latest Industry News for the Exciting World of Production.
Creative Handbook puts together a bi-monthly newsletter featuring up-to-date information on events, news and industry changes.
Add My Email
In August 2015, Film New Zealand merged with the New Zealand Film Commission, part of a network of international film commissions throughout the world.

By: Film New Zealand
| August 29, 2016

OUR ROLE

New Zealand has a reputation as one of the best places in the world to make screen productions. Our aim is to help international screen businesses understand why, and give them the information and support to enable them to make their projects here.

‣ The New Zealand Government contracts us to:
‣ Market and promote New Zealands' screen production industry
‣ Provide specialist screen services, including an international screen business enquiry service
‣ Provide core information and advice to government agencies on screen-related matters
‣ Manage relationships on behalf of the Government with New Zealand's major international production customers
‣ Take strategic opportunities to progress the interests of the New Zealand screen sector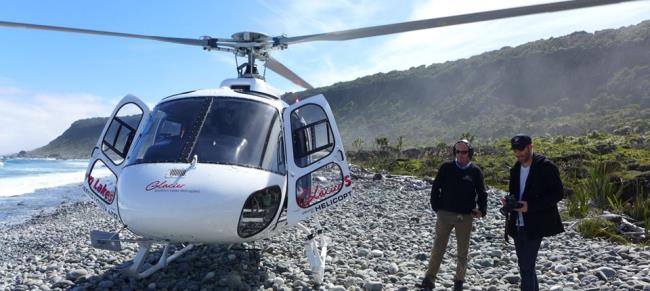 Queenstown - Helicopter pilot Alfie Speight with actor Chris Pine (Star Trek, Z for Zachariah)
SPECIALIST ENQUIRIES SERVICE
Our specialist knowledge on all aspects of filming in New Zealand will help you to get your project off the ground.
We'll tell you all you need to know about New Zealand's screen
production incentives
, and link you in with other agencies you may need to talk to.
Find out more about our
specialist enquiries service
.
HELPING NEW ZEALAND COMPANIES
If you're a New Zealander doing business internationally, we can help you too. We profile New Zealand companies and individuals in our overseas activities, and can offer you:
‣ Help with enquiries and incentives
‣ Marketing tools to help you tell the New Zealand screen story
‣ Seminars and events for industry in New Zealand
Contact our enquiries team to learn more.
PROMOTING NEW ZEALAND
We promote the wealth of advantages New Zealand offers as one of the world's most desirable screen production destinations by:
‣ attending international events and tradeshows
‣ providing an information toolkit to filmmakers
‣ advertising in trade publications
‣ engaging with media
‣ working with international filmmakers to tell their stories about making their projects in New Zealand
‣ representing the New Zealand Government with major overseas clients, and assist visiting international industry delegations.
PROGRAMME OF INTERNATIONAL EVENTS AND INITIATIVES
We work to represent New Zealand's screen industry at key international events. We also host international visitors, and help connect them with New Zealand screen businesses through seminars and face to face meetings.
Read more.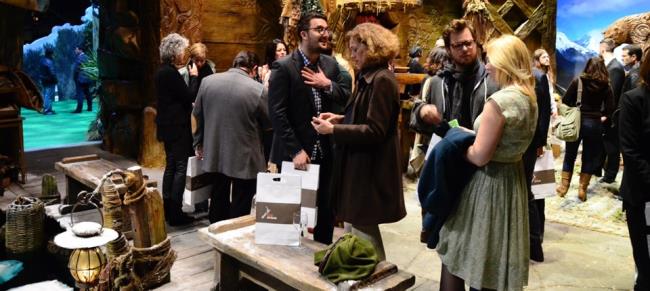 Screen Practitioners Function - Book of New Zealand, Los Angeles December 2013
MEDIA AND PROMOTION
We can help you with informed comment on the size and scale of the New Zealand industry, referrals to industry contacts and insights on
international production
in New Zealand and why it matters.
GOVERNMENT ADVOCACY
We provide analysis and advice to the New Zealand Government on international screen production.
Read our reports.
OFFERING CENTRALISED SERVICES
We regularly work with government agencies and screen businesses both in New Zealand and internationally, and take what we call a 'New Zealand Inc' approach to business. That means if we can't help, we can put you in touch with someone who can, check out
who we work with.
KEY SPONSORS
Xtreme Forwarding
|
Air New Zealand
|
Heritage Hotels