industry news
The Latest Industry News for the Exciting World of Production.
Creative Handbook puts together a bi-monthly newsletter featuring up-to-date information on events, news and industry changes.
Add My Email
By: Sun Air Jets
| August 16, 2016

As all of you all know, JoJo Fletcher has met her match and is engaged to Jordan Rodgers! On behalf of Sun Air Jets and Film Sun Air we would like to congratulate and wish them a long and prosperous marriage. Sun Air Jets is proud and honored to have been featured in both The Bachelor and The Bachelorette shows.

Director of Business Development Kim Scolari continues,

"It was so exciting getting to work with the entire team at ABC's The Bachelorette. This was one of our biggest shoots to date. The production team basically came in and took over one of our hangars for a few days, transforming it into a Rose Ceremony location, complete with a very elaborate lighting system and a couple of our Gulfstream jets in the background. We were so honored to be a part of the finished product. Many of us at Sun Air are huge fans of the show, so you can imagine we were glued to our TV sets like the rest of America."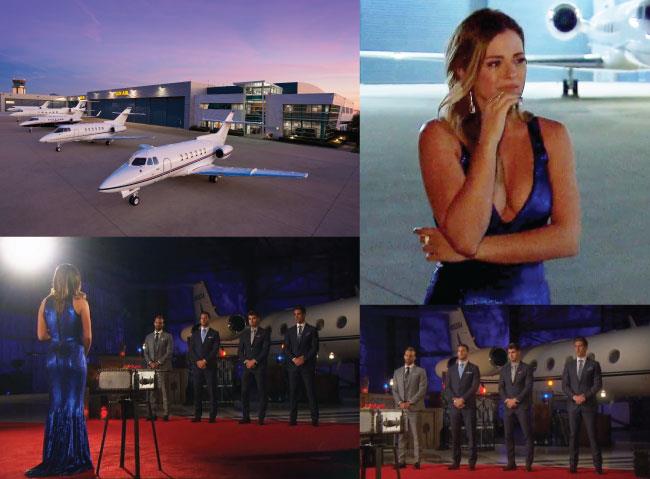 More about Sun Air Jets:
Sun Air Jets at the Van Nuys and Camarillo Airports offers a full complement of hangars, passenger terminal lobby, conference rooms, ground service equipment, and an extensive fleet of corporate jet aircraft. Whether you need to charter a jet for your production or just film one in a scene, we will expertly facilitate your production needs.

Since the launch of Film Sun Air our aircraft and world-class facilities have been seen in numerous national commercials, television productions, feature films, print, and video shoots.
Film Friendly Sun Air Jets handles all aspects of your shoot: from meeting with your location scout and helping to choose the appropriate aircraft, to assisting with film permits and providing insurance requirements. On the day of the shoot, we will provide dedicated representatives on site to help provide a seamless experience. Sun Air Jets is more than a private jet charter company, we are a proud film location as well.

For additional information or to obtain a quote on your next shoot please call:

Kim Scolari
Director of Business Development

Office: 805-389-9336
Cell : 818-515-4276
or email kscolari@sunairjets.com