Change Region
California
industry news
The Latest Industry News for the Exciting World of Production.
Creative Handbook puts together a bi-monthly newsletter featuring up-to-date information on events, news and industry changes.
Add My Email
By: Linoleum City
| August 2, 2016

Linoleum City was established in 1948 on historic Route 66 at 5606 Santa Monica Boulevard in Hollywood, California by Bill Stifter who moved his small company here from Chicago, Illinois. Bill speculated that establishing a business near a Sears, Roebuck and Company would help his own business grow. In fact, the slogan on old yardsticks reads, "Sears is across from us."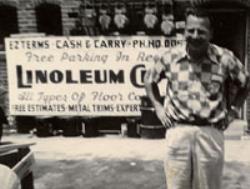 Being near an identifiable store like Sears, Roebuck must have been a good thing. In 1968 the expanding business was moved across the street to a larger facility at 5657 Santa Monica Boulevard and the company's new slogan became, "Sears is next to us." At the end of 2007, Linoleum City moved to its present location, at a much larger facility, a few blocks down from its previous location, at 4849 Santa Monica Boulevard, 2 blocks west of Vermont.

Still owned by Bill's wife, who remains active in the business, Linoleum City is staffed by family members and long-time employees. The store has grown to a 15,000 square foot warehouse/showroom.

In the early days, the Bohemian Credit Plan-"Everything down with nothing to pay," was the only accepted form of payment. Today, however, most major credit cards, including VISA, Master Charge, Amex, Discover Card, and approved credit are accepted.

Over the years, the entertainment industry has influenced the buying pattern for Linoleum City's huge inventory. The company searches the world for new and interesting designs and products, staying ahead of trends in order to meet the needs of professional and residential buyers, even creating exclusive designs for its customers. Materials are available for the do-it-yourself customers or arrangements can be made for independent contractor installation.

Red carpet for the Academy Awards, old fashioned linoleum for a retro look, home or commercial high tech resilient flooring, hardwood, laminates, sisal or sea grass-Linoleum City, Inc. on historic Route 66 in Hollywood has what you need.

Contact Us
Come to our showroom to see the largest selection in Los Angeles out work speaks for itself.

Come visit us today!

SHOWROOM ADDRESS
4849 Santa Monica Blvd.
Hollywood, CA 90029