industry news
The Latest Industry News for the Exciting World of Production.
Creative Handbook puts together a bi-monthly newsletter featuring up-to-date information on events, news and industry changes.
Add My Email
By: Rosalie Kessing
| September 13, 2011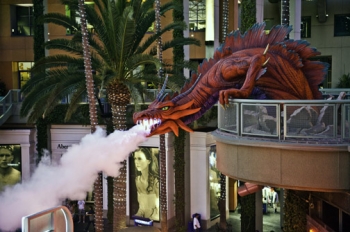 Lexington created a giant, smoke-breathing dragon statute for the Infusion Lounge at CityWalk Hollywood that gazes down, daring those on the ground level to come up and see what its standing guard over.

Lexington worked closely with DKR Partners and Universal to design the striking special effects dragon intended to put the Infusion Lounge on the map. We then engineered, fabricated, and installed this 12' by 6' themed fiberglass dragon that appears to have broken through the concrete and "roars" to life every twenty minutes with a smoke and light show.

Lexington is a full-service, creative design and custom fabrication company known for its expertise in producing a wide variety of award-winning projects that require complex technical design. With over 25 years experience creating educational environments, engaging exhibits and interactives, unique architectural features and character lighting, and sophisticated custom elements for museums, theme parks, restaurants, retail, casinos, and broadcast television, Lexington has demonstrated an exceptional talent for crafting dynamic, beautiful projects. With the ability to blend creative and technical design knowledge, fabrication and installation experience, and estimating expertise, Lexington is a unique one-stop shop: a company of artisans that excel in bringing unique visions to reality.