industry news
The Latest Industry News for the Exciting World of Production.
Creative Handbook puts together a bi-monthly newsletter featuring up-to-date information on events, news and industry changes.
Add My Email
By: Sussan Sharifian
| September 13, 2011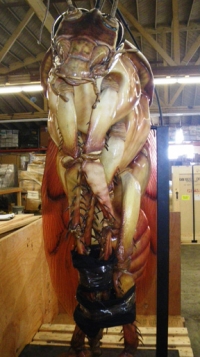 It has the wings of a cockroach, the face of a grass hopper, the legs of a flea, the body of a bee, and would have no trouble looking Yao Ming in the eye . . . Someone, please call an exterminator!!! Oh, hold on, I think that's how he ended up here! This creepy critter was the star of the latest Orkin commercials! He is off to Atlanta, has a few people to "bug" down there! Huh? No, he's not flying this trip. As you can see by the shackles, he he's been grounded, and this time, will travel with a little help from its friends at Packair! If there's a shipment bugging you, you know who to call! By land, or be sea or by air, Packair gets it there!

About Us: A Commitment to Service & Excellence in Transportation...

Thanks to our high standard of care in our deliveries we have built a long lasting relationship with numerous high profile clients. Due to the nature of our business, we provide a vital link to: total transportation logistics, in-house customs clearance, and heavy freight services.

What sets Packair apart from our competitors is our ability to excel on our services. We are the Forwarder Broker choice for many of Hollywood's major studios. We have been performing this service for over 30 years, and our individual customer representatives have experience in clearing and acquiring permits from the U.S. State Departments for over 36 years. We are also experienced in the export and importation of sensitive material for clients such as Boeing, Lockheed Martin, JPL (Jet Propulsion Laboratories) and Lorel Optical Systems, to name a few.

This is our Story...
Packair Airfreight, Inc. understands how important personal service is to our clients. Therefore, providing time sensitive movements coupled with highly competitive rates is what distinguishes us from everyone else. We have the qualifications and capabilities to provide the most complete, professional and efficient service available.