industry news
The Latest Industry News for the Exciting World of Production.
Creative Handbook puts together a bi-monthly newsletter featuring up-to-date information on events, news and industry changes.
Add My Email
By: MASTERSFFX
| January 25, 2016

Los Angeles, CA and Vancouver, BC, January 25, 2016 -- Character FX artists from MASTERSFX (www.mastersfx.com) have created the featured creepy doll "Brahms," the title character starring in Lakeshore Entertainment and STX Entertainment's horror film, The Boy.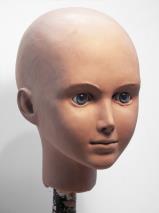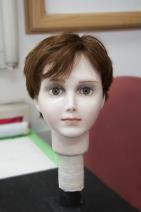 For The Boy, which opened on January 22nd, MASTERSFX's Vancouver Studio created the title character - a four-foot tall doll that seems to rule the household of a remote manor. In the film, a young American woman, Greta, (Lauren Cohan of AMC's The Walking Dead), takes a job as a live-in nanny in rural England. She comes to find out that the child she was hired to care for is not an actual 8-year-old boy, but instead, a life-sized porcelain doll named "Brahms."

Company president Todd Masters said, "We have a long-standing relationship with our friends at Lakeshore Entertainment, usually making vampires and werewolves for their Underworld films. But this time, creating 'Brahms,' was a completely different challenge."

"We knew that this 'Brahms' doll needed to be more like a supporting cast member for Lauren Cohan to play against, rather than just serve as her prop," Masters adds, "So we added all sorts of weird little forms and details within his features. We wanted to depict a good deal of realism with his appearance, even by his ability to make a simple turn of his head. Adding in cinematographer Daniel Pearl's (Texas Chainsaw Massacre) incredible lighting, he, director William Brent Bell, and especially producer Richard Wright were instrumental in helping us to present Brahms' simple, downplayed, yet truly bizarre features."

MASTERSFX's Vancouver Studio created several "Brahams" dolls to accommodate the needs of various stages of the production. MFX's Lead Artist Yukiyo Okajima sculpted "Brahms'" delicate features, and finished each life-like doll with her special touch. "This was tough in some ways, as sometimes 'subtle' nuances can be more painstaking, than, say creating a Lycan - where we have fur and slime to help us hide some of our FX tricks. But with The Boy, our team has really outdone themselves by creating a truly 'creepy doll' for the movie ages," Masters concludes.

Working on-set, MASTERSFX artist Tannis Hegan operated and maintained each of the "Brahms" dolls to ensure that each dolls' features would reflect the proper emotion and tone. Each doll was articulated as though a large stop-motion armature was inside it. In this manner, Hegan could allow "Brahms" to make the slightest of head turns, or move into a body pose that would convincingly portray the appropriate character's emotion as each scene required.

The Boy is a haunting thriller, filled with more than meets the eye - from director William Brent Bell (The Devil Inside.)

In addition to the company's work on The Boy, MASTERSFX also recently completed its special makeup FX contributions to Underworld: Next Generation, for Lakeshore Entertainment -- the 5th installment in the successful action sci-fi franchise, starring Kate Beckinsale. MASTERSFX has once again provided the practical, on-set Lycan characters for this film, which recently completed principal photography in Prague. Anna Foerster directs Underworld: Next Generation, which Sony Pictures Entertainment will release.

About MASTERSFX:

Founded in 1987 by Emmy Award winner Todd Masters, MASTERSFX is a multi-award winning character and special FX house with studios in Vancouver, British Colombia, and Los Angeles. MASTERSFX's creative teams produce a unique blend of practical and digital makeup and special FX, prosthetics and animatronics, through a process called "dMFX," for hundreds of hit feature films, TV shows, and commercials.

Included among the TV projects to which MASTERSFX has contributed its work are True Blood, Six Feet Under, Tales from the Crypt and Fringe. Among the company's Film credits are RoboCop, The Day the Earth Stood Still, The Haunting in Connecticut, Star Trek: First Contact, The Horse Whisperer, Slither, Snakes on a Plane, Buffy the Vampire Slayer, Look Who's Talking, and many more.

Todd Masters won an Emmy Award in 2003 for the 2001/2002 Season of Six Feet Under in the category "Best Special Effects Makeup." MASTERSFX is also the winner of a 2006 "Saturn Award" for "Best MakeUp FX" for its work on the film Slither. See more at www.mastersfx.com

About STX Entertainment:

STX Entertainment is a fully-integrated global media company specializing in the production, marketing, and distribution of talent-driven films, television programming and digital content. It is the first major entertainment media company to be launched at this scale in Hollywood in more than twenty years.

STX Entertainment's motion picture division recently released their first feature films, the critically-acclaimed box office success The Gift, and the mystery thriller Secret in Their Eyes. The company will next release the horror film The Boy; the epic action-drama Free State of Jones; Hardcore, an adrenaline-fueled action film; Desierto, a gripping and suspense-filled thriller; the interplanetary adventure The Space Between Us; and the coming-of-age comedy Besties. Additionally, STX has five films set to start production over the next 6 months.

About Lakeshore Entertainment:

Lakeshore Entertainment is one of the leading independent production, finance and international sales and distribution companies. Founded in 1994 by Chairman and CEO Tom Rosenberg, Lakeshore has produced more than 60 films including the Academy Award® winning Million Dollar Baby as well as the Underworld franchise, The Lincoln Lawyer, Runaway Bride, The Ugly Truth, The Mothman Prophecies, Exorcism of Emily Rose, Crank, The Gift, Autumn in New York and Arlington Road. Lakeshore recently released The Age of Adaline, starring Blake Lively, Harrison Ford and Ellen Burstyn. Upcoming releases include The Boy, which will be released with STX Entertainment. Lakeshore is currently in post-production on American Pastoral starring Ewan McGregor, Jennifer Connelly and Dakota Fanning as well as the fifth installment of the Underworld franchise, starring Kate Beckinsale and Theo James.