industry news
The Latest Industry News for the Exciting World of Production.
Creative Handbook puts together a bi-monthly newsletter featuring up-to-date information on events, news and industry changes.
Add My Email
By: Packair
| January 15, 2016
Whether you're shooting on location in a far-off destination, participating in an international trade show or even if you're lending props or artifacts for display in an exhibition, then you may qualify to use a Carnet. This includes any temporary shipment of goods, equipment or merchandise out of a country that returns to that country in its original form within 12 months. In this case, a Carnet, or cargo passport that is internationally accepted by 83 countries, will help you:

•Save time, by facilitating a smooth customs clearance
•Save money, by eliminating duty costs, temporary importation bonds (TIBs), and import taxes on goods that will be re-exported within 12 months
•Save stress, by having your Packair agent take care of the necessary paperwork and effort in the customs process so that you'll have your Carnet in your hands in no time!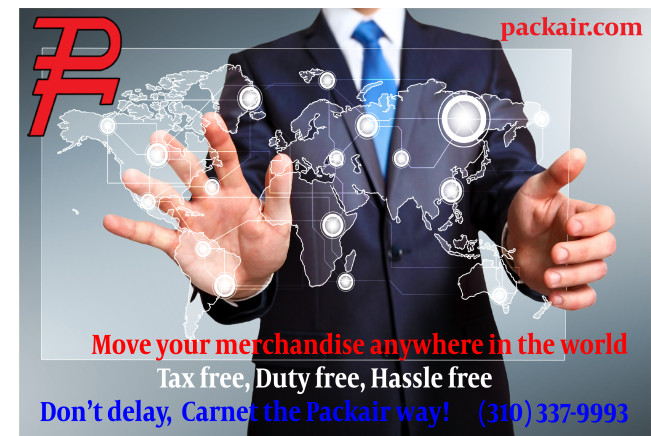 Packair provides Carnet Preparation services for those in the film industry- for camera and grip equipment, wardrobe, etc., for animal actors, for companies sending equipment to trade shows, museums shipping art on short-term loan, car enthusiasts, and much more... Nearly all goods are covered by carnets!

At Packair, our normal turnaround time in preparing, processing, and obtaining Carnet is 48 hours. However, Packair also provides same day Carnet Preparation Services as well! So if you need an urgent Carnet, your merchandise will be prepared, processed and registered within one day!

Contact Packair to find out if your shipment qualifies for a Carnet and to see if the country you'll be visiting is a Carnet participating country. Our expert team of Carnet Preparation Service Agents are on standby to serve you! Don't delay, Carnet the Packair way! Call (310) 337-9993 or visit packair.com for more information!