Students within Cogswell College's innovative MediaWorks program were recently retained by the Silicon Valley research group of one of America's largest corporations, Corning, to develop and produce an original short video describing the operations and opportunities to work with the Corning West Technology Center (CWTC.)

The completed MediaWorks produced video serves as an introduction of the CWTC to prospective employees and to other Corning departments alike. MediaWorks students were responsible for developing the concept and structure for the project, as well as producing the animation, live footage interviews, all California B-roll footage, original music, voiceover production, sound design and audio post production.

To View this Corning Promotional Video Project, Please View Here:

To produce the video piece, Jim Renfro, Senior Project and Business Development Manager with Corning, interacted with a team of Cogswell students and came away impressed by the experience. "There were 25-30 students in the room for the first meeting," he said. "They asked questions about our business. Everyone contributed. What really made a first impression was the research the students had performed on short notice prior to the meeting. They came armed with ideas about Corning rather than waiting for direction."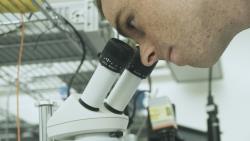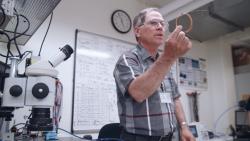 Once the Corning project was assigned to MediaWorks, an iterative process was set in motion by which Cogswell students teased out the major themes to be touched on and the flavor of the presentation, as well as the technical elements required of such a production. "I had expected to see a flashy video that showed off what the kids could do. What we got was something far more compelling," adds Renfro. "Internally, it helps articulate what we offer to our 30,000 employees and to our management in New York."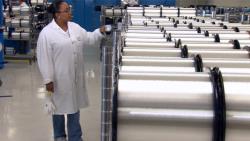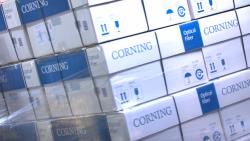 Legal issues and brand sensitivity were of particular interest for a publicly traded representative in the Fortune 500 list of large companies. Renfro and the students interacted with Corning's media managers in New York to obtain the approvals required for all external communications.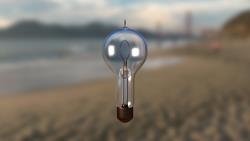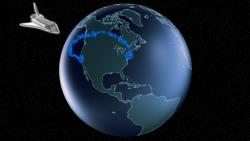 Julius Dobos, Distinguished Lecturer, Co-Founder and Audio Director of Cogwell College's MediaWorks program, said, "Since the launch of MediaWorks last year, we've worked primarily with startups and not-for-profit organizations -entities that do not have as much scrutiny applied to them. But working with Corning helped both our students and the managers of Corning West Tech Center to better appreciate the full media pipeline, including the navigation of narrow straights
between the legal and creative aspects. Besides some unique production challenges, our students also experienced first hand what it is like to work with a major corporate client."

Renfro also notes that non-media managers can benefit from learning more about how the media process works, and that Corning having worked with Cogswell offered a rare opportunity for his technology group to do so. "Visitors to our Center see the video produced by Cogswell students cycled on a large display when they enter our facility," he adds. "They get a sense of our people and what we do."

About Corning Incorporated:

Corning (www.corning.com) is one of the world's leading innovators in materials science. For more than 160 years, Corning has applied its unparalleled expertise in specialty glass, ceramics, and optical physics to develop products that have created new industries and transformed people's lives. Corning succeeds through sustained investment in R&D, a unique combination of material and process innovation, and close collaboration with customers to solve tough technology challenges. Corning's businesses and markets are constantly evolving. Today, Corning's products enable diverse industries such as consumer electronics, telecommunications, transportation, and life sciences. They include damage-resistant cover glass for smartphones and tablets; precision glass for advanced displays; optical fiber, wireless technologies, and connectivity solutions for high-speed communications networks; trusted products that accelerate drug discovery and manufacturing; and emissions-control products for cars, trucks, and off-road vehicles.

ABOUT MEDIAWORKS:

Offered by Cogswell College, MediaWorks is a project-based learning Digital Audio Technology initiative, in which Audio and Digital Art & Animation students collaborate on the production of short audiovisual pieces made for various Silicon Valley businesses - and beyond. These impressive, dangerously original audiovisual pieces are created by Cogswell students under the guidance of the Audio and Visual Directors. The results are industry-quality "media works."

The produced pieces include sound design, original music, animation and live action footage. The projects involve real-life client meetings, creative brief and concept generation, participation in the approval process, project and time management, deadlines and full-scale production by students working individually, in teams and cross-team. The production follows the current industry pipeline and delivery standards.

ABOUT COGSWELL COLLEGE:

Designed as a "fiercely collaborative, living laboratory," Cogswell College is located in the heart of the legendary Silicon Valley in San Jose, California. The school is a WASC accredited, four-year institution of higher education with a specialized curriculum that fuses digital arts, audio technology, game design, engineering and entrepreneurship. In 2015, Cogswell was cited by Animation Career Review as "One of the Top 50 Private Game Design Schools and Colleges in the U.S."

Numerous alumni of Cogswell College have secured prominent positions within the entertainment, videogame, technology, computer, animation, and motion graphics industries throughout California and beyond. Several of these alumni have established careers with such high profile companies as Activision, DreamWorks Animation, Disney, Electronic Arts, Pixar, and Microsoft Game Studio. Many other alumni have launched their own creative ventures.

Recent Cogswell alumni were members of the Academy Award-winning production teams that worked on the blockbuster films "Frozen" and "Life of Pi." Some of the other well-known consumer projects to which Cogswell alumni have contributed include the feature films "Big Hero 6" and "The Avengers," and the popular videogames "Call of Duty: Advanced Warfare," "Halo 4" and "Battlefield Hardline."

Cogswell College is located at 191 Baypointe Parkway, San Jose, California, 95134. For more information, please call 1-800-264-7955 or visit http://www.cogswell.edu