industry news
The Latest Industry News for the Exciting World of Production.
Creative Handbook puts together a bi-monthly newsletter featuring up-to-date information on events, news and industry changes.
Add My Email
By: Gail Smerigan
| August 12, 2011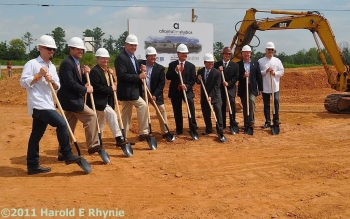 The Paulding County Industrial Building Authority (IBA) and Paulding County Board of Commissioners announced development and construction of a new, full-service film and television production facility, dubbed Atlanta Film Studios Paulding County.

Atlanta Film Studios Paulding County will be the first production facility in decades to be developed outside of Atlanta's city center and made available for third-party rental. More importantly, the complex is situated within the local union's Thirty Mile Zone, making it a convenient choice for any type of filmed entertainment production taking place within greater Atlanta. Located less than 25 miles from the State Capitol in downtown Atlanta, the nearly 80,000 square foot campus will consist of two 20,000 square foot soundstages, 27,000 square feet of mill/storage/construction space, and another 11,000 square feet of production offices, dressing rooms and wardrobe space - all situated on 11 acres.

The Studio expects to service the growing demand for space in Georgia by productions taking advantage of the State's successful film incentive program, wide variety of available locations, and its fully developed crew and production support base. The 2008 Georgia Entertainment Industry Investment Act has led to a 440 percent increase in production activity between fiscal years 2007 and 2010, with the value of this spending soaring to $1.4 billion in 2010. Georgia is now among the top five states in the nation for film and TV production; more than 335 productions were shot in Georgia in fiscal year 2010 bringing in more than $759.3 million in investment to Georgia. Paulding County is now ready to capitalize on its piece of this growing pie.

The Paulding Industrial Building Authority has engaged Los Angeles based RoadTown Enterprises Ltd. to oversee all phases of the studio development, design and construction. Additionally, the IBA has contracted with RoadTown for management, operations and marketing services, once construction of the facility is complete. RoadTown is a welcome addition to the local team promoting the growth of the Paulding County film and television production industry. RoadTown's experience in all aspects of studio design, construction, management and marketing, spans more than 30 years, and includes projects all over the world.

RoadTown and Paulding County look to build upon the County's recent "Camera Ready" designation by the Georgia Film Office, and its success accommodating the production of major feature films such as FOOTLOOSE, GET LOW and JOYFUL NOISE within the County. Paid by a portion of a County-backed Industrial Building Authority development bond, approved by the Paulding Board of Commissioners in mid-March 2011, this project reinforces Paulding's commitment to economic development and local job growth. Productions utilizing the Studio could employ up to 300 people and will stimulate many facets of the local economy.

Atlanta Film Studios Paulding County is slated to open its doors in late Fall/early Winter 2011.
For press inquiries contact:
Gail Smerigan
RoadTown Enterprises, Ltd.
818-635-8400
gail@roadtownenterprises.com

About RoadTown Enterprises, Ltd:
RoadTown Enterprises is a specialized consulting and management company focused on entertainment real estate and related industries that help land owners, developers, business owners and entrepreneurs design, build, operate and market motion picture and television production facilities and their associated support businesses. RoadTown's scope of services are designed to assist these clients in all aspects of production facility development and management, from conception through implementation, development, construction and operations.