industry news
The Latest Industry News for the Exciting World of Production.
Creative Handbook puts together a bi-monthly newsletter featuring up-to-date information on events, news and industry changes.
Add My Email
Making Viral Video Hits with a Solid Business Model

By: Bryant Frazer
| November 30, 2015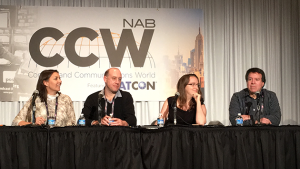 Life's getting complicated for producers. Whether it's the rise of multiscreen viewing or the accelerating use of ad blockers, trends in media consumption are making producers work harder to target audiences, reach viewers, and make money. During a "Producers on Producing" panel at NAB Show New York (formerly CCW) last week, sponsored by the Producers Guild of America, a sampling of new-media savvy producers talked about cross-platform strategy, branding tactics, and what makes a video go viral. (Pictured above, from left to right: Fourth Agreement's Dana Kuznetzkoff, Sesame Street's Benjamin Lehmann, Caitlin Burns & Associates' Caitlin Burns, and Thinkmodo's James Percelay.)
One of the big issues is that, although there are more and easier ways to get a video in front of a large potential audience, it's harder than ever to turn eyeballs by themselves into a revenue stream that can fund further creative efforts. Panelist Dana Kuznetzkoff, producer and founder of production company Fourth Agreement, says talented and energetic creators face burnout if they can't pay the bills. "How do you tell young filmmakers who are doing really good work, 'Hey, you'll get paid … someday'?" she asked.
"Everyone almost has to be a producer these days as well as a filmmaker," said James Percelay, producer and co-founder of Thinkmodo. "Being a producer lets you look at promoting what you're doing and getting shelf space. You cannot separate the business side from the creative side anymore."
Percelay knows the rules of the game as well as anybody. His company specializes in, as he put it, "creating videos for YouTube that end up on television." In other words, the videos create such a stir online that they become catnip for producers looking to spice up TV news shows and morning programming. "The videos are designed so the brand is inseparable from the story," he emphasized.
What does that mean in practice? Watch the video below to see how Thinkmodo generated 52 million YouTube views with a promo piece for horror flick Devil's Due.
"Devil Baby Attack" was featured on a variety of TV programs, each of which dutifully plugged the video's tie-in to Devil's Due. (An even wilder Thinkmodo video, "Telekinetic Coffee Shop Surprise," promoting 2013's Carrie remake, was a StudioDaily Video of the Day.)
The glowering baby puppet, an exceptionally well-executed practical effect, obviously drove views. "In a world of CGI and VFX, we have found that building props … gives the kind of stickiness that things that are virtual don't have," Percelay said. But human beings are still the key: "We could have the coolest thing in the world, but if we don't have people in the video, people won't react as well to it."
Sesame Street Senior Producer Benjaming Lehmann comes at new media from a different angle. For him, new media platforms represent new ways to create chatter about a beloved, but old-school, television property. "If you're not on all the mobile devices, you're not really compelling - especially with a youth or kid audience," he said. "We're interacting with moms and kids. Two- and three-year-old kids don't have Facebook accounts, but it's important for us to have a huge Facebook presence."
Lehmann noted that those three-year-old kids might not know or care who a celebrity like Jamie Foxx is. But when he appears in a Sesame Street video, it garners media coverage. And that, in turn, generates a lot of buzz.
Caitlin Burns, a producer who also serves as Vice Chair of the PGA's New Media Council, said there has been a fundamental shift in the relationship between content creators and content consumers. "There is a lot more understanding that you are going to be in dialogue with your audience," she said. "We are seeing the audience less as an object and more as a subject."
But generating that kind of relationship can be a grind, she acknowledged. "How do you build 10,000 fans? With 1 million views," she said. "It's a volume game."