industry news
The Latest Industry News for the Exciting World of Production.
Creative Handbook puts together a bi-monthly newsletter featuring up-to-date information on events, news and industry changes.
Add My Email
By: Sussan Sharifian
| August 8, 2011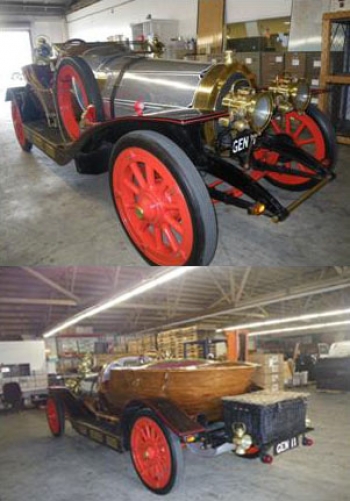 All eyes were on the iconic magical car of the 1968 film, Chitty Chitty Bang Bang, at the auction in Los Angeles.

Transported in style via Packair Airfreight Inc., Chitty showed up in her perfect original form. Sitting proudly on her custom ladder-frame chassis with her hood crafted of polished aluminum, the array of brass fittings obtained from Edwardian cars glistened like jewels.

The auctioneers called her "The Most Famous Car in the World", and she was billed as the signature item of the May 14 - 15 event. The media showered her with attention, and People Magazine estimated the relic could fetch up to $2 million.

For all her fame and glory, Chitty didn't come near that figure, with the final bid under $1 million. Chitty spent a few days in Packair's secure warehouse before the experts carefully loaded her into a container and sent her on her way to New Zealand. Even though all her magical wings were still intact, she chose to travel by steamship rather than her under her own power.

She and the Potts family have long since retired, so why shouldn't her last ocean voyage be a leisurely one? For the young and young at heart, Chitty Chitty Bang Bang may be gone but she'll never be forgotten.

About Packair Airfreight, Inc.
Thanks to our high standard of care in our deliveries, we have built a long lasting relationship with numerous high profile clients. Due to the nature of our business, we provide a vital link to total transportation logistics, in-house customs clearance, and heavy freight services. What sets Packair apart, is our ability to excel on our services. We are the freight forwarder of choice for many Hollywood studios. We have been performing this service for over 30 years, and our individual customer representatives have experience in clearing and acquiring permits from the U.S. State Departments for over 36 years. We are also experienced in the export and import of sensitive materials for clients such as ST Logistics, Caltech, Jet Propulsion Laboratories, and all Hollywood major studios. For more info, visit www.packair.com. Don't just ship it; Don't just pack it; PACK-AIR IT!